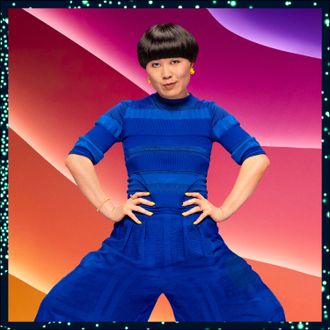 When Atsuko Okatsuka learned that she was only the second Asian American woman to have an HBO stand-up special, and that it was coming more than 20 years after her friend Margaret Cho paved the way, she wasn't all that shocked.
"It wasn't surprising because I'm used to how things go in the industry," she told Cut editor-in-chief Lindsay Peoples on this week's episode of the In Her Shoes podcast. "It just lit a bigger fire in me to really, really crush it." And crush it she did. The special The Intruder received rave reviews, and the comedian announced earlier this month that she'll be heading on her first theater tour this summer. Seated in the audience during tapings was Okatsuka's grandmother, Grandma Li, who now gets recognized in public herself thanks to her appearances in Okatsuka's viral Instagram and TikTok videos. "She saw a whole production, a whole crew, a director, the audiences (there were two shows I did), and all these people working for me," Okatsuka recalled. That's not to say things have changed overnight for them — her grandmother is on EBT and relies on getting her SSI every month. "In all the glamour, we're still grounded in reality."
Okatsuka's reality included learning English by watching Scooby-Doo growing up, which is why, she says, she always sounds like she's "about to cry a little bit." Where words failed her, her body never did, so she used dance connect with people, something she does to this day in her comedy. As an adult, she became more comfortable in her skin and learned to embrace her inner child, developing her unique sense of style. "As a kid, what were the things that I was drawn to? Bright colors and patterns. It's not stuff I could always wear because we couldn't afford just any clothes when I was a kid. It was about becoming an adult and finally wearing the clothes I always wanted to as a kid."
To hear more about how Okatsuka's upbringing shapes her comedy, plus her admiration for "fellow weirdo" Cho, Asian representation in media, and what it's like going viral, listen and subscribe for free on Apple Podcasts or wherever you listen.