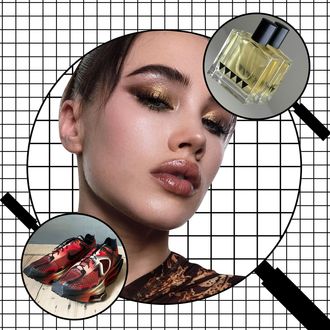 Photo-Illustration: by The Cut; Photos: Isamaya Ffrench
For more of the Cut's favorite fashion, beauty, and home finds, sign up for the weekly Cut Shop Newsletter.
You've likely seen Isamaya Ffrench's otherworldly work on the cover of Vogue, on the runway, or on the faces of some of your favorites like Rihanna, Bella Hadid, and Dua Lipa. The makeup artist is the brain behind ISAMAYA, that viral phallic lip balm, and some of the coolest beauty looks you've seen.
While she tends to keep her own beauty looks pared down, her personal style is where she experiments the most. Her favorite pair of Céline boots were inspired by a stylist she met on set, and some of her favorite designers are brands she's worked with, like Ottolinger, Vivienne Westwood, and Charlotte Knowles. "Part of being in this world is being able to reinvent yourself because everything is so present," Ffrench explains.
Her everyday style tends to be practical and functional, especially when working. "There's nothing worse than being hot and stressed backstage and you're in a tight pair of high-waisted jeans," she says. Her go-to looks are metal-band tees, leather pants she buys on eBay, and sneakers like her favorites from Nike x Martine Rose. When her schedule allows, she'll shop at Selfridges or browse vintage stores like Universal Providers and Depop.
Below, see where Ffrench got the pieces that made it into her curated lifestyle.
What do you keep in your bag?
My lip balm. I love it because it's got a slight tint of black to it and it's moisturizing. The whole process of creating it was so funny. Everything from the email exchanges with the designers and having to get really technical, as you can probably imagine.
What do you keep in your makeup kit?
A good vitamin-C Serum, either a Mimi Luzon or a SkinCeuticals vitamin C. I use hyaluronic-acid serum; I have the Isamaya SKINLACQ Serum, which has a pearlescent finish, so it's a primer too. Then a good sun cream; I usually use the brand Ultra Violette. The Barbara Sturm foaming cleanser, and I like the Charlotte Tilbury Magic Cream because my skin is really dry. I also use this little facial-massage tool by Dr. Vali. I use my own mascara because I designed it to fill the gaps in what I needed from mascara. I use the Huda Beauty liquid eyeliner, and the Shiseido concealer stick; it's natural and lightweight.
Where did you get your favorite pair of shoes?
I got my Nike x Martine Rose sneakers on StockX. I love everything that Martine Rose does. I think she's just so brilliant! I bought two pairs of them because I said, "I'm going to wish I bought another pair." They're slip-on shoes, but they've got a bit of a heel and they're a trainer. You can make them quite smart or you can wear them with tracksuit bottoms. They just work really well with loads of different things.
Where did you get your favorite piece of clothing?
My plastic purple skirt is from Pretty Box in Paris. I don't know what the brand is, but it has a matching jacket. I've yet to wear the two together because it's quite an extreme look, but it was just a really unique outfit and I had to get it. My friend Nico owns the shop, and he's such a great curator. Half the fun is just going into the shop and ogling at all this crazy stuff. He's got all these vintage band T-shirts and vintage McQueen and Givenchy pieces. He's got a really good eye for leather, so I bought a couple of really good leather jackets and biker trousers from him. It's one of those one-off pieces you won't find anywhere else. He knows my style, so he puts things aside for me.
Where did you get what's on your nightstand?
Most of the books on my nightstand are from Wob.com. I'm reading a book called The Master and His Emissary, and it's about the two sides of the brain and how different they are and how they work together. It's a really fascinating book. I love to read a lot of nonfiction.
My nightstand is from APOC-Store. It's a curved steel bedside shelving unit. APOC is this independent brand that looks after, like, really interesting young designers, but they also do homeware now.
Where did you get your signature scent?
Undergrowth by Rook Perfumes. It genuinely smells like soil, but there's something that's really warming about it. It's an earthy and distinctive smell. It's so unusual and different. I don't know if I smell good in it, but it's quite a beautiful calming fragrance. Fragrances transform when you put them on. When I wear it, there's this kind of nice earthy, centered smell.
Where did you get the item you wear the most?
My black leather motorcycle trousers are from eBay. I was just looking for black motorcycle trousers, and there were loads of really good ones on eBay. So I bought like five. It looks great with something casual, but then you can wear something sexy and fitted as well and it looks really good, too.
Where did you get the item that gets complimented the most?
My Nike x Matthew Williams trainers. I did an hour of yoga poses on a live cam in exchange for them. They were part of the uniform for that video. I think they're really sick!