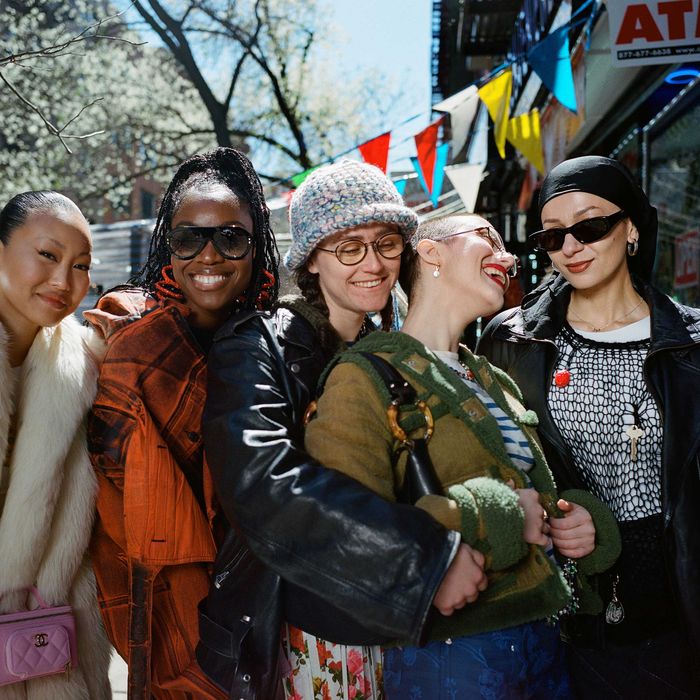 Photo: Photographs by Avery Norman.
On the occasion of the New York Magazine's Yesteryear issue devoted to the New York "It" girl, we gathered a handful of present-day women about town who we think have "It" — Clara Perlmutter, better known as tinyjewishgirl online, and her friends Ella Emhoff, Fiffany Luu, Pierrah Hilaire, and Noor Elkhaldi — for a group chat come to life.
Here, this group of multi-hyphenate creators — models, influencers, designers, podcast hosts, and stylists with varying but significant online followings (the modern-day qualifier for an "It" girl) — gathered at Pause Café in the Lower East Side during the Sunday-brunch rush. Our group invited a few quick stares from passersby, but when two young teens seated behind us began whispering to one another, and eventually ceased talking altogether to eavesdrop on our conversation about clothing, clout, and amusement, everything clicked: Perhaps the real measure of influence has nothing to do with having a blue check or thousands of followers after all, but rather how teenage girls react in your presence.
On Fashion
D.I.: Where do you get your fashion inspiration from?
C.P.: Honestly, films that I watched when I was younger. I have a good visual memory. I also look at Poshmark and I'll just go down these rabbit holes and discover these brands. During the Priscavera show this Fashion Week, there was this red patent leather or latex-y oxblood dress. And it really took me back to my obsession with Buffy the Vampire Slayer, Blade, and all these '90s vampire movies and TV shows.
P.H.: I love this Buffy era.
D.I.: So nobody really looks at social media for inspiration?
P.H.: No.
E.E.: No.
C.P.: No.
E.E.: I do the opposite.
C.P.: I won't be inspired by my friend's Instagrams. I'll be inspired by my friends in real life. If Fiffany is wearing something, she'll put me onto a brand. I'm definitely going to look up those earrings. But if I saw them on Instagram, it probably wouldn't be happening.
E.E.: I'm a big Pinterest-er. I mood board, but it's not clothing. It's only …
C.P.: '80s knitting advertisements?
E.E.: No, it's '60s children's JCPenney patterns. And I mostly referenced my outfits as a kid 'cause I only wore skirts with sweatpants underneath. And then hoodies, which is obviously very much what I'm doing now. My mom would shop at this brand, Oilily. And I hated it. I love it now.
C.P.: My boyfriend's mom was obsessed with Oilily for him when he was little. And Ella and I recently went down the rabbit hole: We're like, Oh my God. They make adult clothing and it's really cute.
E.E.: I bought so much Oilily on Poshmark.
C.P.: My oxblood patent-leather obsession is, in part, because my favorite pair of shoes when I was 5 years old — my favorite pair of shoes I've ever owned — were a pair of patent-leather oxblood ankle boots. My sister's 13 months younger than me, so I would always outgrow a piece of clothing and immediately have to hand it down to her. Those boots had been too small on me for months, but I was going to make it work. My mom eventually was like, "You need to give them to Laura." She had to wear them and I was so very jealous of her. I'm in the market. If anyone sees a pair, hit me up. I like shopping vintage and secondhand — you can find amazing deals, and I want to feel like myself, which means standing out a little bit. But obviously I do need to be somewhat commercial, so I need to be shopping new.
E.E.: Recently I was like, I really want a pair of basketball shorts right now. But I don't really want to go find something, so I knit myself a pair of basketball shorts.
D.I.: How long does that take you?
E.E.: Couple hours. I use a knitting machine. I've been knitting for 17 years now. When I first started, I'd be like, I'm going to knit a huge blanket and give it to everyone. When you get even a quarter of the way, you're like, Oh, there's like 5,000 more rows to do, and they're all like 200 stitches long.
C.P.: Do you have the early stages of carpal tunnel?
E.E.: I already have full-on tendonitis. I wear a hard-cast orthopedic brace whenever I knit. My doctor was like, "Ella, this is crazy. I only see this amount of deterioration in this muscle in really old people."
C.P.: Infrared sauna will heal you.
E.E.: Yeah. It'll be fine. I'll think about it later.
On "It" Girls They Look Up To
P.H.: I found Tavi Gevinson and fell in love with Rookie. I just found this world and I was like, Yes. A bunch of cool kids everywhere, just doing their own thing at a very young age. So that made me want to explore. Even though I couldn't afford the pieces, that's when I fell in love with thrifting.
C.P.: I read some of Chloë Sevigny's first interviews and there was this one, I don't remember who published it, but it called her the coolest girl. She would walk down the street and someone would ask her, "What are those pants? Where did you get them?" And she'd hesitantly tell them and then never want to wear it again because now everybody's going to start wearing it. It happens so fast now — there's still that diffusion of trends, but now you can just go on Pinterest.
E.E.: I feel like it's great that we're now exposed to a lot of different styles, but I think it's gotten so intense and it's taken over so many people's lives where they're trying to romanticize every moment and everyone is striving to be an influencer or that "It" girl, so it's never like in the '90s when Chloë Sevigny was just kind of doing her shit and she was the "It" girl. Now it's like everyone is doing it.
C.P.: I think Nora Ephron is so cool and not necessarily stylish, but an "It" girl who was really smart and had a really good command over language. She's a problematic queen, but Courtney Love was who I looked up to when I was younger. And also Frances Cobain because I always thought that she had good style and she could just put herself together.
E.E.: Wait, funny story. I went to elementary school with her. And she did not have the style she has now.
C.P.: Oh, she was goth. She loved My Chemical Romance. Right?
E.E.: You know that Chopova zip-up hoodie you have? She would wear that but really, really tight and skinny jeans.
C.P.: She was angsty. I remember that phase. I bought my first pair of Doc Martens because I saw her wearing them when I was in sixth grade.
E.E.: Oh, that's really cute.
C.P.: Someone I think is the coolest person ever is Michael Stipe from R.E.M. I've seen him around; both times I was walking up Essex and he was walking down, and we locked eyes because we were both bald with big, round, blue eyes. I've never said anything, but if I do see him again, I will say something.
On Going Out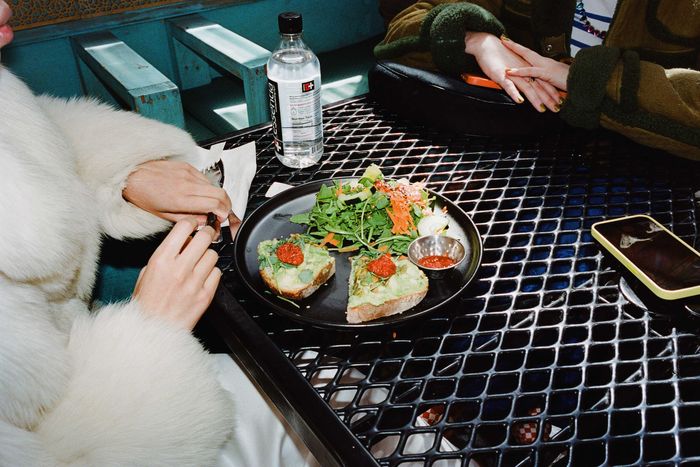 D.I.: Where are your favorite places to go on weekends?
C.P.: I take everyone to Il Posto Accanto.
E.E.: Oh my God. Yeah, we went to lunch there the other day, and they were like, "Clara, my darling!"
C.P.: Yeah. Everyone. There's regulars there who come up to me. I have a friend who's cool or whatever, I know they've never been to this restaurant. I will take them out. They're always like, This is amazing, I need to come back here. I started to make it a spot and I really love the owners.
P.H.: I've been loving jazz lately, so I like to go to a jazz club. I also play pool. So if I see any dive bars in East Village or LES, I'm probably there if there's a pool table.
F.L.: I'm always at the movies. I have a Regal Pass.
All: Ooooh!
C.P.: Oh, my dad has a Regal Pass.
F.L.: $23 a month, you can watch, I think, unlimited movies. I was literally there yesterday.
P.H.: What did you see?
F.L.: I saw the Teyana Taylor movie.
F.L.: Or if not there, I'm in Chinatown grabbing food.
E.E.: Honestly, I don't go out a lot. It's just not in my nature to go out. Going out is my job. The last thing I want to do is go out. I'm usually at home watching The Sopranos with my boyfriend and knitting, or in Chinatown, meeting up with some friends, going to a friend's apartment.
C.P.: I don't have a proper nightlife. I go to events. If I'm invited to an event, that's my nightlife and I'm going to show up. I'm going to be at home in bed by 12 most nights, like, well before 12. But other than that, my social life consists of dress-up dates at my apartment or going out to lunch.