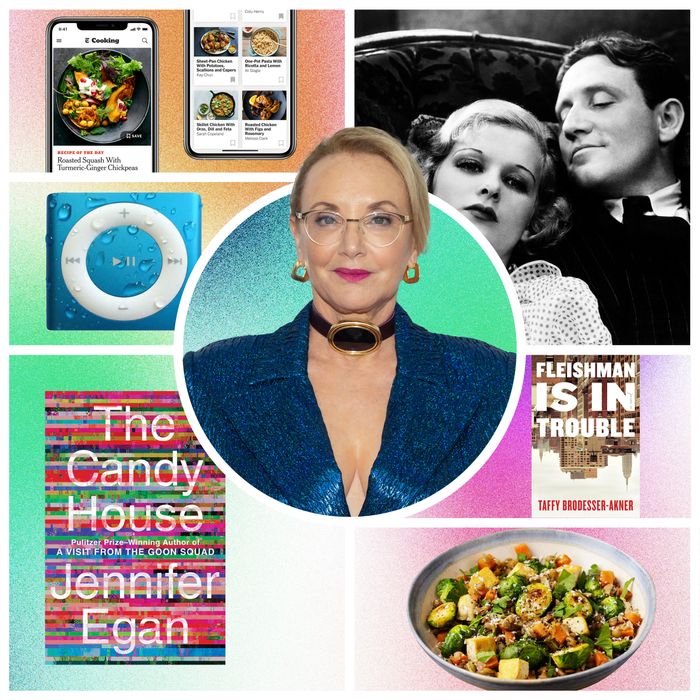 Photo-Illustration: The Cut; Photos: Getty, Retailers
While Succession may be over(-ish), J. Smith-Cameron is busier than ever. "It's quite a palette," she tells the Cut of her stacked résumé. First, there was her cameo in an episode of Fleishman Is in Trouble. Then a guest role on Waco: The Aftermath, which follows the fallout of the Branch Davidian cult's 51-day standoff with the ATF in Waco, Texas, while also going back in time to when David Koresh was just Vernon Howell, a young man living on a Christian commune run by a woman named Lois Roden. Smith-Cameron plays Lois, the sort-of-feminist matriarch of the Branch Davidians and secret lover of the future cult leader. And there's The Year Between, a slice-of-life dramedy by and starring Alex Heller as a young woman who decides to take some time off from college and discovers she's diagnosed with bipolar disorder. Smith-Cameron plays Heller's mom opposite Steve Buscemi, who plays the lead's dad.
For the Succession obsessives among us though, all of that was just the amuse-bouche before the main course return of Gerri Kellman, the general counsel (and former interim CEO) of Waystar Royco. Even though she's a board member, Gerri is no stranger to doing what she can to serve her own interests, whether that's engaging in a psychosexual humiliation-kink phone-sex game with Roman Roy in the show's second season (only to follow up two seasons later with a sharp scolding for sending "repeated images of your genitalia") or not even taking a beat to throw Karl Muller, Frank Vernon, and Tom Wambsgans under the bus if it means getting the opportunity to step in and fill the late Logan Roy's CEO-size shoes. And while Gerri (or "Ger-bear" as Kendall has not-so-affectionately called her this season) may or may not be fired at the midway point of Succession's final season, she ultimately knows that "you cannot win against the money."
The actress behind the character is taking the show's end — and Logan's death — in stride, knowing there are still so many press opportunities and a possible Emmys run down the line. But Smith-Cameron still isn't happy about it, or the fact that she and her Succession castmates might never perform together again: "That's like someone saying your dog is dead," she says. "We all just love each other so much."
What was it like accepting the death of Logan Roy, the character, and also the death of the show in its final season?
Well, I mean, it's awful. First of all, we were all shocked and worried when they decided to write Logan dying in episode three. But he has that stroke at the very beginning of the whole story. People don't realize this, it's only a year ago in the story. In season one we had Thanksgiving, and now it's election time of year, so it's almost Thanksgiving again. It's like early November, right? About a year. That's four seasons over six years. We all look different from season to season and things change. But Jesse was never concerned about trying to put too fine a point on that or worrying if Shiv got a haircut or Karolina changed her hair color or we probably … several of us gained weight over COVID, and then we morph around in the way we look because of the nature of it.
Anyway, not that much time has gone by and we were supposed to be worried about his health all along. I think if you were someone who lived in the future and binged it, you'd see he's always on borrowed time. But still, I've always thought of Brian as being the driving force of our show. What would it even be without him? He's been so polarizing and the appetite for that character just seems to fuel the whole show, and he's such a masterful, commanding actor. It was hard to picture how it would happen. But I think actually if you are going to have the character die, that was brilliant. A stroke of brilliance to do it so abruptly. We don't even get to look at him that episode.
It happened so early and it was almost unceremonious, the way he passed.
Yeah, it's like the banality of death. Even if you're this great important man that all these people are tripping over themselves trying to impress and stay in the good graces of, it doesn't matter. And just that whole idea that characters are on the East River, and half of them are in the air and they can't really communicate. The people on the airplane realize he's dead, they think it's pretty obvious, but Roman won't give up the ghost. It's so abrupt and it's so awful. And it's so ordinary, too. He's in the bathroom and has an embolism. It's genius.
There's been a lot of conversation each season about how the characters dress. Which character do you think has the best style?
Naomi Pierce. She's sort of an intellectual, fabulously wealthy person. And it doesn't hurt looking like Annabelle Dexter-Jones. Tabitha, also. I think they would've had more of Caitlin Fitzgerald in this story. But Caitlin's married to an Irish man, has a baby now and was busy doing other things, but she always looks stylish.
Our costume designer, Michelle Matlin, was always genius at making them look like very wealthy people, not necessarily very tasteful people. Shiv's style has really morphed. Gerri's style morphed as her status grew. She stopped wearing off-the-rack Brooks Brothers and started wearing Max Mara ensembles and Scanlan Theodore, more stylish clothes, I guess. But Shiv, in the beginning, had long hair and would wear really romantic things, like her wedding dress and the dress she wore at the gala, like an old movie star. Now she's dressing in power suits, turtlenecks. She has a very distinct sense of style. Kendall definitely has very expensive taste. But they're just too isolated and nonchalant and uninterested in the universe around them to be aware of fashion.
I almost didn't recognize you in Waco: The Aftermath because of your character's long, dark-haired wig, until I heard your voice. Did you like going through that transformation for the role?
I liked the wig. The real Lois Roden didn't look anything like me or the way I look in the story, but we were trying to come up with an equivalent distinct look. She has a sort of sexual relationship with David Koresh, who's not David Koresh yet. We thought that maybe one thing that was really true about her is that she was a sort of feminist before her time. We found that the wig looked not only like someone who might live in a commune somewhere, but a little Gloria Steinem-y with my glasses on. The long hair and the caftans, I thought it really helped make a very distinct character.
Earlier this year, you also appeared on Fleishman Is in Trouble as a divorce lawyer, which felt like an amuse-bouche before we could get back to watching Gerri Kellman on Succession. How did you make that happen?
I met Taffy Brodesser-Akner on Twitter. I had read Fleishman Is in Trouble right after we got back from Croatia from season two, and I went to London where my husband and daughter were. We went to Canada, out in the country, and I just swallowed that book whole. I had no Wi-Fi there. Do you want to hear the story? This is kind of good …
Yes, of course!
When I got back, I started following her on Twitter and saw her bio. Do you remember in the "Tern Haven" episode, how the Pierces kind of corner Roman about being a reader? He makes up "The Electric Circus" by Timothy Lipton and Shiv gives him side eye.
In Taffy's bio it said, "Watch out for my next book, The Electric Circus." And I was like, that's either the weirdest coincidence or she's a Succession fan and it's a Succession in-joke. We didn't know each other, and I wrote, "I loved your book, Fleishman is in Trouble. And eagerly looking forward to the next one. Highly recommended by a friend." She retweeted it like, "Oh my God, I'm dead, I'm dying. Gerri stepped out of a fictitious universe and mentioned my fictitious book." We did a Slate Money podcast together about Succession, and then it turned out she wanted me to play the divorce lawyer in Fleishman. I really enjoyed it. I loved working with Jesse Eisenberg.
Back to Succession. As of season four, episode five, Gerri is safe on the "kill list" after Waystar's Gojo deal. And in episode three, we saw how painful it was for Roman to relay to Gerri that Logan wanted her out at the company. But the general consensus at our office seems to be that we need more Gerri and Roman scenes. Where are the "slime puppy" moments this season?
Well, I don't know if there are going to be slime puppy moments, but there are some more Roman and Gerri moments. Some sparks fly. They may not be the same kind of sparks, but really that part is very meaty. I never know what's going to stay in, make it past an edit, but from my experience of filming it, yeah, there's some more about our relationship coming up.
You're on Twitter a lot, you live in New York, you've worked in theater for a long time, and your husband is a writer. Where do you get the best culture recommendations from? How do you know where to look for the next cultural experience that you want to have?
I know so many writers and actors and playwrights that following the adventures of my colleagues leads me there. Just going to see Will Arbery's plays, for instance. That's how I first saw Zoe Winters, she was in Heroes of the Fourth Turning. Then it came to pass that both Will and Zoe came to work on Succession. Within my circle there's so much great theater and literature at my disposal, and a lot of people that make it live in New York. And those who don't, a lot of them are on Twitter. I've met a lot of journalists and politically oriented people on Twitter that I would never have gotten to know. In the beginning I just made such vicious fun of Twitter and all social media. But literary Twitter is gentle.
What books are you reading?
Someone handed me a Jennifer Egan book the other day. They gave me an old copy of Visit From the Goon Squad, and now I'm reading The Candy House.
If you were to have a dinner party and you could invite five notable people, dead or alive, who would you invite?
I've been thinking it would be so fun to have a sort of salon. I would invite you, for instance, and I would invite Taffy and Hilton Als. Tavi Gevinson's a good friend of mine, and she's so interesting. Zoe Winters. Amor Towles, who I met on Twitter. Matthew Broderick, who's my pal, is very, very sharp and funny. And his wife, Sarah Jessica, is also very interested in all things cultural. I've often drawn that idea of having a formal dinner party like you see in the movies from the 1930s, talking about culture. That's one of my big sources: old classic movies. It's one of the things that brought my husband and I together, I think.
What's a classic film that you like to rewatch for comfort?
All the Preston Surges movies, all the Ernst Lubitsch movies. I've been on a kick lately. Kenny [Lonergan] and I have been watching young Joan Bennett movies. She's so sassy. There's this one called Me and My Gal that's young Spencer Tracy and young Joan Bennett. It's very Gangs of New York–ish. It's not about gangs, but it's very seafront New York, and they're very tough. We watched it, and then we made Matthew come over and watch it with us again, because I loved it so much.
What's the last meal you cooked for dinner?
I made a stir fry of shrimp, spinach, ginger, and garlic. But I didn't have a wok so I kind of burned the garlic. I'm really obsessed with the New York Times Cooking app. It's very well-organized. I've tried to do some vegan cooking because my friend Zoe is vegan, and I thought she'd come to dinner more if I learned to cook vegan. I also made, from that app, was tofu and Brussels sprouts and a hoisin sauce. It was good. Not fancy or difficult, just tasty.
What's the best piece of gossip that you've ever heard?
Oh my God. My mind's a blank. What a good question, though. Oh, the minute we hang up, I'm going to think of something tasty.
Do you have a playlist, album, or artist that you like to listen to when you're alone?
I have very eclectic taste, musically. I've been thinking about the Old Dixieland Jazz Band lately because it's pretty much jazz fest time, and my family and I have been to a lot of jazz fests. I really enjoy that kind of music. I love to swim and I have an underwater iPod. What I swim to is old '70s funk. I try to swim between half an hour and an hour, so it really keeps me up because it can be boring to just swim laps. But then you feel like you're dancing.
What's the best advice you've ever received?
It was something my sister told me when she first saw me act, my first big lead in a professional theater, and I had knocked myself trying out to be ultra real and nuanced, and I don't think it really came across enough. She was like, "I wouldn't do anything less real, but I would just be bolder if I were you. Just be bold." Years later, my mother had read Laurence Olivier's book about acting, and his advice was, "Be outrageous." I have it on videotape somewhere, as I'm getting ready to drive to L.A. for pilot season, and my best friend and I had stopped overnight at my parents' house. My mom was in the window like, "Don't forget, be outrageous!"
What about the worst advice?
I had this former professor, who then hired me to be in his theater company for a season. I'd written a short story and he said, "Don't show it to anyone." His outlook on the world was, it's impossible to make it as an actor, as an author. I remember I was like, I am done with you, sir. Maybe I'm not a writer, but that's just a rotten thing to say to a young person. I don't know how he meant it because he was a smart guy. But I did show it to someone. And she sent it to a literary journal and they published it.
So you got the last laugh.
I worry about it because … I stopped. I didn't really write. Part of that is because I've been married to a writer who is, I think, very par excellence. I find it a little inhibiting. But I do like to write and I wish I had done more of that, so I didn't follow that advice but it got in my head, which is too bad.
Will you write something soon, even if it's short?
Sometimes I get asked to write little pieces. But also I want to start maybe creating my own content as an actor, because what is life after Succession going to be like? As brilliant and thorough and imaginative and definitive as the writing is for that show, somehow at the same time, it's also very actor-centric, and we all got to really put our stamp on our characters. They watched our behavior, and exploited our ideas a lot in the best way. Maybe I should try, even if none of it gets produced. A lot of young actors are doing this and I applaud them. I'm going to take a page from their book and try to do that.
This interview has been edited and condensed for clarity.