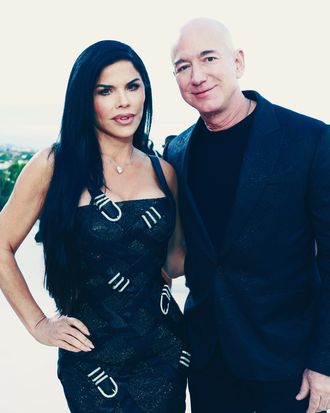 Photo: Emma McIntyre/Getty Images
After more than five years of being alive together, Jeff Bezos and Lauren Sanchez are reportedly engaged. Per the Daily Mail, the billionaire space mogul proposed to his beloved "Alive Girl" on his megayacht, Koru, over the weekend. This was Bezos's first spin on his second-favorite vessel, which endured years of arduous renovations and a close call with rotten-egg-wielding Dutch people. Earlier in May, Koru finally set sail with its owner aboard and a massive Alive Girl figurehead gleaming proudly at its prow.
In paparazzi photos published on Thursday, Sanchez didn't seem to be wearing a ring, but things changed by Saturday, when she and Bezos were spotted off the coast of Cannes. On her left hand, Sanchez wore a diamond that appeared, per the outlet, about "the size of a Balearic Island." Or maybe a more apt comparison would be a yacht so big that it comes with a second, smaller yacht.
Bezos and Sanchez's relationship first became public in 2019 when, in the wake of his divorce from MacKenzie Scott, the National Enquirer leaked sexts between Bezos and Sanchez that dated back to the previous spring. Memorably, these steamy messages included the words "I love you, alive girl," which is a weird thing to say to your partner, or anyone, but apparently it worked. Sanchez, a former news anchor, also got divorced in the months after the texts were leaked.
Since then, she and Bezos have enjoyed romantic adventures including a double date with Kim and Pete and a night out at Coachella with their fellow kids. There's no telling where this next one will take them, but you know what they say: First comes love, then comes marriage, then comes a custom wooden carving atop a megayacht. Congratulations to the happy couple!