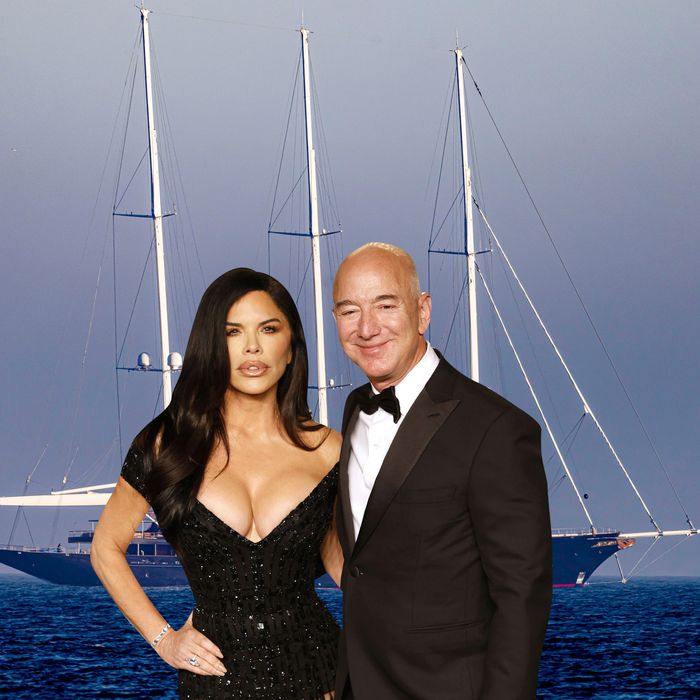 Photo-Illustration: by The Cut; Photos: Getty Images, Shutterstock
Jeff Bezos has added a bit of stunning new woodwork to his superyacht: The prow is now decorated with, as the Daily Mail put it, a "curvaceous winged GODDESS," which bears a striking resemblance to Lauren Sanchez, Bezos's girlfriend.
Bezos and Sanchez were seen lounging on the 400-foot yacht off the coast of Spain earlier this week, and the addition of a gleaming Alive Girl figurehead suggests that the ship is finally finished. The world's largest sailing yacht has been under construction for some time — apparently it was being remodeled to house a swimming pool, a helipad, and room for a second, smaller yacht. Last year, it was nearly vandalized by a bunch of egg-wielding Rotterdam citizens when they heard one of their important bridges would have to be disassembled to make way for the yacht's movements.
A nautical bust is not a practical accessory, but more of a spiritual symbol — an embodiment of a ship's vibe. Traditionally, a figurehead would be a mermaid, a fierce animal, or maybe a Valkyrie to suggest protection. I feel that Sanchez, an enthusiastic helicopter pilot who is scheduled to go to space next year, seems more than appropriate for the job. Ahoy, Alive Girl.