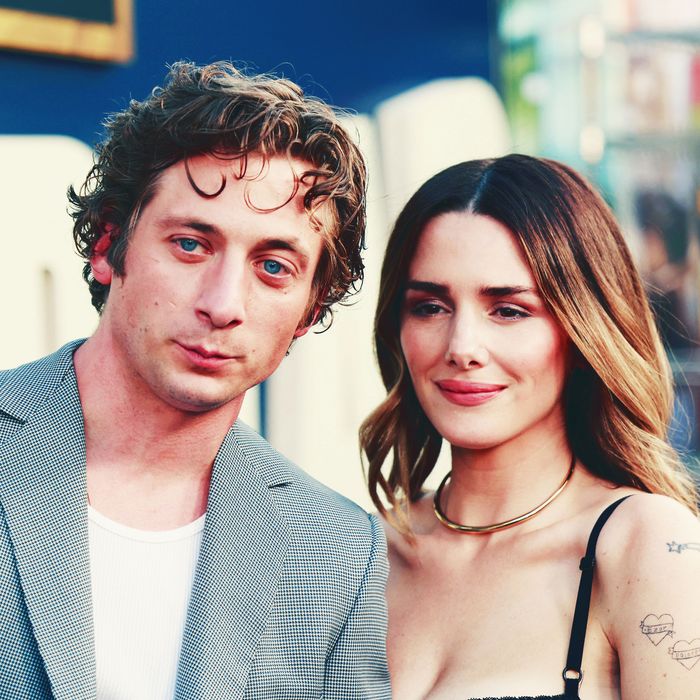 Jeremy Allen White and Addison Timlin
Photo: Michael Tran/AFP via Getty Images
After more than three years of marriage, actor Jeremy Allen White and his wife, Addison Timlin, are getting a divorce. According to court documents obtained by TMZ, Timlin filed for divorce last Thursday in a Los Angeles court but did not include a reason for the split in the filing.
The couple, who met as teenagers on the set of the 2008 film Afterschool, had a small courthouse wedding in 2019 and have two daughters. In a 2020 Instagram post, Timlin — who is best known for her roles in The Town That Dreaded Sundown and Little Sister — called White her "best friend of 15 years."
When he won a Golden Globe — for his role as the hot, tattooed, and emotionally tortured chef Carmy in The Bear — in January, White expressed gratitude to his wife in his acceptance speech. "I love you deep in my bones, thank you for all that you do, thank you for everything that you've done," he said. After the show, Timlin praised her husband on Instagram, writing, "When I watched the pilot for The Bear, I cried my fucking heart out. I think somewhere I must've known how much life was about to change, but mostly I just knew that the world was about to discover what I've known all along."
On Sunday, Timlin broke her post-filing silence with a Mother's Day Instagram post, recounting the challenges of single motherhood and thanking "everyone that has helped" her over the past nine months. "Being a single mom is not how I pictured it. It is so fucking hard," Timlin wrote alongside a photo carousel of her and White's daughters. "It's not the natural order of things. It can be exhausting, but more than anything it can just be so lonely."
This article has been updated.