Photo: Courtesy of Celine
Despite my extensive knowledge of Taylor Swift's breakups and their relevant accessories, I must admit I haven't given much thought to her ex-boyfriends themselves. However, Swift's newest ex, actor Joe Alwyn, has become a subject of intrigue to me personally since he and the singer broke up in April after six years of dating.
Alwyn was credited under a pseudonym as a co-writer on several of Swift's songs while they were together, but they largely kept their relationship private, giving me the impression that he is a sweet, reserved boy. But now Swift is back in the limelight, and her friends have unfollowed Alwyn on Instagram. Also, she has embarked on an increasingly controversial romantic journey with musician Matty Healy — a fact I am choosing not to dwell on.
Focusing on Alwyn's post-breakup life is a somewhat appealing alternative. Is it because he bears a striking resemblance to Jon Bon Jovi's son, Jake Bongiovi? Perhaps. Is it because we have heard so much — too much, even — about Healy and his questionable behavior, versus very little about shy guy Alwyn? More likely. Anyway, Alwyn resurfaced for the first time post-breakup at a Céline dinner in Cannes, and I must say, he seems to be doing, at the very least, okay. Even if the Daily Mail is correct in claiming that he feels "distraught and slighted" about Taylor's new relationship (same), he pulled himself together pretty well for a guy who may still be in mourning. Céline appears to have propped him up on a hotel balcony for a sun-kissed, golden-hour photo shoot, and, well, please take a look: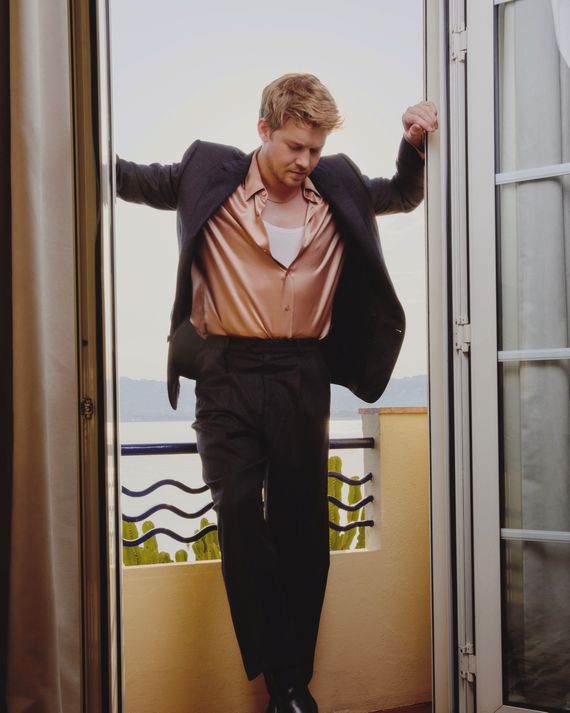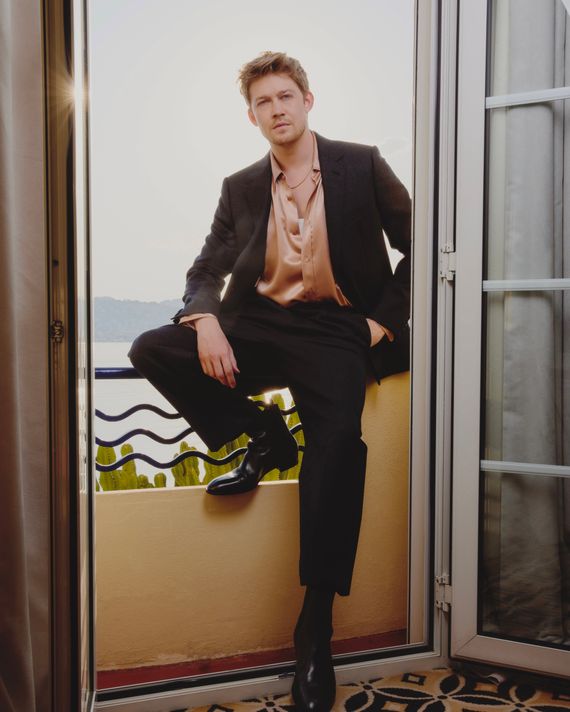 Judging from his unbuttoned silk shirt and carefully mussed hair, Joe is putting himself out there, but in a carefree, Risky Business way. He is experimenting with salmon hues. He is wearing sunglasses, not because his eyes are puffy from crying but because he is going for glamour. His décolleté is sending a message, and I am receiving it. Here he is, healing his emotional wounds in the glorious French Riviera sun:
What are you trying to tell us with that single chain, Joe? That you are in disguise as a nightclub promoter with access to shockingly good tailoring?
Hang in there, Joe! You're doing just fine.