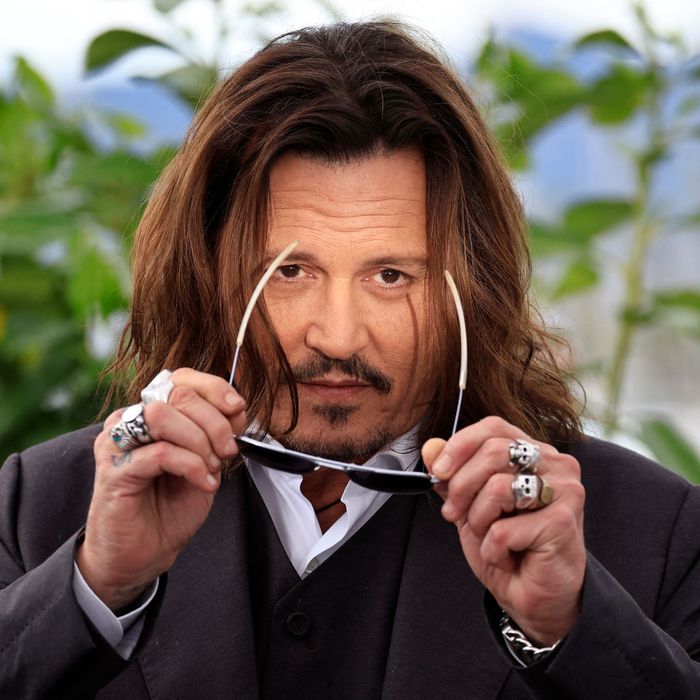 Photo: VALERY HACHE/AFP via Getty Images
This time last year, Johnny Depp was embroiled in a very public defamation trial against his ex-wife Amber Heard, whom he claimed destroyed his career with an op-ed about sexual violence that never once mentioned him by name. When the jury announced its verdict — largely in Depp's favor — he was already on a gig touring Europe with Jeff Beck. Ever since, he appears to have stayed booked and busy. The actor appeared in a Savage Fenty show. He renewed his contract with Dior, signing a $20 million–plus deal, the largest ever for a men's fragrance. And now, he's returned to the screen with the French film Jeanne du Barry, which received a seven-minute standing ovation following its premiere at the Cannes Film Festival on Tuesday.
In a video posted by Pop Crave, Depp, wearing a suit and his signature chin-beard, can be seen holding back tears as he claps along to the raucous applause and embraces his director and co-star, the French filmmaker Maïwenn. While awkwardly long ovations are par for the course at Cannes, keep in mind they're applauding for a man who once texted with his buddy about raping and immolating his ex's corpse.
Those messages were just a few of the details that came up during Depp's defamation case against Heard, in which she alleged years of cruel and violent abuse at Depp's hands. Though a U.K. judge weighed the same evidence and found Heard's complaints credible, a U.S. jury appeared to agree that her claims prevented Depp from finding work — never mind that he had already been cast in Jeanne du Barry at the time. Last month's announcement that the film — which stars Depp as Louis XV and Maïwenn in the titular role as his favorite mistress — would open this year's festival drew some serious side-eye, though festival director Thierry Fremaux shrugged off the criticism in comments to journalists at a press conference. "I don't know about the image of Johnny Depp in the U.S.," he said, adding that he only cares "about Johnny Depp as an actor." Cannes has historically been friendly to men accused of misconduct, including Roman Polanski, Woody Allen, and Harvey Weinstein.
Nonetheless, Depp and Maïwenn make quite the pair. Maïwenn recently admitted to assaulting a journalist by spitting on him, and she's also known for being anti–Me Too. "It's crazy how many stupidities they say these days!" the filmmaker is quoted as saying in Paris Match back in 2020. "These women don't like men, that's clear, and they're causing very serious collateral damage … When I hear women complaining that men are only interested in their bottom, I tell them, 'Enjoy it because it won't last!'" Perhaps not unrelatedly, the journalist Maïwenn spat on just happens to be editor-in-chief of Mediapart, an online magazine that has reported on sexual-assault allegations against Maïwenn's ex-husband, Luc Besson, with whom she shares a daughter.
Despite the controversy, many people seem to be taking a similar stance to Fremaux's. The celebs still turned up for the festival's opening night, while Variety reports that Depp was thronged by thousands of fans outside of the Palais and "worked the fan line for five full minutes" before walking the red carpet. In a press conference for the film, Depp said that "the majority of what you have been reading for the past five or six years, is fantastically, horrifically written fiction," seemingly alluding to his years of legal controversies. He added that he no longer feels "boycotted" in Hollywood because, as he puts it, "I don't think about Hollywood. I don't have much further need for Hollywood." Bon voyage, then.