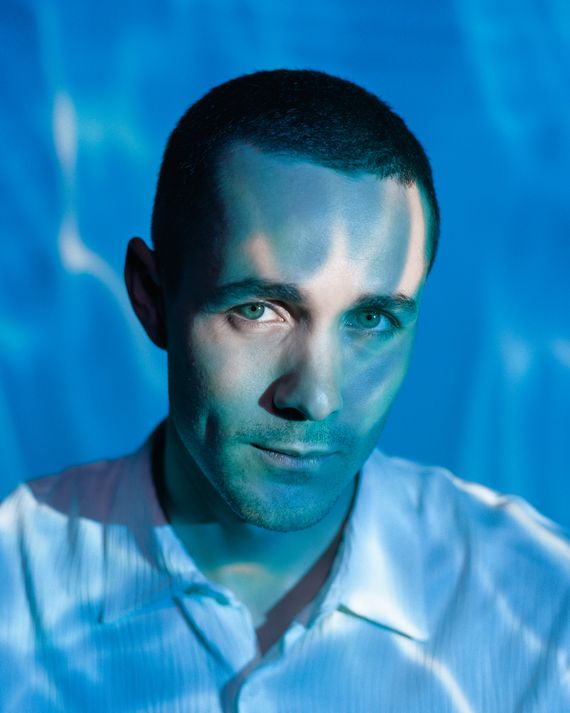 There was once no cooler place in London than Camden, the home of indie rock and punk in the aughts. But fast-forward 15 years from its famed heyday, and in the basement of a new building next to the Hawley Arms — a hallowed British pub rumored to have been Amy Winehouse's favorite — there's an indoor, alien-themed amusement park. It's a space of sensory overload where, on the first hot day of the year, a Disney prince has agreed to meet me.
It's a Saturday afternoon, and The Little Mermaid's new Prince Eric, Jonah Hauer-King, bounds round a corner off Camden High Street, smiling as he politely pushes past throngs of tourists. He leans in for a hug, taking off his sunglasses and lifting a dusty-pink cap to reveal his cropped hair — a fairly recent look that's a far cry from the mousy mop of curls associated with his Disney character.
He tells me that his neighbors, a couple in their 30s with no children, suggested our meeting place: Babylon Park, a TikTok-friendly spot known for being the only place in inner-city London with a roller coaster. As we descend an escalator into an effervescent world full of metallic and juiced-up machines, we realize that Babylon Park's weekend lunchtime clientele is, for the most part, pre-teenage kids throwing birthday parties. The only ones close to our age are their parents, who look slightly exhausted by the noise and color emanating from every speaker and surface. Hauer-King looks slightly spooked too.
At the moment, two men in their late 20s look a little weird hanging out here, but soon, his face will be beamed, 30 feet high, in front of these same kids in a family-friendly film that's guaranteed to make bank at the box office. Next time he comes to Babylon Park, these folks might know exactly who he is.
It's taken about four years for him to get to this point. In April 2019, Hauer-King began The Little Mermaid's atypically long-winded audition process that culminated in a fully lit and costumed chemistry test with his scene partner, Halle Bailey. He beat the competition (Harry Styles) for the role of Prince Eric, and the scale of the project was new to him; his previous parts included playing Laurie in a starry television adaptation of Little Women (Maya Hawke played his Jo) and the lead in the ongoing WWII series World on Fire. Both aired on the BBC and were well received, but the attention felt almost uniquely British. This was something bigger.
When initial shoots for the latest installment in Disney's long-running endeavor to remake its animated classics in live-action form were derailed by the pandemic, Hauer-King stayed at the flat he shares with his girlfriend. He bought a PlayStation, "played it religiously for two weeks but didn't love it that much," and wrote a script about prisoners of war during WWII who start theater companies and stage plays to explore "their ways of finding some purpose and meaning in their lives." (When Hauer-King speaks about the project, he bashfully downplays it a little. Later, I find out the film is currently in preproduction with an Oscar-winning producer attached.)
After The Little Mermaid picked up production again in November 2020, Hauer-King lived and breathed Prince Eric. Was it strange for his girlfriend to watch her partner head out the door to play a Disney prince every day? "I'd spent the last six months sitting around at home trying not to go crazy!" Hauer-King tells me, grinning. "I think she was relieved I was finally leaving."
By today's standards, playing a Disney prince is not the easiest task. For decades, these himbo-ish men have been valiant knights to helpless — and in Ariel's case, voiceless — women. Part of the task of Disney's live-action remake machine is righting these historical wrongs. So what's in it for the boys anymore?
Hauer-King calls the original Eric from the 1989 film an "archetypal prince … but we didn't really get to know him very well." The new Eric is different, giving him the opportunity to peel back layers that weren't there before. Now, Eric is more restless and inquisitive about where he is in the world, like Ariel, which gives that pairing more purpose. "He's quite isolated and sensitive," he adds, biting his bottom lip as he thinks between his sentences. "That was sort of my way into it."
Still, there's pomp and fun to it: Hauer-King took some tips from his friend, Harris Dickinson, who played Prince Philip in the 2019 Maleficent sequel and told him to enjoy this chance to "play." His Prince Eric has equal parts charisma and boy-bandish sex appeal; at one point, Ursula, the film's iconic villain, calls him a "human heartthrob." But mention that framing to the actor and he squirms a little: "I don't connect with it, I guess, because it's not how I see myself."
A gaggle of children have started throwing massive colored balls against a wall and it's made serious conversation difficult, so we submit to the lure of the lights. The whizz and burr of arcade games clashes with generic EDM on the ground floor, making me feel like I've snorted sherbet. We mainline for Babylon Park's famed roller coaster, but as Hauer-King clambers over into the carriage, we both realize that neither of us are very good with rides. As it propels us forward and takes a sharp corner, Hauer-King turns to me, a sheepish look in his eyes: "Maybe I should have skipped the porridge this morning!" We lift our hands off the metal bars and let our bodies float in the zero-G feeling.
We stumble off the coaster toward a ring toss we both fail at, then to a dance match to a violently fast hyperpop remix of Dvořák's "Symphony No. 9 Allegro con fuoco," which I accidentally set to "extra-hard." We try to max out the high score on the punch bag (neither of us succeed; Hauer-King narrowly beats me), and I avoid the shoot-out games in fear of entangling Disney's newly crowned prince into some sort of PR crisis. "Shall we go sit in the park?" he suggests, and we ascend from the madness into the glaring afternoon sunshine, finding a spot under a tree across the road.
Hauer-King didn't always want to be an actor. Music came first. As a teenager in North London — the son of a theater actor turned therapist mother and restaurateur father — he and his friends would play gigs at the bars and clubs around the city as an indie-rock band called Rova, performing original songs with names like "Mama Save Me." At the suggestion of a friend, he snagged an amateur acting gig at the Edinburgh Festival Fringe, met an agent, and figured he'd start working after his high-school graduation.
But by the time contracts were signed, the work wasn't there. He remembers auditioning for a part in the 2013 adaptation of The Book Thief. "I think it just gave me a slightly warped sense of what it actually means to be an auditioning actor starting out," he says, lifting his hat to rub his palm across his closely cropped scalp. "I didn't get that role, and didn't get a recall for many, many months on anything else after that."
He put acting on ice and went to Cambridge University for theology and religious studies, which wound up being a left-field and enlightening drama education. As a child, he had heard stories of his grandfather, a deeply faithful Jewish man who'd left small-town Poland for Canada before WWII, serving in the Air Force. It sparked an interest in his own relationship to Judaism and how people find answers to life's existential questions. "A lot of the degree was investigating how these people live and find meaning and relate to one another," Hauer-King says. "Obviously it sounds quite lofty, but I guess what we're doing as actors is making sense of human existence."
His studies, which he balanced with acting gigs once the work started coming in, certainly helped him make sense of the project that will follow The Little Mermaid: a TV adaptation of the best-selling novel The Tattooist of Auschwitz. In it, Hauer-King will play a young Jewish man who, while imprisoned in Auschwitz concentration camp, is forced to tattoo incoming prisoners. The week prior to our meeting, he'd returned from Bratislava, where he'd been shooting the show in a haunting re-creation of the camp since late last year. For the role, he lost weight and, hence today's look, shaved his head — an emotional ritual conducted by the show's hair and makeup artist. "I've not had time to make sense of it," he says now. "I stayed in that headspace … It was easily the most challenging job I've ever done."
The industry hasn't yet forced Hauer-King to confront how he wants to present his personality to the media, but he's self-conscious, he admits, of "having an image or idea of you projected back onto you in a way that you don't really see yourself as." He admires actors like Lesley Manville, whom he works with on World on Fire, and his friend Josh O'Connor. "They've got careers with longevity and have used their profile to their advantage but have not been in the public eye constantly," he says. They've mastered a "separation" he strives for.
Actors live on the precipice of promised change, but the truth is that no one — not least Hauer-King himself — knows what will come from The Little Mermaid's almost guaranteed box-office success. It might make him into a movie star, or maybe such a fate will stem from a more unlikely place later down the line. He's familiar with that promised destiny, having been fed it about other projects before. "I accept that this is different," he says. "If ever there was going to be one that would change things, it would be this, but I think I'm better off pretending that nothing is going to change, because I hope that it doesn't." So does he want to be famous? "Actively the opposite," he says, resolute. "I feel very privileged to have a life that I feel really lucky to have. I love my home, I love London. I have no aspirations to move anywhere else."
Hauer-King will spend the evening catching up with his dad; then he will fly to Los Angeles for the start of a monthlong stint of red carpets and press junkets. He'll grin gorgeously in Dior suits, deep down trying not to let the concept of fame creep into his consciousness. Hugging me good-bye with the same warmth with which he greeted me and wandering off to find a Lime bike to cycle homewards, he shouts back, "I just want things to stay the same."