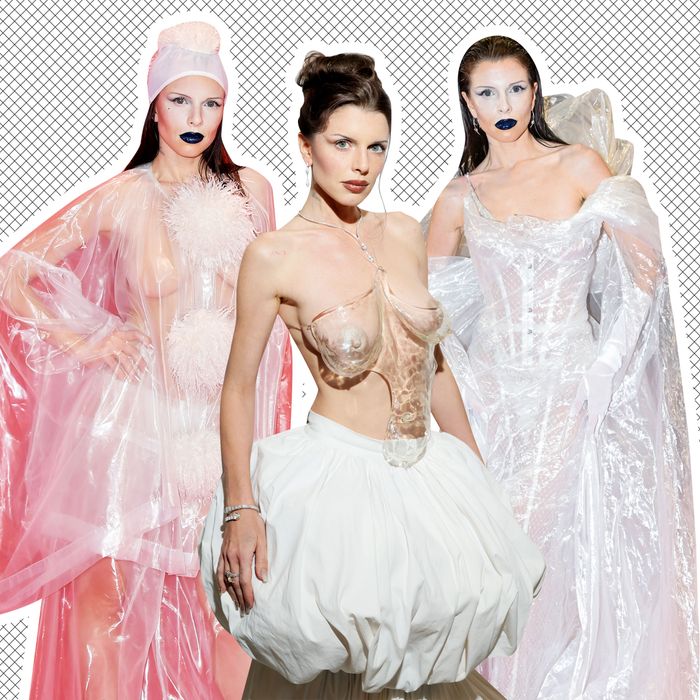 Photo-Illustration: by The Cut; Photos: Getty Images
The celebs have flocked to the French Riviera, and already, the Cannes Film Festival is giving us a myriad of looks. So far, we have Marion Cotillard in confusing Chanel, Kaia Gerber in shimmery Celine, and Julia Fox in … plastic and glass. What is happening here?
Bold sartorial materials are par for the course for Fox, who is her own muse and refers to her style as a "visual service" to the public. She's taught us anything can be a shirt, from business ties to garbage bags to tube tops lined with condoms; she has also given us an Oscars gown that throttled her with its own built-in leather hand. Even so, Fox still managed to outdo herself this week when she wore a transparent glass breastplate to the Art of Elysium Paradis 25th anniversary party, shaped like the suggestion of a halter top and held together with an anxiety-inducing strap on her back. (I personally don't trust regular halter tops for support, so I cannot explain the physics of this to you.) Accessorized with diamonds, the whole look is propped up on a poofy white skirt:
If it's possible to top glassware, Fox followed up this look at a red carpet for The Idol premiere, where she wore a giant plastic Nicolas Jebran gown that, per "Page Six," looks as if "it was made from a rain poncho." The white dress featured a corset and a large hood, and Fox appeared to color-coordinate her makeup, a heavy schmear of white powder paired with her signature cat eye.
Fox attended The Idol's after-party, which reportedly raged until 5 a.m., in yet another plastic look, wearing a long, cellophane-like clear tunic over trousers, festooned with big fuzzy balls. The mood is clown suit. At least no one's getting cut with a glass shard?