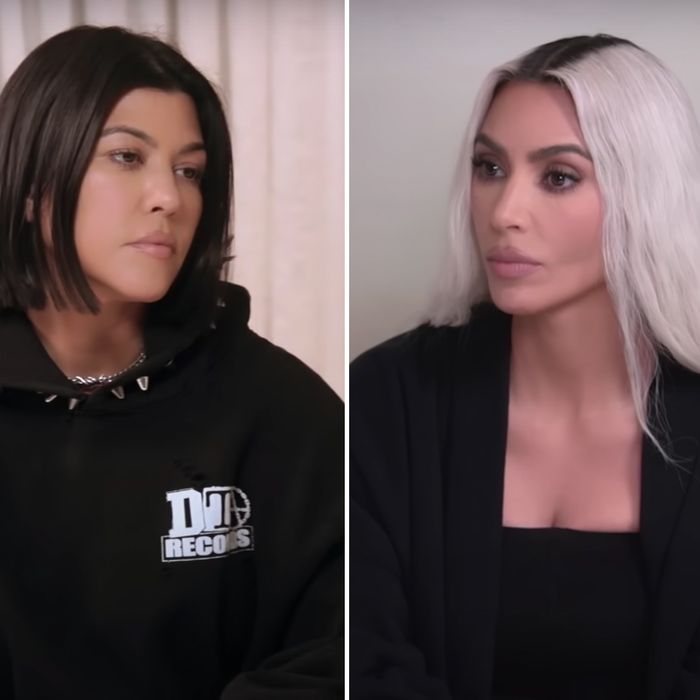 Photo-Illustration: The Cut; Photos: Hulu
Are Kim and Kourtney Kardashian beefing over Kourtney's various weddings last year? On Sunday, Kim shared photos from Lukas Gage and Chris Appleton's Las Vegas wedding, which she recently officiated. "There's no one I would have officiated a rock n roll Vegas wedding for other than @chrisappleton1 and @lukasgage," she captioned the post. But after commenters called her out for being "petty" and "shady" to her sister Kourtney, who also had a rock-and-roll Las Vegas wedding (that none of her siblings attended), Kim changed the caption to read, "I was so honored to be able to officiate a wedding in Vegas!!! I couldn't be happier for you both @chrisappleton1 and @lukasgage." Hmm!
The caption change raised eyebrows, as it came days after the trailer for the third season of the family's Disney+/Hulu show was released, which also teased some wedding drama, including the instantly iconic quote: "My sister used my wedding as a business opportunity." As you may recall, in May 2022, Kourtney married Travis Barker in Positano. The event was hosted by Dolce & Gabbana's Domenico Dolce and Stefano Gabbana, so naturally, the entire Kardashian clan wore archival looks specially reworked for them by the Italian designers. Four months later, Kim collaborated with the brand on its spring/summer 2023 fashion line, showing a selection of reworked archival looks. She remains the face of the company.
In the trailer, Kim asks Khloé if Kourtney is mad at her. "Livid," Khloé responds, before Kendall chimes in to say that Kourtney feels like "her wedding vibes were, like, stripped from her." Meanwhile, Kim says she couldn't have been more mindful about not stepping on Kourtney's toes, saying, "I said don't do anything that Kourtney wore to her wedding."
Drama involving a wedding in paradise and Dolce & Gabbana? Count us in.