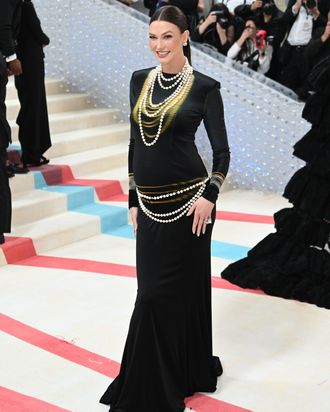 Photo: Noam Galai/The Hollywood Reporter via Getty Images
When Karlie Kloss stepped out of the Mark Hotel on Monday night, she was met with an audible "Oh, my God!" Not simply for her 2023 Met Gala ensemble — a long-sleeved black Loewe gown with gold detailing and accessorized with layers of pearls — but because the 30-year-old model just revealed that she is expecting her second child. Looking that baby announcement right in the eye!
Kloss told Vogue correspondent Emma Chamberlain that this is her first time walking a red carpet while pregnant, adding that the moment felt equal parts "special" and "vulnerable." Kloss is married to billionaire businessman Joshua Kushner, who, as his surname suggests, happens to be the brother of Jared Kushner. The couple welcomed their first son, Levi, in 2021 after publicly announcing the pregnancy five months earlier.
Want more of the Met Gala? Sign up for The Cut daily newsletter so you don't miss any of our coverage. Newsletter readers will also receive exclusive interviews with attendees and Cut staffers' personal picks for the best — and worst — looks of the night.
Kloss is a Met Gala darling, having first attended the event in 2009. While it's hard to compete with her 2019 "camp" look, announcing a pregnancy on the Met Gala carpet is a fashion statement, to say the least. Kloss joins the ranks of Rihanna and Keke Palmer, who in the past year announced their pregnancies at the Super Bowl and on Saturday Night Live, respectively. Say what you will about pregnancy-announcement stunts, but I will take a surprise bump over a failed gender-reveal party any day.
Congratulations to Karlie, and good luck to all other Met Gala attendees whose looks now have to compete with a pregnancy announcement.