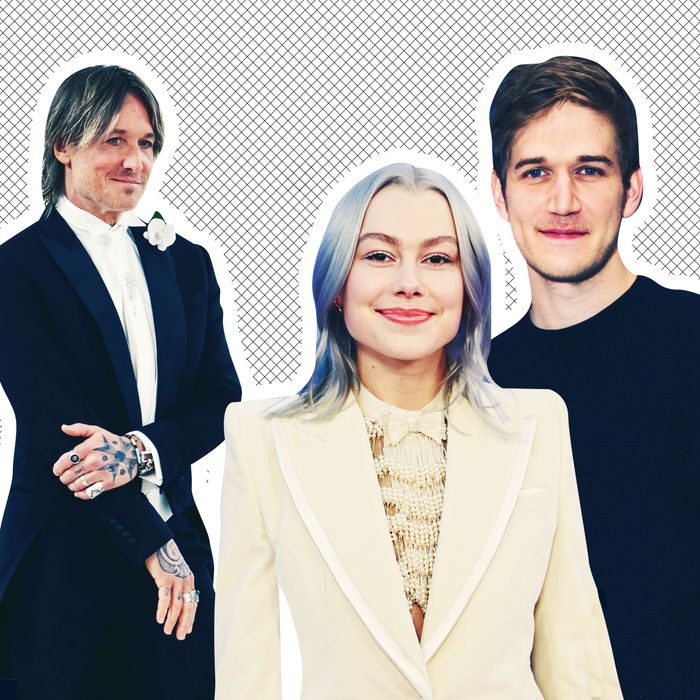 Bless them.
Photo-Illustration: by The Cut; Photos: Getty Images
We're only a few months into Taylor Swift's Eras Tour, but already it has given us so many revelations. We got footage of Taylor arriving at one of her shows in a janitor cart. We are getting lots of hints about her apparent rebound, in the form of the 1975 front man Matty Healy. And we may have gotten proof that Phoebe Bridgers and Bo Burnham really are kissing, as revealed by country singer Keith Urban. On Monday, Urban posted a grainy TikTok of himself and his wife, Nicole Kidman, lip-syncing and dancing to "Style" during Swift's Philadelphia show, so lost to the moment that they apparently didn't notice that two familiar figures — one appears to have Bridgers's signature hair; the other is conspicuously tall, much like Burnham — were making out in the background. Hello!
Bridgers and Burnham first sparked dating rumors in December, when they were spotted together at a comedy show in New York City looking "flirtatious," according to a Jezebel reporter in the crowd. A surprise, as up until that point, Bridgers was still widely believed to be in a relationship with Normal Person Paul Mescal, and potentially even engaged to him. Everyone involved has been quiet about things over the past few months, keeping a low profile aside from a public sighting of Bridgers and Burnham at LAX in January. But People reports that Bridgers and her bandmates have been opening for Swift at a few of her Eras concerts, with Bridgers occasionally joining Swift onstage. Perhaps that's why she and Burnham were there, though both of them also know Healy, according to photo evidence of the trio doing a friendly but cursed group kiss last year.
Meanwhile, Urban and Kidman look like they were at Eras purely for the vibes. In the video, they can be seen throwing back their heads and waving their arms in the air, both blissfully ignorant — bless them — of the cozy encounter happening behind them. "Shout out to Taylor, her team, and ALL the Swifties who showered us with sooooo many friendship bracelets," Urban wrote. "Your show is fucking phenomenal." As is the little kiss he accidentally broadcast to us.