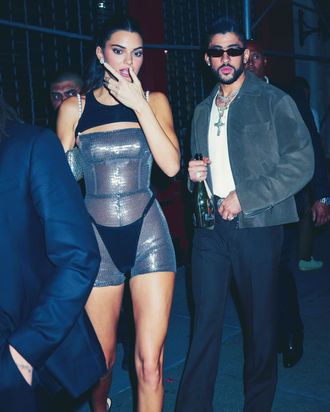 After weeks of denial, it may be time to finally accept that Kendall Jenner and Bad Bunny are definitely dating. Although the stars arrived at Monday night's Met Gala separately, photos show Jenner laughing while chatting with the musician inside the event. And later that night, the two were seen leaving the Ritz-Carlton and heading to an after-party together, making it pretty hard to ignore that they are an item.
For the after-party, Jenner swapped out her sequined black Marc Jacobs bodysuit and sky-high lace-up platform boots for a black Chanel thong, which she wore on top of a sheer metallic mini-bodysuit. The look originally appeared as part of the brand's spring-summer 1994 collection, per Vogue. Bad Bunny changed into a white tee with a jacket, toning things way down from the all-white backless Jacquemus ensemble he wore to the gala.
Since first being seen together at Wally's, a popular L.A. eatery, in February with Justin and Hailey Bieber, Jenner and Bad Bunny have been spotted hugging, kissing, and horseback riding. Most recently, Jenner was seen dancing to Bad Bunny's set at Coachella, with a source telling People that the two "looked very cozy."
Meanwhile, another source told Us Weekly that even though things weren't serious between the model and the singer, Jenner's feelings for him were "starting to grow." Bad Bunny seems to mention Jenner in Eladio Carrión's new song "Coco Chanel," which includes the lyrics "I'm not bad, baby, that's a gimmick. But the sun in Puerto Rico is hotter than in Phoenix. She knows it" — a line many have interpreted as not-so-veiled shade on Jenner's ex Devin Booker, who plays for Phoenix Suns.
Needless to say, sounds like the internet's least-favorite fling is still going strong.