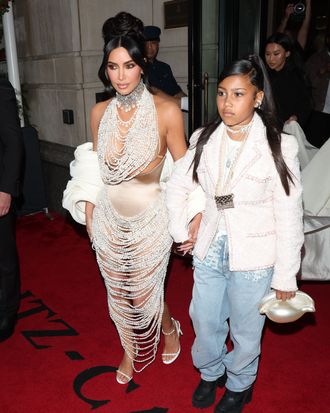 Being the child of celebrities comes with plenty of perks: Coachella-level birthday parties, Hollywood movie cameos, making Kim Kardashian dress like a Minion. So when North West was spotted heading to the 2023 Met Gala, dressed on-theme, it seemed par for the course. If any child could sneak their way into one of the most elite fashion events, it would be her. However, it seems there are rules the Met Gala will not bend, even for a Kardashian spawn.
As of 2018, Met Gala attendees must be 18 or older. There was speculation that this rule went into effect given the potentially controversial implications of that year's theme, "Heavenly Bodies: Fashion and the Catholic Imagination." However, a spokesperson for the event later told The Hollywood Reporter the age limit was put into place because "it's not an appropriate event for people under 18." While there are rumors that there may be a loophole for minors attending the event with their parents, North West did not walk this year's red carpet.
Want more of the Met Gala? Sign up for The Cut daily newsletter so you don't miss any of our coverage. Newsletter readers will also receive exclusive interviews with attendees and Cut staffers' personal picks for the best — and worst — looks of the night.
Rumors of North's attendance heightened moments before the gala when she was seen leaving the hotel with Kim. North was dressed in a pale-pink blazer, pearls, and jeans, and Kim was covered in strands of pearls. An appearance from Kim and Kanye's eldest daughter seemed especially likely after Kim posted an Instagram Story showing the spa day North had planned for the two of them ahead of Monday night's event. North's cousin Stormi was also seen seemingly headed to the event with her mom, Kylie Jenner. However, the 5-year-old old's attendance seemed less likely given her casual outfit and the fact that she is literally 5 years old.
However, as Kim Kardashian told Vogue's red-carpet correspondents, her daughter was just watching from the car. It seems North, who is 9, will have to wait until she is 18 to attend the event just like everybody else who has fame, fortune, and an invite from Anna Wintour.