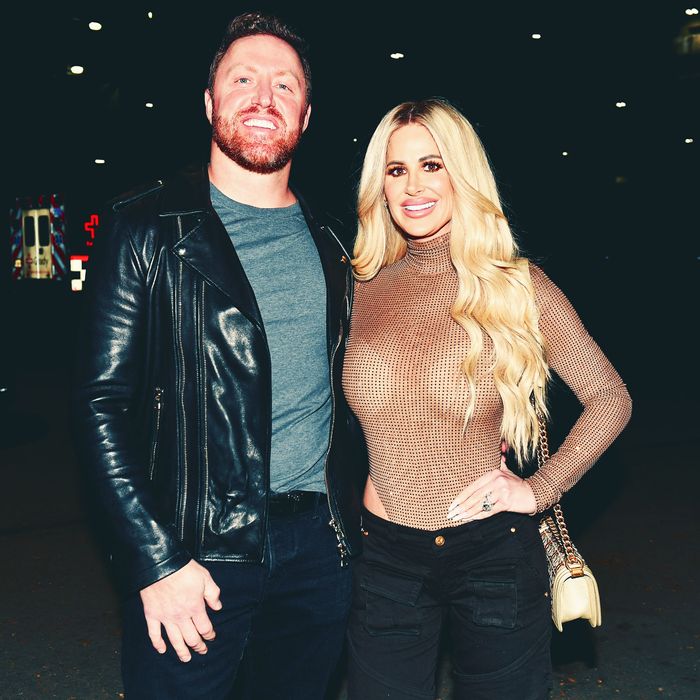 Photo: Paras Griffin/GC Images
Real Housewives of Atlanta and Don't Be Tardy stars Kim Zolciak-Biermann and Kroy Biermann are getting divorced after nearly 12 years of marriage. Biermann seemed to love everything about Zolciak, including her obsession with spending money and showing off her expensive purchases, but a source close to the Bravolebrities reportedly told People that the marriage is ending largely because of financial problems.
Zolciak became a Bravo star after appearing on The Real Housewives of Atlanta from its very first season. She gave a music career a try with the song "Tardy for the Party," which became something of a tagline for her. Biermann played in the NFL for the Atlanta Falcons and the Buffalo Bills. After getting married, Biermann adopted her two daughters, and the couple went on to have four other children. Their marriage and family life were the focus of the spinoff Don't Be Tardy, which aired from 2012 to 2020.
It's been reported by ET!, People, and TMZ that the Biermanns owe more than $1 million in taxes and that the mansion they lived in (and got married in), located in Alpharetta, Georgia, entered foreclosure in February. People previously reported that the couple defaulted on a $1.65 million loan they took out for the property in 2012 and that their home was going to be auctioned. In a November Instagram video, Zolciak-Biermann denied that the home was being foreclosed and going to auction, saying, "If you guys think I would let my home that we've put millions and millions of dollars into go for $257,000, you're an idiot, okay? For real."
Zolciak-Biermann's love of designer shoes, clothes, and cars was always a topic of conversation on TV. Her castmates frequently wondered how she could afford her lavish lifestyle. In one memorable scene, Kenya Moore said to her, "Your husband doesn't have a job right now, so worry about that," to which Zolciak-Biermann responded, "Eight years in the NFL. $20 million. I think he's okay, bitch."
If you're wondering, yes, Bethenny Frankel already has a take on all of this. "They've always been people who seem like they're spending more than they have," she said on TikTok, adding, "Pay your fucking bills."
An earlier version of this post stated that Biermann played for the Atlanta Hawks, when in fact he played for the Falcons.