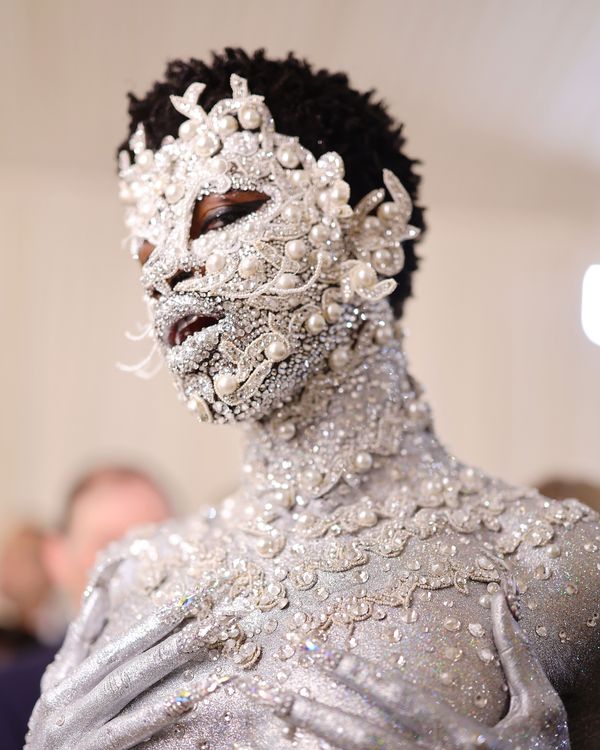 Photo: Matt Winkelmeyer/MG23/Getty Images for The Met Museum/
Dripping in crystals, pearls, and not much else, Lil Nas X shined bright on the Met Gala red carpet. If there's anyone to applaud tonight, it's Nas's glam team, whose impeccable attention to detail appears cinematically surreal. Earlier this year, Doja Cat appeared in a look covered in 30,000 fiery-red Swarovski crystals that turned heads and made headlines at Schiaparelli; it seems like Nas took notes and also snatched Doja's lead makeup artist, Pat McGrath. Instead of using flat crystals to paint the shape of his authentic silhouette, he built upon it, creating a mask made of pearls and bejeweled Swarovski crystals on his face.
This is not Nas's first time experimenting with a daring look. At his last Met Gala appearance, he executed a three-part outfit change that included a full-body armored suit and embellished robe. This year, he opted for head-to-toe silver body paint and delicately placed pearls placed all over his body. While the only actual fabric Nas is wearing is a metallic thong, he pairs his cheeky look with sharp and bedazzled claws and custom-made platform boots.
While this crosses over many plausible themes — some saying silver fox, others saying Atlantis-inspired — when asked to explain his look, Nas answered, "Meow … meow." Choupette will always be famous!
Want more of the Met Gala? Sign up for The Cut daily newsletter so you don't miss any of our coverage. Newsletter readers will also receive exclusive interviews with attendees and Cut staffers' personal picks for the best — and worst — looks of the night.