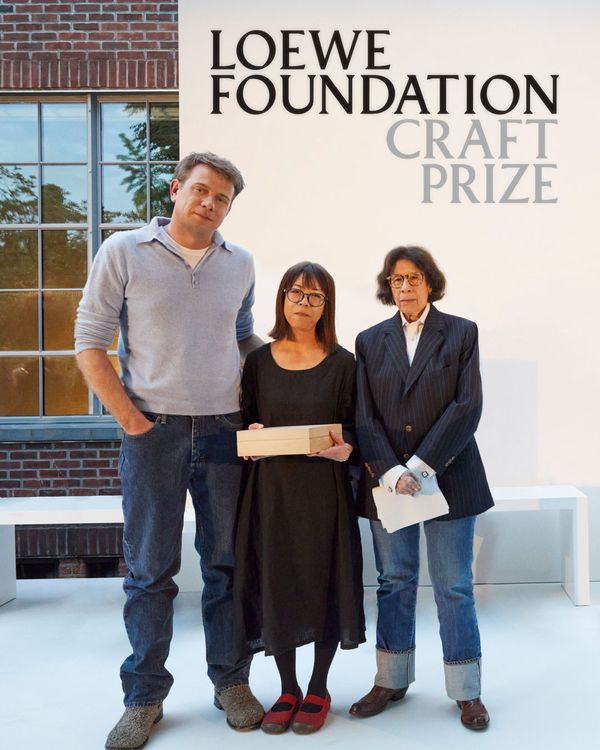 Jonathan Anderson, Eriko Inazaki, and Fran Lebowitz.
Photo: Courtesy of Loewe
It took ceramist Eriko Inazaki a little over a year to complete her sculpture Metanoia, which consists of thousands of delicate ceramic pieces layered on top of each other. It has so many layers that it doesn't look like it is made from clay. And to keep the clay from drying out during this lengthy process, she constructed a specific glass house with a humidifier. "It's very time-consuming, and you can only make a little bit per day," says Inazaki. "I make a habit of noting the number of pieces I make per day so that I remain encouraged." So how does she know when a piece is done? "It's a feeling. When I get the feeling of enough, sedated. I express a moment of detachment."
Her work paid off. Inazaki was the winner out of 30 finalists (and 2,700 applicants) for the Loewe Foundation Craft Award, which the brand awards to artists annually. "I asked why this is called craft and not art, the difference really is between useful and uselessness," Fran Lebowitz, who presented the award to Inazaki, joked. "And most of these things are useless, which makes them art." In the sculpture garden of the Noguchi Museum, laugher erupted from the crowd that included the brand's creative director, Jonathan Anderson; artist Chloe Wise; actress Chase Sui Wonders (wearing the pixelated Loewe pants); and, surprisingly, only one J.W. Anderson pigeon bag.
Anderson, who took over the Spanish brand nearly a decade ago, created the award in 2016 to align with the brand's focus on creating wearable pieces of art rather than fashion — hence the pigeon bag. Art is subjective, right? Stylist Benjamin Bruno, a collaborator of Anderson's, recently told Cathy Horyn that the brand is "aimed at people who were themselves collectors and connoisseurs of art and vernacular crafts and weren't interested in logos."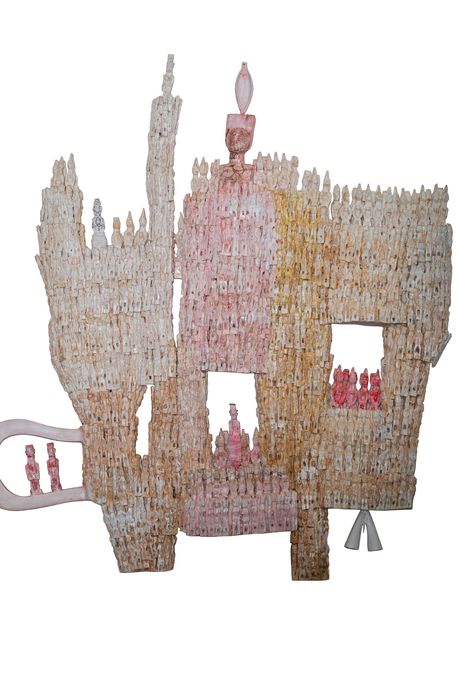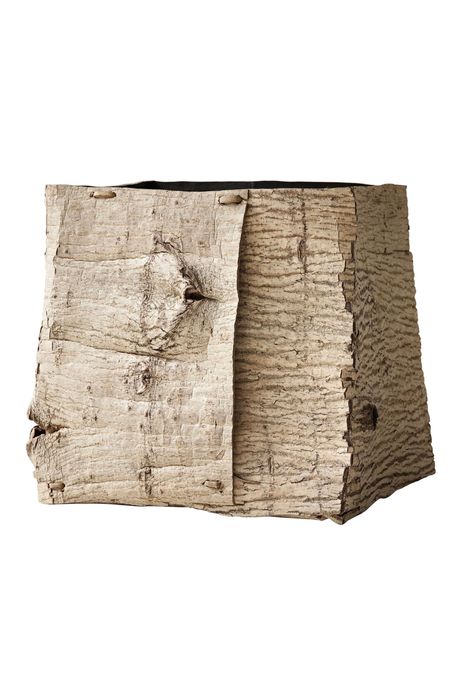 Two honorable mentions for the prize include Dominique Zinkpè, who created a wall sculpture that evokes traditional Yoruba beliefs, and Moe Watanabe, a Tokyo-based artist who traveled to the Tohoku region to gather bark for her piece, the Walnut Bark Box, which recalls the ancient Japanese tradition of ikebana vase-making. (The works will be on display at the Noguchi Museum until June 18.)
"In my lifetime, numerous items, there have been announcements of the death of painting, the death of the novel, the death of drawing, the death of craft," said Lebowitz. "None of these things are true, but the people who said them are dead. And that's a good thing."