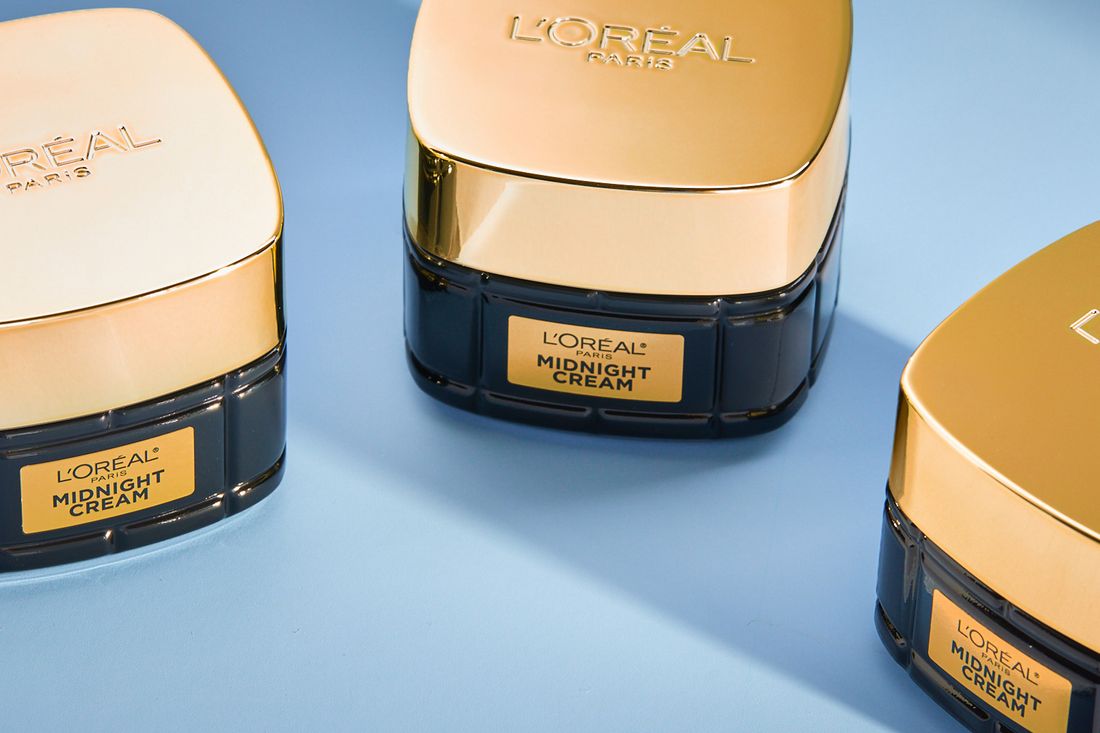 I have dry skin so in my mind, moisturizer is always a good investment. It's one of the skin-care products I use most (in the morning and at night), which means two things: A good formula is essential to keep my dry skin looking good and something with an expensive price tag catches up to my wallet very quickly. What can I say, my skin loves a luxury formula (I'm a material girl, often under the impression that expensive equals better), but spending $120 on moisturizer every month hurts.
This is where the L'Oréal Paris Age Perfect Skin Care ​​Cell Renewal Midnight Cream, Antioxidants comes into play. It came across my desk at a vulnerable time in my life, AKA right when my expensive moisturizer jar was bone dry, leaving just a hint of what was once creamy goodness, but also a reminder of money that I'd need to spend. After cracking open the packaging like a kid on Christmas, the bottle surprised me in ways I didn't expect. It's glass, it has a gold lid, and it's sleek. It does not look like it comes from the drugstore and it has a nice weight when you hold it, which, for whatever not-so-important reason, really speaks to me.
The Formula
My dry (also sensitive) skin knows that looks can be deceiving, so as impressed as I was with the packaging, I knew I had to test it out before making any assessments. After cleansing and slathering my face in retinol later that night, I reached for Midnight Cream. The texture caught my attention immediately — it's creamy and soufflé-like with the most subtle scent of fruit and florals. I dipped my finger into the silky cream, massaging it all over my face and décolletage. The first night I used it, I immediately understood why Bethenny Frankel was raving about it, and I quickly wondered why more people weren't talking about it.
Fast-forward to today, this is the only moisturizer I've used for months, and I refuse to be without it. The formula is silky and creamy, but not heavy and greasy. We're approaching summer so my dry skin isn't as dry as it was in the winter, but this formula delivers just the right hydrating slip and moisture it needs. I really believe it's something I could use all year round.
Midnight Cream is a night cream, but the formula wears well under my SPF and makeup (read: it never pills). I haven't had a dry patch pop up on my face since I started using it, and overall, I'm really impressed with the way it feels on my skin. I may have nixed my expensive moisturizer habit, but it doesn't feel that way when I use this cream.
The Ingredients
Midnight Cream contains vitamin E (according to the National Center for Biotechnology Information, topical vitamin E can protect the skin against photoaging and free radicals from the sun's UV rays) and a blend of patented antioxidants to repair the skin while you sleep. Because of this, it's a perfect choice for a night cream, but, as I mentioned, you can also use it in the morning, like I do.
Midnight Cream can suit all skin types, but the formula is especially good for mature and dry skin as it targets the skin barrier, which helps to keep the skin looking healthy, moisturized, firm, and radiant. When I wake up, that is very obvious — my dry skin feels pillow-soft, hydrated, and it just looks good. I don't look tired and my complexion doesn't appear dull; my skin looks like it's well cared for.
The Price
This night cream is under $40. The moisturizers I used in the past were triple the price of this one and Midnight Cream is right on par with those formulas. The packaging isn't flimsy plastic like you may expect for a drugstore product — it's made of glass with a regal color scheme, and it looks good on my vanity with the rest of my skin-care.
Final Thoughts
I realize that part of the reason I like luxury moisturizers is the experience of using them — feeling the creamy texture as I dip my finger into the pot, getting the soft whiff of the warm scent, and rubbing the silky texture into all the crevices of my face and neck. It's almost like an act of self-care, and I get those same feelings with Midnight Cream. Using it is an indulgent experience and in no way am I depriving myself or my skin-care routine by switching it in for the higher-end moisturizers I once swore by. The feel-good price is really just an added bonus in all of this, and I will more than happily take it.
This advertising content was produced in collaboration between Vox Creative and our sponsor, without involvement from Vox Media editorial staff.