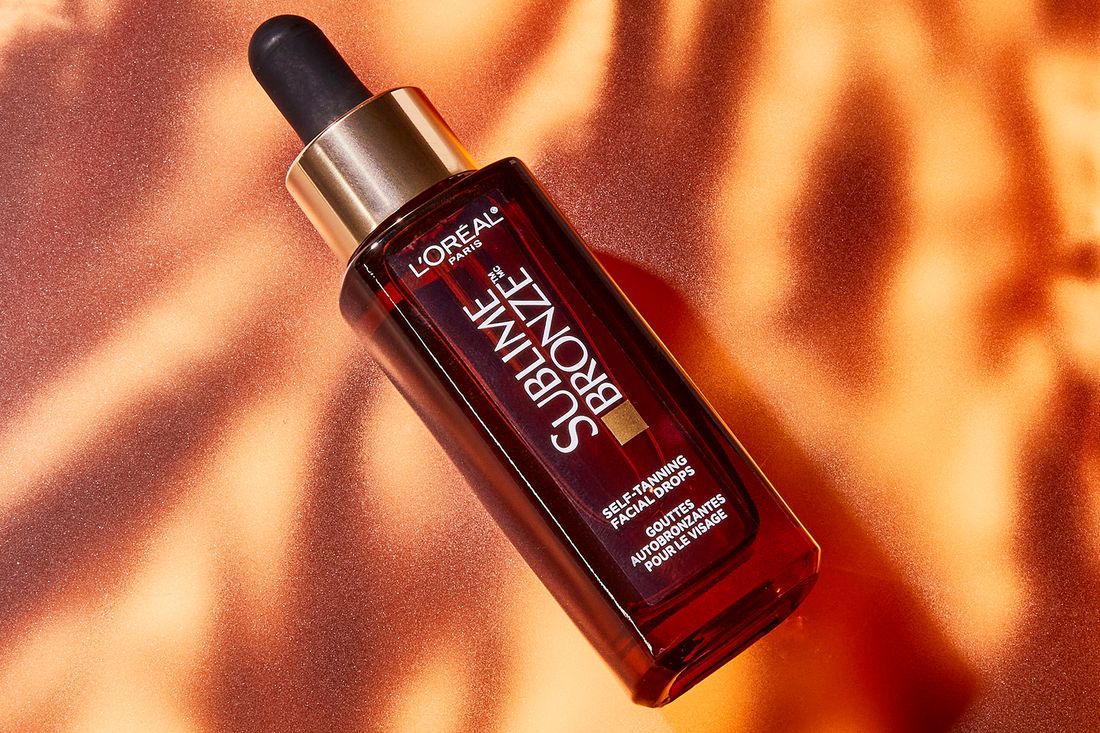 I feel like my best self with a bronzed glow, particularly one from the Hawaiian sun (while I have a mai tai in hand), but that out-of-office Slack status can only run its course for so long. Because of this, I do rely on a little fake and bake every now and then. Self-tanning is one of those things that people either love or hate. Many are fearful of looking blotchy or unnaturally orange, which is fair enough, but when you have the right products and know what you're doing, it's hardly a concern.
I love it; truthfully, it's a huge part of my beauty routine and I even have a weekly self-tan regimen that I swear by. Overlooking my spray-tan-obsessed college years, I feel like I've really perfected the art of a natural, faux-bronzed glow. My secret lies in the right prep, proper upkeep, and using good products.
While the drugstore may not be the first place you think of for your self-tanning needs, L'Oréal Paris has some great bronzing products that give glowy results without breaking the bank. You don't need to pay a tropical vacation price tag (or $100 for a simple tanning mousse) to achieve a faux-bronzed glow that doesn't scream fake.
So go ahead, post those throwback Punta Cana pictures on Instagram because with these drugstore products and application tips, you'll be able to self-tan so good, no one will know your glow is actually fake.
Always Prep Properly
The path to a flawless, natural-looking self-tan begins with your prep. This includes shaving (or waxing), exfoliating, and moisturizing the day before you self-tan, because self-tanner has no problem exposing you. The rough skin that you neglect on your elbows (I used to be guilty of this) or those dry patches behind your knees will look streaky if you don't take care of them before applying self-tanner.
This will help to buff away any dryness or rough skin, and it'll create a slick, smooth base for self-tanner. Moisturizing is of paramount importance because it helps get rid of dry patches, which in turn helps your tanner last longer. Self-tanner doesn't adhere well to dry skin, which means neglecting to moisturize will lead to a crackly, uneven tan that fades quickly.
These same three steps apply to your face. Before applying self-tanner on your face, get your eyebrows waxed, exfoliate with a scrub or a serum, like the L'Oréal Paris Revitalift Derm Intensives 10% Pure Glycolic Acid Serum (glycolic acid helps to brighten and lightly exfoliate, making the skin look brighter and more refined), and moisturize. Follow these three steps very carefully because while blotchy elbows are annoying, they're much easier to hide than a streaky, orange complexion.
Tan Your Body First
After you've exfoliated it's time to apply self-tanner to your body. A mousse is a common choice for self-tanning — the L'Oréal Paris Sublime Bronze Self-Tanning Water Mousse is nice, lightweight, and ultra-effective. The hydrating, non-sticky liquid mousse goes on clear and develops after a few hours into golden color without any orange tones. It's important to note that this mousse doesn't have a color guard (a dark film that shows where you have applied the self-tanner). This means it won't stain your clothes or feel sticky after application, but it also means that you have to be very cautious about where you apply it. If you miss an area, the clear formula makes it hard to spot, so you have to be diligent. If you go over an area more than once, no worries, just make sure everything is even and blended.
This self-tanner can be applied with a mitt or your bare hands. I like to apply it with my bare hands in circular motions because I can feel all the areas I'm applying it to and I've found that I'm less likely to miss a spot when I do it this way. If you decide to forgo the mitt, the most important thing is to wash your hands after application. Any lingering self-tanner will be orange by morning, as will the skin under your nails and your cuticles, so rinse with soap and warm water.
I mentioned my past affinity for spray tans and when you choose a color that isn't too dark, they can look really good. The L'Oréal Paris Sublime Bronze ProPerfect Salon Airbrush Self-Tanning Mist Medium Natural Tan allows you to spray tan at home. It has a super-fine, 360-degree continuous mist that evenly coats the skin in an ultra-thin veil of product, just like a spray tan. Since the mist is continuous, it's great for those hard-to-reach areas, like your back. I love this mist for a quick and easy self-tan. I just spritz my whole body and let it dry, no rubbing or blending necessary, and I wake up with a gorgeous glow that looks really natural.
Then, Tan Your Face Accordingly
Self-tanning your face can seem like a daunting task, but when done correctly, it can result in a sun-kissed-looking complexion. I love to self-tan my face because a little bit of bronzed color means I don't need to wear as much face makeup for an even complexion. The self-tan you use on your body probably isn't the one you want to use on your face — you'll want a gentler formula with a subtler result. I swear by the L'Oréal Paris Sublime Bronze Self-Tanning Facial Water Mist, Vitamin E. I'm a bit chaotic so I spritz it directly onto my face and neck (although spraying it onto a cotton ball and rubbing it on your skin is probably the best way to do it, especially if you're a novice) before bed and I wake up with a luminous, bronzy glow. It doesn't feel sticky on my skin or cause breakouts, and it's incredibly easy to use.
I also use it to touch up my hands every few days because, with constant hand washing and sanitizing, my color there fades the fastest. I make a claw shape with my hand and spritz twice to saturate the skin, including the wrinkles and crevices of my hands and fingers. It works really well and it's so foolproof, my hands never look patchy or uneven when I use this method. It also works really well on the feet.
If you're still not convinced about self-tanning your face, L'Oréal Paris also has a tanning serum, L'Oréal Paris Sublime Bronze Self-Tanning Facial Drops, Fragrance-Free, that you can mix with your moisturizer. Simply mix one to five drops with your moisturizer and wake up to bronzed, glowy skin. I recommend starting off slow with three drops and working your way up to your perfect bronzing cocktail. Touch up every few days or as needed.
Maintain by Moisturizing
Not only is moisturizing essential before the self-tanning process, but it's also key post-application because it helps your self-tanner fade more gradually. Use a hydrating formula that's free of oils because oils can break down your self-tan, causing it to fade much faster.
If the goal is to prolong your tan, moisturize with a self-tanning lotion, like the L'Oréal Paris Sublime Bronze Tinted Self-Tanning Lotion Medium Natural Tan. The hydrating cream develops into a natural, bronzed glow without streaks to extend your faux tan for a few extra days. Once you've passed the 10-day mark, then you can repeat the exfoliating, shaving, and moisturizing steps to start the self-tan process over again.
This advertising content was produced in collaboration between Vox Creative and our sponsor, without involvement from Vox Media editorial staff.