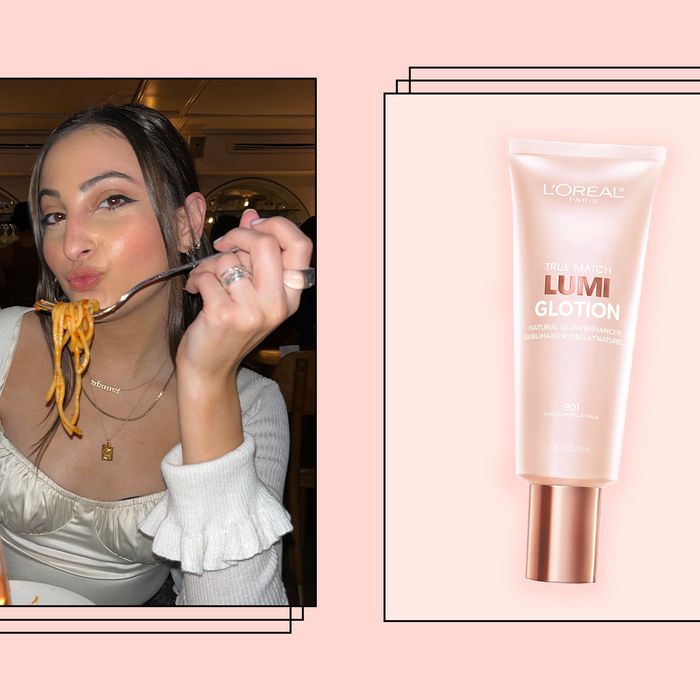 Photo: Alanna Martine Kilkeary; Photo-illustration: Juliana Campisi
I've always been skeptical when it comes to radiant makeup primers. Blame my oily skin, large pores (thanks Dad!), and my face's penchant for getting a little too shiny on my T-Zone and chin. All factors have encouraged me to happily stay in my own little matte makeup corner for years. But with the rise of glazed donut skin and the social media embrace of natural skin texture (what's a little excess slick here and there?), the thought of adding a radiant makeup primer into my routine feels a little less scary. That's why I was intrigued to try one with an approachable formula that recently blew up on TikTok (thanks Alix Earle): The L'Oréal Paris True Match Lumi Glotion Natural Glow Enhancer.
In Earle's video, she touts the formula as a glow-boosting dupe to luxe bronzing drops on the market. She uses the deep shade to contour her skin for a golden bronzed flush. Since I tend to rely on self-tanning drops for this, I opted for the Light Lumi Glotion shade to add an overall rosy glow to my look.
The formula of this glow enhancer is a unique one — it has a gel-cream consistency that dries down to a sheen of radiance that will immediately illuminate your complexion. The interesting thing about this product is that it can be used on its own like Earle demonstrates, under foundation, mixed into foundation, or even applied on top of foundation on the high points of the face for a little sparkle. It's also infused with glycerin and shea butter to actually keep your skin just as hydrated as the reflecting pearl pigment makes it look.
I started by putting a dime-sized amount of the glotion (glow lotion), and about a quarter-size drop of my foundation on the back of my hand. I then buffed them both out and swirled the hues together with a stippling brush and watched as the tinted formula began turning luminous. The cool thing about the combination was that the highlighter didn't make the foundation look shiny or greasy, it actually just added a flush of sparkly reflects that really gave off more of a, for lack of a better word, glowy glow.
I applied the concoction all over my face and was amazed at how natural it looked. I don't appear as if I got caught in high humidity or had a fight with a frying pan while cooking food on my stove. It's a nice, natural sheen that actually brightens up my face. I completed the rest of my makeup and took on my day, which included a dinner with my boyfriend in 80-degree heat at one of my favorite Italian spots in NYC.
Between the aperol spritzes, burrata, and finally, the spaghetti main, my skin withheld an underlying luminosity that I've never had otherwise. Typically, a long (and even messy) meal outside on a warm night can have my foundation looking sweaty, creasy, and shiny — fellow pasta girls, you know the deal. Instead, I still had that same lit-from-within glow since the moment I applied the foundation and glotion, and my makeup stayed intact, silky smooth and grease-free.
I'm pleasantly surprised at how much I enjoyed stepping out of my matte makeup comfort zone and can definitely see myself incorporating this radiant primer into my daily routine more often. This glotion does exactly what it's meant to, and has given me a summer glow-up before the season has even started. Plus, who wouldn't want glowing skin while eating spaghetti?
This advertising content was produced in collaboration between Vox Creative and our sponsor, without involvement from Vox Media editorial staff.