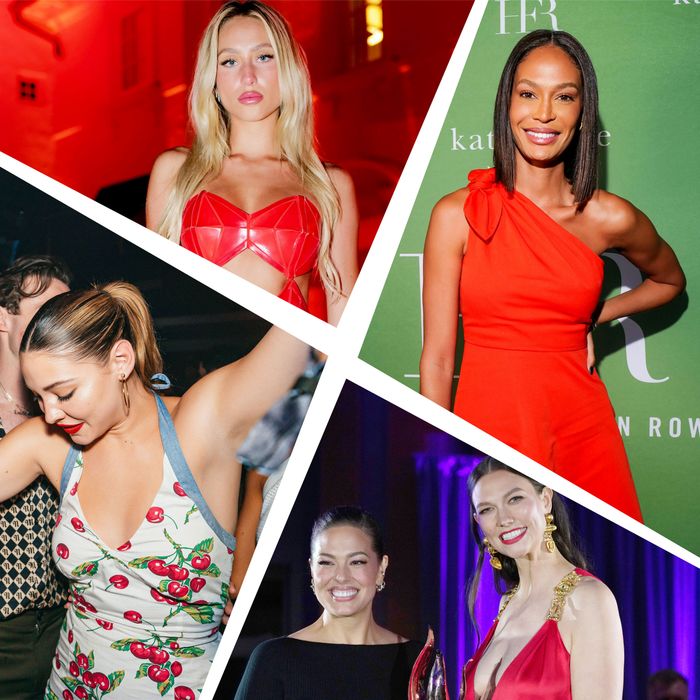 Photo-Illustration: by The Cut; Photos: BFA, Getty Images, Angel Montalvo)
As the madness of the Met Gala simmers down, the streets of New York have gone awfully quiet. It feels as if everyone experienced a collective burnout from the lengthy after-parties and fled to Miami for F1, flew to L.A. for the Chanel Cruise show, or substituted parties for store-opening soirées. While the energy of back-to-back raging has stopped, we've rounded up some of the quieter affairs to happen in the last few days.
On May 10, Pratt Institute held its 122nd annual runway show and award ceremony at Pioneer Works in Brooklyn. The show, titled Assemblage, highlighted selected work from the Fashion Design program's graduating class and honored Pulitzer Prize–winning fashion critic Robin Givhan with Pratt's Fashion Visionary Award. This graduating class is the first to have completed their foundational studio education in fashion design through Zoom during the pandemic. While they learned how to cut patterns and sew virtually, they showed up this week in person to present the pieces they had constructed. We love the youth!
Fabulously Philanthropic: Amal Clooney
Amal Clooney presented at the Cartier Women's Initiative this week to over 30 fellows who are receiving support from the brand. The CWI, which started in 2006, is a yearly initiative that honors and provides financial support and networking opportunities to women-led businesses worldwide. Nothing chicer than women helping women.
'Mawma' Moment: Alex Consani
While some may shout "mother," Alex Consani, who rules under the moniker Miss Mawma, is having her "Mawma" moment. At the With Jean pop-up in downtown Manhattan, the model and viral sensation shows off a lace-trimmed corset top while wearing a mini linen dress and leather jacket — very coquette, as Cosani would say.
Best Print: Madelyn Cline
Okay, so there was one apparent rager that happened this week, and Madelyn Cline is living proof that dancing like no one is watching is your greatest accessory. In a vintage-inspired cherry-print dress, this actress looks Miami ready at the Patron Tequila Miami Prix party.
Best Suit: Eugene Lee Yang
Finally, a suit that isn't just a black tie tuxedo. Eugene Lee Yang looks extravagantly prim and proper in this millennial pink suit and puffy overcoat. At the Gold House Gala in Los Angeles, Lee Yang shows up at the second annual gala to honor Asian change-makers with the AAPI nonprofit organization.
Pros and Poems: Alton Mason
Who says an oversize jean can't say 1,000 words?
Best Classically New York Moment: Grandmaster Flash
Aside from the CDJ, fitted cap, chain, and hoodie, this photo just screams classic New York, and who better to be in it than Grandmaster Flash? One of the earliest innovators in hip-hop decided to grace us with his presence at the Swatch x Jean-Michel Basquiat collection launch on Bowery Street, and I'm having FOMO.
Best Minidress: Joan Smalls
Joan Smalls never disappoints, and that's proven in this very simple and chic asymmetrical red minidress at the Kate Spade x HBCU Fashion Summit.
Best Nails: Mei Kawajiri
There are more ways to celebrate the blossoming of spring than by wearing florals. As she shows off her ladybug-inspired nail art, Kawajiri attends the Swatch x Jean-Michel Basquiat launch event.
Best Denim on Denim: Sophie Elgort
Denim on denim is the safe but correct choice. At the Lafayette 148 store in Soho, Elgort hosts her own exhibition, titled "Away We Go," in a Lafayette 148 raw-denim set paired with a mini beach bag.
Model Moment: Ashley Graham and Karlie Kloss
At FIT's Future of Fashion Celebration and Honors, Ashley Graham presents Karlie Kloss with the "Fashion Icon" award. It's obviously well deserved as she wears a red satin slip dress that's complemented by her vibrant gold accessories.
The Red Devil: Alix Earle
While most know her as the college student turned influencer who can't seem to shy away from virality, she may be earning a new name as fashion's newest "It" girl in this red leather cutout dress.
Best Fringe Moment: Micaela Verrelien
Blue has never looked like a happier color as Micaela Verrelien wears a fringe dress at the Kate Spade x HBCU Fashion Summit. I know we usually do a feather moment for party pics each week, but I have a feeling that fringe might take its place soon.
Best Studious Look: Robin Givhan
This would be the outfit of someone who is being honored at Pratt Institute's annual runway show. The gray pleated ensemble does the teaching on its own, and class is in session: Dressing smart is in.
Heavy, Metal, and Reflective: Adrienne Jones
Everything about this is bringing me back to a time of early-aughts front-row fashion blogging, and I can't thank Adrienne Jones enough for this moment.
Best Pop of Color: Mimi Keene
At the Vogue and Netflix BAFTA TV Awards after-party, Mimi Keene gives us a pop of color with this toned-down electric-green bag, bracelet, and neckline that complements her netted dress so well.
Bling, Bling, Bling: Anaa Saber
I haven't seen this much bling since the coronation. On May 8, Pasquale Bruni x Jacquelyn Jablonski hosted a dinner in support of Autism Tomorrow, and of course Pasquale Bruni had to loan the most stunning jewels to the attendees for the event.