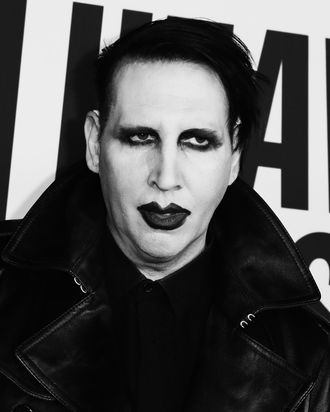 Marilyn Manson
Photo: Leon Bennett/WireImage
On Tuesday, a California judge threw out most of Marilyn Manson's defamation case against Evan Rachel Wood. Last year, Manson sued Wood for defamation, emotional distress, and "impersonation over the internet." In short, Manson, whose real name is Brian Warner, argued that her allegations of rape and sexual abuse — which he calls "a malicious falsehood," though they have now been echoed by many other women — "derailed" his "successful music, TV, and film career." Further, his complaint accused Wood of collaborating with her friend Illma Gore to torpedo Manson's reputation. In his suit, Manson claimed that Wood and Gore used a fake FBI letter to lure other women into making allegations against him. Los Angeles Superior Court Judge Teresa A. Beaudet has now dismissed the part of the suit related to the letter, which Wood denied forging, according to the Associated Press.
When Manson filed his suit in 2022, his attorney, Howard King, said his team had assembled "an overwhelming trove of evidence — including both documents and witness statements — which proves that the stories that Evan Rachel Wood and her co-conspirator Illma Gore have been falsifying and spreading are both vindictive and demonstrably untrue." King also said there was a difference between Warner, his client, and Manson, Warner's stage persona. "Wood's claims may resonate because of the intentionally 'shocking' character of 'Marilyn Manson' but they simply do not reflect the truth. The manufactured facts these conspirators scripted a decade after the event never happened."
Wood's allegations are indeed appalling. In 2021, she identified Manson (and Warner; she used both names and actually mentioned Warner's first) as the rapist she had testified about in front of Congress in 2018. Wood dated Manson from 2005, when she was 18 and he was almost two decades her senior, until 2010, a period that included an engagement. During that time, Wood has said that Manson groomed her and "brainwashed and manipulated [her] into submission." She has said that he tied her up and physically tortured her. She has also said that he subjected her to anti-Semitic abuse and regularly used racial slurs. And in a new documentary, Phoenix Rising — which will air on HBO later this month and in which Gore also appears — Wood recalled an incident in which Manson "essentially raped [her] on-camera" while filming a music video in 2007. Wood says they agreed to simulate sex for one scene, but she explained that when the time came, Manson "started penetrating me for real." She added that she had been given absinthe before the shoot, which left her barely conscious. She now believes she was "coerced into a commercial sex act under false pretenses."
Manson, for his part, has consistently denied Wood's allegations, first framing them as "horrible distortions of reality." (The reality being, in his opinion, kinky-if-consensual sex.) In a statement responding to Phoenix Rising, King described Wood's memory as an "imaginative retelling," insisting that Manson "did not have sex with Evan on that set, and she knows that is the truth." But Wood's initial account prompted more than a dozen other women to come forward with similar experiences, and Manson now faces multiple sexual-assault lawsuits, while a criminal investigation is under way in Los Angeles.
In his filing, Manson accused Wood and Gore of a conspiracy that allegedly involved breaking into his computers and his social-media accounts; making "a fictitious email account to manufacture purported evidence that Warner was emailing illicit pornography"; handing "checklists and scripts to prospective accusers, listing the specific alleged acts of abuse that they should claim against" him; and making "knowingly false statements" to those accusers, which then resurfaced in lawsuits. It also alleged that the pair "impersonated an actual agent of the Federal Bureau of Investigation by forging and distributing a fictitious letter from the agent, to create the false appearance that Warner's alleged 'victims' and their families were in danger, and that there was a federal criminal investigation of Warner ongoing." As a result, Manson claims he has suffered reputational damage from defamation as well as emotional distress and wanted a jury trial. According to the Associated Press, the judge found that evidence that Gore and Wood used the letter to recruit other women and harm Manson was hypothetical and thin.
Per Deadline, Wood's attorney said, "We are very pleased with the Court's ruling, which affirms and protects Evan's exercise of her fundamental First Amendment rights." Meanwhile, Manson's attorney said he plans to appeal the decision, which could push the tentative May 2024 court date to later in the year.
This post has been updated.