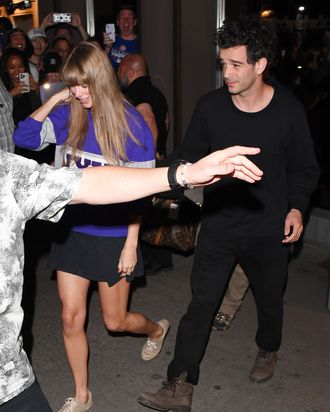 Matty and Taylor leaving the recording studio together
Photo: Robert Kamau/GC Images
Until a few weeks ago, British singer-songwriter Matty Healy was best known for being the front man of the popular indie-rock band the 1975. But that was before Taylor Swift broke up with Joe Alwyn, her boyfriend of six years, making Healy's presence on her Eras tour increasingly hard to ignore. The pair was spotted kissing at members-only club Zero Bond alongside pals Zoë Kravitz, Margaret Qualley, and Jack Antonoff, and at one performance, Swift said she'd "never been this happy." Meanwhile, Swifties wasted little time unearthing Healy's history of questionable behavior, including joking about jerking off to fairly brutal porn and performing a purportedly ironic Nazi salute at concerts. Promising rumors suggest Healy and Swift may have already broken up, but still, maybe you are wondering, What exactly is this guy's deal?
Given Healy's habit of making deliberately provocative and often confusing remarks, it's not an easy question to answer. Here's what we know.
He's a nepo baby.
Healy's mother is the British actress, broadcaster, and writer Denise Welch, and his father is actor Timothy Healy. According to a 2006 interview with his mom, he "wasn't keen" on getting into the family business. Instead, he started the band that is now the 1975 when he was 13.
Healy and Swift go way back.
Swift and Healy reportedly first met in 2014, when she attended a 1975 concert with Selena Gomez and Ellie Goulding. Days later, she was photographed wearing a 1975 tee. At the time, when Healy was asked if he would ever date Swift, and he said, "Let's just see what happens," adding that they had exchanged numbers. "I mean bloody hell, what am I going to do? Go out with Taylor Swift? She's a sensation, I wouldn't say no," he said. Though Swift was seen at another 1975 concert with Karlie Kloss a few weeks later, Healy later claimed that reports he was dating the pop star were "fake," calling the whole thing "a bloody farce."
However, a year later, he apparently still had thoughts to share on the topic. In a 2016 interview with Q magazine where he was asked whether he worried about losing himself in a relationship, he responded: "Yeah. Absolutely. And the reason I mention that is because if I had gone out with Taylor Swift I would've been, 'Fucking hell! I am NOT being Taylor Swift's boyfriend.' You know, 'FUCK. THAT.' That's also a man thing, a de-masculinating, emasculating thing." (The interview has since been taken down.)
Those comments went viral, leading Healy to write an open letter saying they were taken out of context and insisting he was "not a misogynist," only "an idiot on occasion." He also clarified yet again that he never dated Swift, but that "the media's incessant and brutal obsession with her has meant that even a guy who DIDN'T DATE HER has been so battered by their never-ending questions that he's inevitably said something that can be lifted and molded into something that resembles 'shade'. It's really sad."
Most recently, Healy dated FKA Twigs, though they reportedly broke up last year.
Healy is known for his concert antics.
As the face of the 1975, Healy is known for going over the top with his provocative concert antics, which have included eating raw meat onstage while groping himself and goading crowds into yelling "COVID isn't real."
Another favorite Healy move is bringing fans onstage for a kiss. In 2019, while performing in Dubai, Healy defied the state's strict anti-LGBTQ laws by kissing a male fan; while the band is known for its support of the LGBTQ community, the stunt left some wondering if he had put the fan's life in danger. Last year, he sucked an audience member's thumb during a show, and in November, he checked a 22-year-old woman's ID before giving her what she said was her first kiss. Healy, and certain smooched fans, have claimed the stunt is consensual, though the singer may have suspended it from his rotation. "I'm not kissing anybody in front of Taylor Swift, have some respect," he told the crowd in January, as Swift joined him onstage for a duet. "In front of the queen, it's not happening."
According to The New Yorker, Healy began smoking heroin in 2014, but quit cold turkey in 2018. He is also known to drink from a bottle of red wine while performing; writer Jia Tolentino observed that though he "often seems drunk by the end of the show," he claims this is "an act only partly rooted in reality."
He's been criticized for doing a Nazi salute during a performance.
In January, Healy faced criticism for throwing up a Nazi salute during his performance of "Love It If We Made It," an incident our colleagues at Vox say might not have been a one-time thing. Still, his fans defended the gesture as ironic: The song criticizes the cultural creep of extreme right-wing politics, and specifically references Donald Trump (and in so doing, also mentions Trump's friend Kanye West, who was publicly airing his antisemitic beliefs and Hitler appreciation at the time). Healy has spoken out against Trump's election, Britain's decision to leave the E.U., and anti-LGBTQ legislation in various countries, his defenders pointed out, claiming he was making a critical statement about Trump. For many of his detractors, though, a Nazi salute was still a Nazi salute.
Healy has not explicitly addressed the criticism, nor has he explained his reasoning behind posting a screenshot of a Wikipedia page titled "Lists of Jews" to his Instagram Stories around that same time. He did, however, reference Kanye's incendiary comments in an interview in February, saying the rapper is "obviously someone who is dealing with grief and has mental-health issues, but that's not an excuse to do, like, antisemitism."
He recently faced criticism for a racist podcast conversation.
While appearing on his friend and former Cum Town host Adam Friedland's podcast in February, Healy mentioned that he messaged Ice Spice on Instagram. Friedland and his co-host, Nick Mullen, then speculated about the rapper's ethnicity, calling her an "Inuit Spice Girl" and a "chubby Chinese lady," imitating Chinese and Hawaiian accents to Healy's audible amusement. The hosts suggested that Healy message her again: "So you slide into her DMs and ask, 'What are you? A fucking Eskimo or something?'" Ice Spice is Nigerian and Dominican.
Also in the episode, Healy laughed along with the host's flippant remarks about Japanese internment during World War II, encouraging them to do impressions of Japanese accents and eventually joining in himself. On top of all that, he joked about masturbating to porn of a woman "getting, like, brutalized." The episode caused such an uproar that Spotify and Apple Music took it down, though it is still available on YouTube.
In April, Healy addressed the comments while performing in New Zealand, saying, "I just feel a bit bad, and I'm kind of sorry if I've offended you. Ice Spice, I'm sorry." Given the controversy, Swift's announcement that she's releasing a remix of her song "Karma" featuring Ice Spice has been met with mixed reactions from fans. However, on Twitter, Ice Spice thanked Swift, calling her "the sweetest person ever," and made an appearance on the Eras tour a few days later.
Healy discussed the comments again in the New Yorker profile, where Tolentino asked if he had baited fans on purpose. "A little bit," he said. "It doesn't actually matter. Nobody is sitting there at night slumped at their computer, and their boyfriend comes over and goes, 'What's wrong, darling?' and they go, 'It's just this thing with Matty Healy.' That doesn't happen."
When Tolentino pushed back, Healy said, "If it does, you're either deluded or you are, sorry, a liar. You're either lying that you are hurt, or you're a bit mental for being hurt. It's just people going, 'Oh, there's a bad thing over there, let me get as close to it as possible so you can see how good I am.' And I kind of want them to do that, because they're demonstrating something so base level."
He's also been called out for Islamophobic comments.
Healy says he is against organized religion, identifying as humanist and atheist, and his comments about Islam have also sparked backlash. According to BuzzFeed, Healy once posted a screenshot of a tweet that said, "you start dating a Muslim girl then BOOM," apparently drawing a false correlation between Muslims and bombs. In 2014, he seemed to equate being Muslim with ISIS, writing in a since-deleted tweet: "Isis are cutting little girls' heads off and you want to challenge a non-religious, humanist perspective? I don't understand the world at all." When Farida Hashem, a young Muslim woman running a Harry Styles fan account, challenged him, he responded: "I resent being 'educated' by a Harry Styles fan account." He later tweeted that he was not sorry about his comments on religion but was sorry to "that girl with the harry styles account." A year later, he told The Guardian that what he meant to say was, "Don't start trying to educate me on fucking Islam when you're 13. If you're telling me to stay in my lane, stay in your lane." Hashem was 19 at the time, per The Guardian.
This post has been updated.