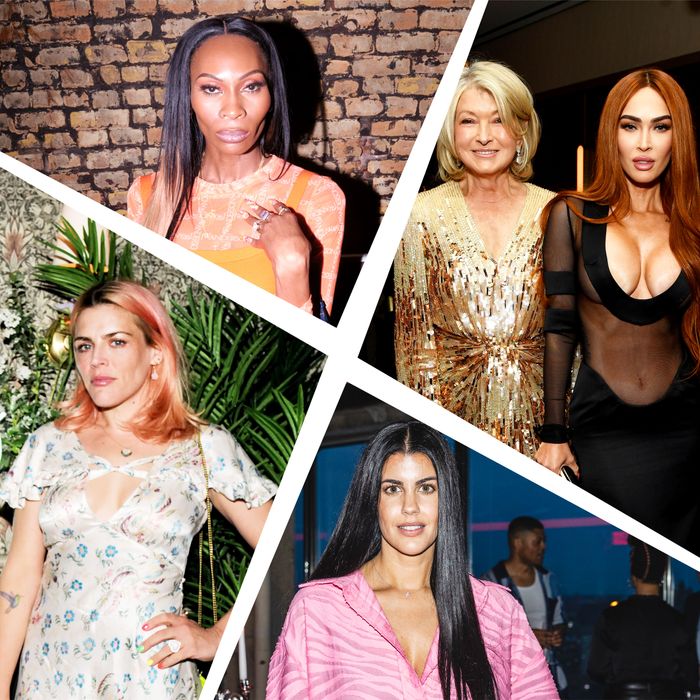 Photo: by The Cut; Photos: BFA, Getty Images
Temperatures are truly rising in New York, so much so that there aren't any "feather moments" in this week's party pics (spoiler alert). Even though that might seem like sad news, the silver lining is more people are willing to party. And as Frieze week approaches, we just might be seeing more gallery parties, which are always memorable, especially if there's free wine flowing and pretentious artists out and about.
To kick off Frieze week, Prada held a panel in collaboration with Frieze to discuss how the art of video and the moving image have altered the world and proposed new social-change models. Prada Possible Conversations featured speakers Dara Birnbaum, Tony Cokes, Ming Wong, who led a detailed conversation about their artistic practices at Prada's flagship store in Soho. "I found the connection to sound extremely productive to my work," said artist Tony Cokes of the inspiration behind his visual art.
Best Bling: Dominique Jackson
From the blinged-out JW Anderson mini-bag to the rocks on her rings and the stones on her nails, Dominique Jackson can't help but shine bright at the JW Anderson X SSENSE launch party at the legendary gay bar the Boiler Room.
Best Cheetah Girl: Gabriella Khalil
Gabriella Khalil is great at a lot of things — creative direction, hospitality, interior design — but no one told me she was best at serving a look. At the We Are Ona & Evian pop-up in New York, Khalil wears a matching hot-pink-and-cheetah-print two-piece set that's reminiscent of Disney Channel's original movie The Cheetah Girls but with a grown and sexy twist.
Best Skirt: Vienna Skye
The skirt-over-pants trend that was once incredibly popular in the early 2000s is making a bittersweet comeback, but influencer Vienna Skye adds a new-age twist with an abstract half-skirt, half-pant rendition of the trend. I will be copying this look!
Best Print: Busy Philipps
You can't go wrong with a vintage-inspired floral print dress at any occasion, but this looks especially great at the Saks x Dôen launch party.
Best Silhouette: Sophia Roe
Everyone always talks about trends cycling around every couple of years, which makes me happy to know that the 1950s wasp waist is returning. From the silhouette, the print of the dress, and the heels — Sophia Roe looks divine at the LES Girls Club gala.
Best Hostest With The Mostest: Araminta Mellon
Nepo babies get a bad reputation, but Araminta Mellon couldn't have made her mother, Tamara Mellon, and guests more proud at her Minty Mellon launch party.
Dynamic Duo: Martha Stewart and Megan Fox
It's been a great week for Martha Stewart. Not only has she been crowned the newest bombshell to appear on the cover of Sports Illustrated, but now she's been photographed being buddy-buddy with actress and social seductress Megan Fox at her Sports Illustrated after-party. I wonder what they talked about.
Best Shawl: Benedicta Badia
Puffy sleeves never miss!
Best Leather Moment: Jodie-Turner Smith
At the Gucci Cruise Show in Seoul, South Korea, Smith looks stunning in this all-leather moment. What a great way to stand out among the short-shorts and resort wear. And the heavy-metal choker ties this outfit together perfectly.
Very Noisy, But Very Cute: Christine Quinn
There's more than one way to turn a head at the SIMKHAI x Montage Hotels & Resorts Collection launch dinner: You can go the traditional route of pleasing everyone's visual senses, but you can also disrupt their auditory ones. This look is very cute, but probably very noisy — and I feel for Christine Quinn.