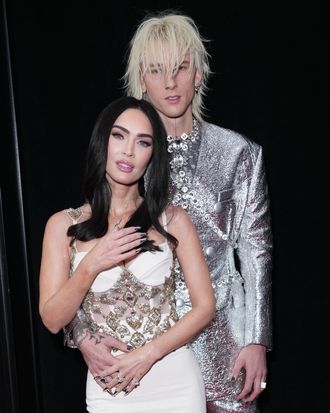 Machine Gun Kelly and Megan Fox
Photo: Kevin Mazur/Getty Images for The Recording Academy
"Twin flames" Megan Fox and Machine Gun Kelly may not make it to the altar after all. The celebrity duo sparked rumors of a breakup the night before the Super Bowl, when Fox deleted most of their photos from her Instagram, posted a cryptic message using Beyoncé lyrics, then took her profile down altogether. People later reported that Fox had taken off her painful engagement ring amid rumors of a fight and possible infidelity. Kelly and Fox have largely kept a low profile since then, a conspicuous change for a couple whose early courtship involved a lot of tongue on a lot of red carpets. But they recently resurfaced together at the Sports Illustrated swimsuit-edition party together, though People reports that "things are still not back to normal."
Here's what's we know about their situation.
Megan Fox posted a cryptic Instagram post, quoting Lemonade lyrics.
Fans began speculating about Fox and MGK's relationship status on February 11, the Saturday before the Super Bowl, when Fox posted a three-image carousel on Instagram with the caption, "You can taste the dishonesty / It's all over your breath" — lyrics from "Pray You'll Catch Me," a song off of Beyoncé's Lemonade album, which famously traced her journey toward forgiving infidelity. The first few images are bathroom pics of her in a black cutout bodysuit — nothing that explicitly read "newly single" — but it was the last slide that got everybody talking: a short video of what appears to be clothes and a letter burning in a trash can. Fox unfollowed everyone except Harry Styles, Timothée Chalamet, and Eminem, a rapper MGK has feuded with in the past. Fans noticed that Fox appeared to delete all of the photos of her fiancé from her Instagram, which in celebrity world is standard breakup procedure.
Fox briefly acknowledged rumors that Machine Gun Kelly cheated with his guitarist, Sophie Lloyd.
It's unclear what exactly prompted Fox's initial Instagram post. As some fans noted, though, the outfit Fox is wearing in the photos appears to be the same outfit she wore to Drake's Super Bowl party — a party she attended with Machine Gun Kelly. At the time, a source told Entertainment Tonight that the two had been together all weekend before the Instagram drama. "They've been out at parties together every night, including last night and seemed fine," the source said. People then reported that the couple got into a fight sometime over the weekend, prompting Fox to leave Arizona before the Super Bowl. A source told the magazine that Megan was "very upset" and wasn't speaking to MGK. "They haven't officially called off the engagement, but Megan took the ring off."
Before leaving Instagram, Fox seemed to make light of cheating rumors in the comments after a fan noted that this must mean MGK "got with Sophie," widely believed to be a reference to guitarist Sophie Lloyd. As reported by "Page Six, Fox responded, "Maybe I got with Sophie."
In the week following, fans continued to speculate about MGK and Lloyd's relationship, prompting the musician to speak out. "Sophie Lloyd is a professional, accomplished musician who has been needlessly dragged into the media based off of meritless accusations made by social media," her management team said in a statement to "Page Six." The statement continued, denying any cheating allegations. "Any suggestion that she has ever acted in an unprofessional manner or stepped out of her relationship are untrue. It's disrespectful to her as a female artist and poor journalism and social commentary to be reporting anything else." Lloyd has reportedly been dating drummer Christopher Painter for five years, and she joined MGK's Mainstream Sellout Tour in May of 2022.
Fan theories abound.
After Fox's Instagram post went viral, some fans expressed concern for the actor. Clearly visible behind her in the photos is a poster providing resources for potential victims of human trafficking. This paired with her then-recent injuries — Fox posted about suffering a concussion and a broken wrist before appearing at the Grammys with MGK — has some fans worried about her safety.
Others speculated that the entire thing was just some clever marketing. Super Bowl commercials nowadays are often teased in advance with real news stories, like M&M's announcing the end of the spokescandies or the death of Mr. Peanut. Another version of this theory suggested that Fox's follow of Eminem is a nod to her appearance in his and Rihanna's "Love the Way You Lie" music video, in which she played a woman in an abusive relationship, and meant that the rapper would join Rihanna onstage at the halftime show to perform their hit. Neither of these things happened.
Machine Gun Kelly and Megan Fox were spotted together on Valentine's Day.
Following the Super Bowl, the two were reportedly spotted outside an office building in California — which, according to The Daily Mail, is the site of multiple marriage counselors' offices. Fox and MGK reportedly arrived and left separately, but TMZ claimed they were seen driving in the same vehicle on Valentine's Day. Meanwhile, People reported that the two were trying to make their relationship work. "There are trust issues and this causes conflicts right now. Megan is taking one day at a time," a source told the magazine.
Fox returned to Instagram to deny cheating rumors.
Megan Fox reactivated her Instagram a week after the Super Bowl fight, deleting all her previous images and leaving just one Notes app message: "There has been no third party interference in this relationship of any kind," she wrote. "That includes, but is not limited to … actual humans, DMs, AI bots or succubus demons." Glad we got that cleared up. The actor went on to dismiss the "baseless news stories" about her relationship and caution fans and media to "let this story die and leave all of these innocent people alone now." She turned off the comments, and has since deleted all posts on her page.
Fox and MGK have been seen out together a few times since then.
By March, sources were saying the couple were not quite off, but not quite on, either. "Megan and MGK are currently on a break but are still in contact," someone purportedly in the know told Us Weekly. "They are very hot and cold." Fox attended the Vanity Fair Oscars after-party solo and still without her ring. Us Weekly's informant claimed the situation was "volatile" and wedding plans were on hold. But a few weeks later, they were together in Hawaii, on what an Entertainment Tonight source described as a "healing trip." Whoever spoke to the Daily Mail about the vacation reported that the pair were "officially back on after going through a rocky patch in their relationship," and by May 18, they were spotted at the Sports Illustrated "Swimsuit" issue launch party in New York City. (Fox was one of Sports Illustrated's "Swimsuit" edition cover stars this month.) Although they didn't walk the carpet together, they did have some "sweet interactions," according to People. Asked by Entertainment Tonight what he thought of the cover, MGK said it was "hot." A source told People that Fox and MGK were back together but not planning a wedding and haven't set a date yet. "Megan still seems hesitant," the person said.
This post has been updated.