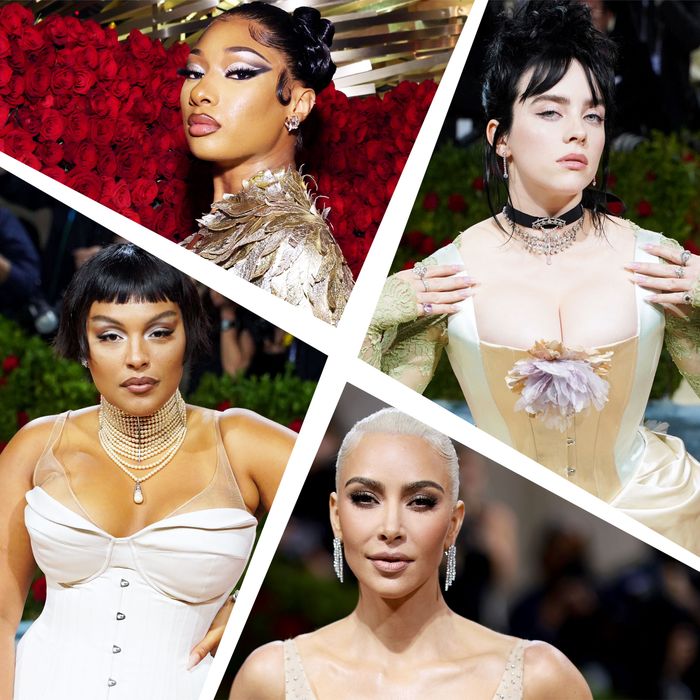 Photo-Illustration: by The Cut; Photos: Getty Images
Want more of the Met Gala? Sign up for The Cut daily newsletter so you don't miss any of our coverage. Newsletter readers will also receive exclusive interviews with attendees and Cut staffers' personal picks for the best — and worst — looks of the night.
Each year, the fashionable and famous descend upon one of the most coveted carpets in the industry: the Met Gala's. Less than a week from now, we'll be sitting on the couch (I'll be on the red carpet, though, honey) watching our faves walk into the museum in some of the most groundbreaking, sometimes controversial, outfits we'll likely see all year.
Here's where we'll be watching, who we'll be looking for, and what you need to know.
How do I watch the Met Gala?
On Monday, May 1, starting at 5 p.m., we will be serving all the looks. We will also be broadcasting live from our TikTok and Instagram. If you have cable, NBC and E! will start livestreaming their broadcasts at 6:30 p.m. ET. However, some celebs start walking the red carpet at around 6 p.m. ET. If you don't have cable, the red carpet will be livestreamed starting at 6:30 p.m. on Vogue.com by co-hosts La La Anthony, Derek Blasberg, Chloe Fineman, and, for the second year in a row, Emma Chamberlain.
Where is the Met Gala held in 2023?
It's on the steps (and inside, if you are lucky enough to be invited in) of the Metropolitan Museum of Art in New York City. Early in the day, hordes of people line up across the street to see the carpet prepared.
What is the 2023 Met Gala theme?
The theme for this year's gala is "In Honor of Karl" and will serve as a celebration of Karl Lagerfeld's work throughout his lifetime. The museum's exhibit, dubbed "Karl Lagerfeld: A Line of Beauty," will have over 150 pieces and many sketches by Lagerfeld on display. The late designer, who passed in 2019, was known for his work at Balmain, Chloé, Fendi, and especially Chanel, where he's often credited with reviving the house.
Why has there been controversy over the Karl Lagerfeld theme?
The gala has honored designers in a similar vein before (like Alexander McQueen and Rei Kawakubo). Still, Lagerfeld was known for offending people "right and left," New York Times fashion critic Vanessa Friedman wrote. During his lifetime, according to the Associated Press, the designer was openly fatphobic and anti-immigrant, and called those involved with the Me Too movement "ugly" people. Some people, like Jameela Jamil, expressed deep disdain for the gala's choice: "Why is THIS who we celebrate when there are so many AMAZING designers out there who aren't bigoted white men?" Jamil wrote. Others, like Cara Delevingne, came to Lagerfeld's defense, saying the designer wasn't the problem, it's just "the way the world is." Oh … okay.
At the Met Gala press preview on Monday there was no mention of Lagerfeld's past comments, instead, the speeches were about focusing on "his work." On Sunday, The Model Alliance led a rally outside of the Met exhibit in anticipation of the event, to draw attention to better worker protection for models.
What's the purpose of the Met Gala?
The gala, a colloquial moniker for what's officially known as the Metropolitan Museum of Art's Costume Institute Gala, celebrates the museum's annual fashion exhibit, which will open to the public on May 5. It also serves as a yearly fundraiser for the Costume Institute at the Met, which happens to be the only department that funds itself. Not to fret: Last year's gala brought in $17.4 million.
The attendees are all expected to dress according to the theme each year. Last year's was "In America: An Anthology of Fashion," or "Gilded Glamour."
Who's hosting the Met Gala this year?
This year's co-chairs are Penélope Cruz, Michaela Coel, Roger Federer, Dua Lipa, and, per annual tradition since 1995, Vogue editor-in-chief Anna Wintour, who's credited with making the gala what it is today after becoming a co-chair.
Why isn't Karl's beloved cat Choupette co-hosting?
Fabulous question. An utterly massive mistake she isn't. She would've been purr-fect (sorry, I had to). She will, however, be attending the gala.
According to Vogue, about 600 guests. Some confirmations so far include: Florence Pugh will be attending for the first time, as Valentino's brand ambassador. Priyanka Chopra and Elle Fanning also told reporters they'll be there. Meanwhile, Rita Ora has made several mentions of her Met Gala plans in recent Instagram posts and Brooklyn and Nicola Peltz-Beckham both confirmed they're going; Brooklyn described their joint couple's look as "classic."
"Page Six" reported a handful of allegedly confirmed guests, which includes Salma Hayek, Olivia Rodrigo, Serena Williams, and WNBA star Brittney Griner. Per TMZ, Gisele Bündchen is going (sans Tom Brady, of course), and Paris Hilton is making her Met Gala debut this year, which is good since she knows a thing or two about high-maintenance gowns. On a slightly less glamorous but equally important note, "Page Six" also says that Pete Davidson will attend, which seems plausible given that he'll be in New York to host Saturday Night Live later that week.
All these guests had to be invited by a brand, pay for a ticket, and be personally approved by Wintour. Beyond the confirmed hosts — and Choupette — few confirmations have been made as to who'll be walking those coveted carpeted steps. We'll likely see Blake Lively, one of last year's co-chairs and Lagerfeld's date in 2011. For better or worse, we will see our rat-hating, Ferragamo-loving, clubgoing mayor, Eric Adams (his former co-club kid and Lagerfeld favorite Cara Delevingne will also surely be there).
Other Lagerfeld muses, like Kristen Stewart, who was very close with the designer and had a private Chanel show staged just for her, and Gigi Hadid, who was part of Vogue's cover tribute this month (I am praying on my hands and knees for a Bella Hadid sighting at the gala as well), will likely be there. Tilda Swinton and Helen Mirren, who were both close friends of the designer and spoke at his memorial, could also be in attendance.
There are also, of course, the Chanel brand-ambassador girlies. Think Margot Robbie, Nicole Kidman, Marion Cotillard, Margaret Qualley, Vanessa Paradis, and Sofia Coppola.
Are the Kardashians attending?
A rumor, bolstered by the tabloids, swirled earlier this year that Wintour had decided not to invite the Kardashians after inviting all five sisters and momager Kris to last year's event. It's nearly inconceivable to imagine a Met Gala without at least one Kardashian controversy, à la Kim's Marilyn-dress discourse last year. And it seems Wintour feels much the same, as "Page Six" has since squashed rumors the clan was ousted, reporting Kim will be at the function. Kendall Jenner, who was one of Lagerfeld's muses, is also likely to attend. TBD if she'll bring rumored beau Bad Bunny. We'll pour one out for all of us if they make their situationship red-carpet official that night.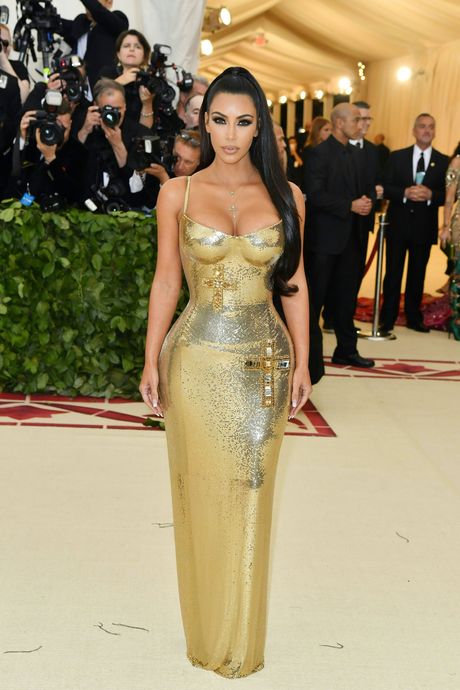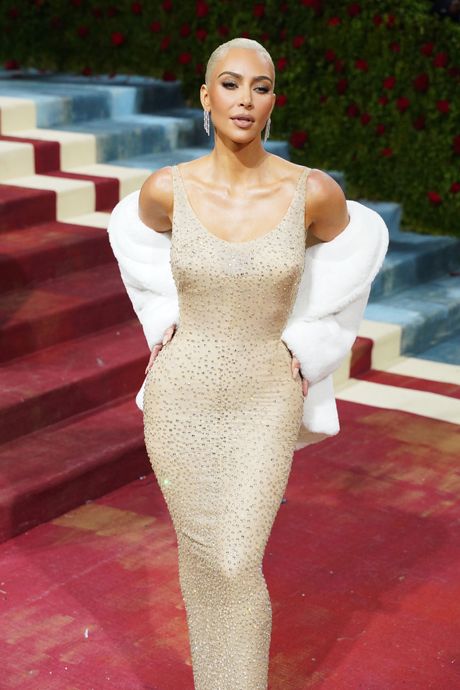 Is anyone for sure not attending?
Deadline reported that Jonathan Majors had "mutually agreed" to part ways with (a.k.a., was dropped by) Valentino, who had allegedly planned to dress him for the gala, after the actor was arrested on domestic-violence charges last month.
Is Rihanna going to the 2023 Met Gala?
I'm convinced no one knows RiRi's comings and goings beyond RiRi herself. But she did show up in New York City this weekend wearing archival Chanel glasses, wink wink. The star didn't attend last year's gala, although a digital marble statue was erected in her honor, and rightfully so. She showed up toward the veeeeeery end of the red carpet in 2021. All you can do is manifest her presence.
What happens at the Met Gala?
After attendees walk the red carpet, they're invited to explore the gallery and exhibit before being treated to dinner and performances by fellow celebrities like Justin Bieber. Sometimes, later in the night, people get into fights in the elevator.
Press, apart from Vogue's photographers, are not allowed in. Some celebrities have called the event "awkward." Billie Eilish said, "Everybody's just, like, embarrassed and insecure about what they're doing and saying." If you think about it, this is like any old work function.
Speaking of assigned seats, how do people get invited?
A team at Vogue reportedly curates a list of potential invitees the December before the event, each of whom must be approved by Wintour.
How much does it cost to attend the Met Gala?
Single-ticket prices were previously reported at $35,000, but reports have circulated that a seat at this year's shindig will cost $50,000. That could buy you more than 140 pairs of the MSCHF red cartoon boot. Priorities, people!
Who will be best dressed at the gala this year?
The gala often serves as a place where designers are not only expected to showcase their talent, but generally go as big as they can possibly imagine. As a result, we can expect to see some fashion greatness take place.
But, of course, we won't know for sure until we see the celebrities walk the carpet. What we can tell you, though, is that we have a highly curated selection of the best Met Gala looks of all time right this way.
This post has been updated.