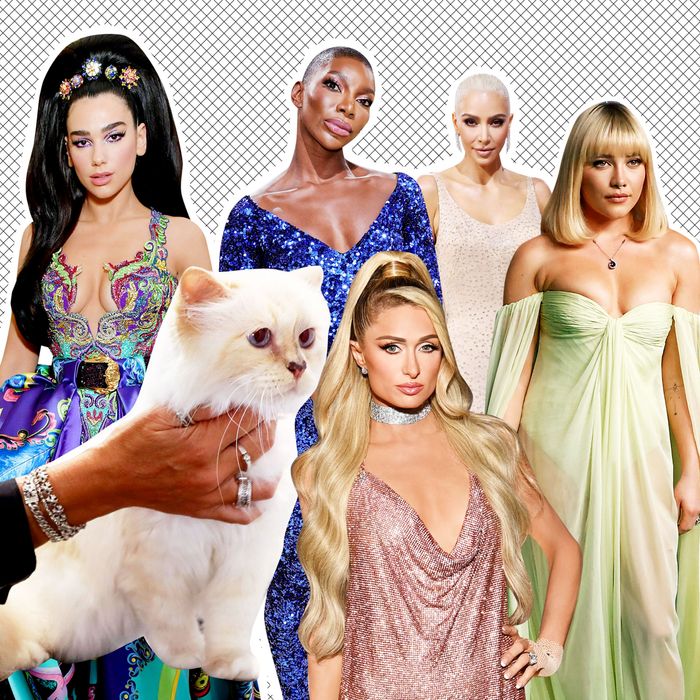 Photo-Illustration: by The Cut; Photos: Getty Images
It's almost here: fashion's biggest night, the evening to be both impressed and confused by fashion. On the first day of May, celebrities will gather for this year's Met Gala under a theme at least slightly more graspable than it has been in previous years: Karl Lagerfeld: A Line of Beauty, a tribute to the late (not uncontroversial) designer who died in 2019 after serving as creative director of Chanel for more than three decades and designing for Fendi for more than 50 years and for his namesake label for 35.
The Met's companion exhibition of the same name opens on May 5 and will not be a traditional retrospective but, according to the show's curator, a "look at the evolution of Karl's two-dimensional drawings into three-dimensional garments." Vogue's May 2023 issue is dedicated to Lagerfeld, for which ten designers dressed some of his favorite models and shared memories of the legendary designer.
But enough about that. We all know that the real appeal of the Met Gala is seeing which celebrities invested the time, makeup, and couture budget to make the trek up the internet's favorite steps. Every year, the event's mysterious guest list follows the shifting tides of the fashion world and is affected by all kinds of variables: filming schedules, vaccination status, level of renown, and, most important, rapport with Anna Wintour. Who has what this year? Let's get into it.
Want more of the Met Gala? Sign up for The Cut daily newsletter so you don't miss any of our coverage. Newsletter readers will also receive exclusive interviews with attendees and Cut staffers' personal picks for the best — and worst — looks of the night.
.

Who will definitely be at the Met Gala?
Nothing is truly set in stone until the red carpet begins, but we can pretty safely assume that all of this year's co-chairs will attend: Penélope Cruz, Michaela Coel, Roger Federer, and Dua Lipa. La La Anthony, Derek Blasberg, Chloe Fineman, and Emma Chamberlain will all chip in to host Vogue's livestream of the red carpet, so we can assume they've RSVPed yes.
A tip sheet released by the Met hours ahead of the event listed dozens of expected guests, including Billie Eilish, J.Lo, Cara Delevingne, Doja Cat, Phoebe Bridgers, Cardi B, Jessica Chastain, Anne Hathaway, Gigi Hadid, Pedro Pascal, Janelle Monáe, Lil Nas X, Ke Huy Quan, Robert Pattinson, Keke Palmer, Jenna Ortega, Michelle Yeoh, and Serena Williams.
Brooklyn and Nicola Peltz-Beckham both confirmed they're going; Brooklyn described their joint couple's look as "classic." Florence Pugh will be attending for the first time, as Valentino's brand ambassador. Priyanka Chopra and Elle Fanning also told reporters they'll be there. Meanwhile, Rita Ora has made several mentions of her Met Gala plans in recent Instagram posts.
.

Who will probably be there?
"Page Six" reported a handful of allegedly confirmed guests, which includes Salma Hayek, Olivia Rodrigo, and WNBA star Brittney Griner. Per TMZ, Gisele Bündchen is going (sans Tom Brady, of course), and Paris Hilton is making her Met Gala debut this year, which is good since she knows a thing or two about high-maintenance gowns. TMZ also reported that Ice Spice was invited as Vogue's guest and will wear custom Balmain. On a slightly less glamorous but equally important note, "Page Six" also says that Pete Davidson will attend, and he appears on the Met's tip sheet.
Lagerfeld worked with and befriended a ton of stylish celebrities, and we can expect at least a few of them to show up. Cara Delevingne will no doubt be there — perhaps with her clubbing buddy Eric Adams? And we'll hopefully see Pharrell Williams, who recently cemented his spot in the upper crust of fashion's elite as the Louis Vuitton men's fashion director.
Kristen Stewart was super-close with Lagerfeld and stayed in Chanel's inner circle after his death — remember when Chanel put on a private fashion show just for her? Gigi Hadid, who appears on Vogue's tribute cover and frequently wore Lagerfeld's Fendi designs, is a likely attendee. And Tilda Swinton and Helen Mirren, who both spoke at Lagerfeld's memorial in Paris in 2019, could swing by.
Then there are the stars affiliated with Chanel as brand ambassadors: Margot Robbie, Nicole Kidman, Marion Cotillard, Margaret Qualley, Vanessa Paradis, and Sofia Coppola — to name a few.
.

Will the Kardashians attend?
Last year, the Met Gala hit peak Kardashian, inviting all five siblings (plus Kris) for the first time ever. Earlier this year, tabloids claimed that Wintour was reversing course and none of the family members were invited, but it's looking like that was just a rumor — "Page Six" has since reported that, actually, Kim will be at the gala. But will she arrive late to avoid a red-carpet run-in with Pete? Eek!
Further Kardashian Klues emerged the weekend ahead of the event, when Kourtney's ex, Scott Disick, took their daughter, Penelope, out in New York with North West, and both girls wore Chanel. On the plus side, this means Kourtney may also be in the city for the gala; on the minus side, all Met Gala guests have to be 18 or older, meaning we will have to wait nine more years to see goth couture on the red carpet.
Another likely Kardashian guest: Kendall Jenner, who appears on Vogue's Lagerfeld cover as one of the ten models he loved working with most and was also on the Met's tip sheet, along with Kim and Kylie. Other models on the cover — including Shalom Harlow, Naomi Campbell, and Devon Aoki — are likely to hit the red carpet decked out in Lagerfeld designs.
.

Who's definitely not going?
Blake Lively, last year's host and another close friend of Lagerfeld's (they attended the gala together in 2011), is usually a shoo-in. However, she told reporters during a Tiffany & Co. event that she would be watching from her couch this year. (She did just give birth in February.)
A few weeks after Jonathan Majors was arrested on domestic violence charges, Deadline reported that Majors had been dropped by his manager and PR, and that he and Valentino, who presumably would have dressed him for the gala, have "mutually agreed" he won't be attending.
.

Who's bringing exciting dates?
One good thing to come out of Kendall Jenner dating Bad Bunny could be Benito wearing normcore on the Met Gala red carpet. They could make their widely feared red-carpet debut, given that both appear on the Met's list of expected attendees. I'm personally banking on a gloved appearance from Dua Lipa's biggest fan and once-rumored fling, Jack Harlow. And no couple nails a red carpet like Pharrell and his wife, so my fingers are crossed on that one.
.

How about — do I dare say her name — Rihanna?
There's a decent chance that Rihanna, who was present only in the form of digital marble last year, could be at the gala. She seems pretty amenable to public appearances these days, and the powerful combination of her maternity style and Met Gala expertise would be earth-shattering. A source for "Page Six" boldly claimed she will be there, and her appearance in New York the weekend ahead of the gala — in vintage Chanel, no less — did support that theory. If she was willing to attend the actual Super Bowl, the Super Bowl of fashion can't be too far out of reach. And considering her son is never not in designer apparel, I imagine he got his own personal invite.
.

Any other esteemed guests at the Met Gala?
The only guest explicitly confirmed to have gotten an invite is the only one who matters: Lagerfeld's beloved cat, Choupette. While Choupette's agent has not disclosed whether she plans to accept her invitation, she did appear in some Met Gala prep photos from Kim Kardashian, who wrote that the two of them were hanging out at Karl Lagerfeld's Paris office "to get a little inspiration for the Met."