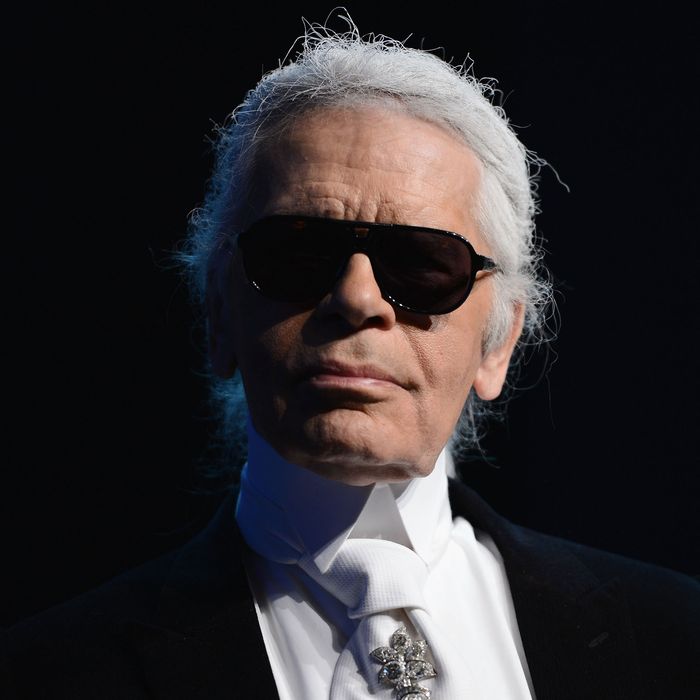 Photo: Ian Gavan/amfAR12/2012 Ian Gavan/amfAR12/Getty Images
Want more of the Met Gala? Sign up for The Cut daily newsletter so you don't miss any of our coverage. Newsletter readers will also receive exclusive interviews with attendees and Cut staffers' personal picks for the best — and worst — looks of the night.
The announcement that this year's Met Gala theme would honor Karl Lagerfeld was met with mixed reactions. The designer, who was a longtime friend of Anna Wintour and beloved by many celebrities, died in 2019 after a seven-decade career. He was also known for offending people "right and left," wrote the New York Times in an obituary. The most vocal outcry came from actress Jameela Jamil: "Why is THIS who we celebrate when there are so many AMAZING designers out there who aren't bigoted white men?" Cara Delevingne (who has a fashion line called Cara Loves Karl) came to his defense, saying Lagerfeld wasn't the problem; rather, it's "the way the world is … and the way the industry has been for a long time."
The designer will be honored at tonight's Met Gala and in a retrospective of his work that will open to the public on May 5. Here's what to know about the exhibition and Lagerfeld's complicated legacy.
Why is Lagerfeld controversial?
Lagerfeld had a long history of making derogatory comments against sexual-assault survivors, immigrants, and fat people, among others. In 2018, he said he was "fed up" with the Me Too movement. "What shocks me most in all of this are the starlets who have taken 20 years to remember what happened," he said in a now-deleted interview with the European fashion magazine Numéro. "If you don't want your pants pulled about, don't become a model!" he said. "Join a nunnery, there'll always be a place for you in the convent. They're recruiting even!"
He often spoke derisively about other people's appearances. He once called Adele "a little too fat" and Heidi Klum "too heavy," and said other disparaging things about women's looks, including that Pippa Middleton "should only show her back" and that Coco Chanel wasn't "ugly" enough to be a feminist.
In 2010, he sparked outrage for photographing model Claudia Schiffer in blackface with an Afro wig, and in 2017 he made bizarre anti-immigrant comments on a French TV show, evoking the Holocaust. In response to Angela Merkel's decision to open Germany's borders to Syrian refugees, he said, "One cannot — even if there are decades between them — kill millions of Jews so you can bring millions of their worst enemies in their place."
How have people responded to the Met Gala theme?
No one who was invited to the Met Gala seems to be skipping in protest of Lagerfeld's comments, but after the theme's announcement, the HF Twitter Met Gala (HFTMG) — a group of young fashion fans who unofficially cover the gala on social media — tweeted that it would not cover this year's event "as our values don't align with the selection of Karl Lagerfeld as the theme." "I think that everything that Karl represented is something that we all generally are very against," one of the organizers of the HFTMG account told the Washington Post. "We value democratization. He valued exclusivity, and he demonstrated that throughout his career."
On Sunday, the Model Alliance led a protest outside of the Met to draw attention to proposed legislation that would provide labor protections for fashion-industry workers. "What will undoubtedly be left unsaid about Lagerfeld, who I worked with regularly as a model, is any mention of his problematic attitudes toward women who did not fit his harmful and outdated standards," Model Alliance founder Sara Ziff told the New York Post.
Does the Met's exhibition address any of this?
Carla Bruni, supermodel and former First Lady of France, gave a surprise speech at this morning's press conference about the exhibition. "Anyone in the presence of Karl witnessed a pure genius," she said of the designer. "Everything interested him except mediocrity."
The uniformly positive speech set the tone for the exhibition, which curator Andrew Bolton told the Business of Fashion podcast deliberately avoided engaging with any of the questionable things Lagerfeld said:
"We wanted to focus on the work rather than the words or the man," Bolton said. "Because, yeah, he was problematic. There were things he said that were, yeah, difficult. And, again, did he mean it? Or was it a deflection? I don't know, it's hard to know."
"Karl Lagerfeld: A Line of Beauty" features nearly 150 of Lagerfeld's pieces from across his career. It is, writes Cathy Horyn in her review for the Cut, "far less concerned with the man and the myth than the work he produced over his seven-decade career." These works are gathered from looks he created while at various fashion houses, including Fendi, Chloé, and, chiefly, Chanel, where he spent nearly 40 years. There are lots of sketches, handwritten letters, and a room of small screens featuring videos of Lagerfeld dancing, spliced with his quotes on life and fashion.