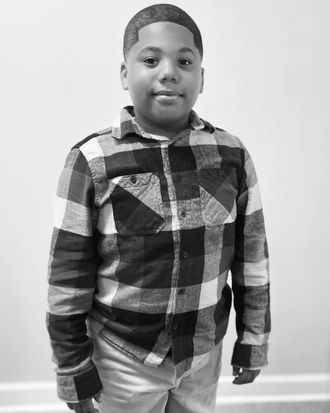 Eleven-year-old Aderrien Murry was shot by a police officer in Mississippi on May 20 after calling 911 for help, NBC reports. Carlos Moore, an attorney for the boy's family, told NBC that police were responding to a domestic-violence call at the family's home early that morning. During a confrontation between Aderrien's mother, Nakala Murry, and the father of another of her children, Moore says she handed her phone to Aderrien and asked him to call the police for help.
When police arrived, Moore said, they were told that the man had run out the back door and was unarmed. Murry told CNN that an officer asked everyone in the home to step outside with their arms up, but when Aderrien rounded the corner into the living room, he was shot. "I cannot grasp why," Murry told CNN, adding that her son "kept asking, 'Why did he shoot me? What did I do wrong?'" she said.
Aderrien was taken to the University of Mississippi Medical Center in Jackson, where he was put on a ventilator. He suffered a collapsed lung, fractured ribs, and a lacerated liver because of the shooting, Moore said, but was released five days later.
On Tuesday, Aderrien told Good Morning America host DeMarco Morgan that he was shot while his hands were over his head. "It felt like a Taser, like a big punch to the chest," he said, adding that he ran to his mother, who was outside. "I was bleeding — bleeding from my mouth. Then I would just remember singing a song." The song, he said, was, "No weapon formed against me prosper shall," a reference to Bible verse Isaiah 54:17.
Shortly after Aderrien appeared on GMA, Moore announced that the family had filed a $5 million lawsuit against the City of Indianola, Chief of Police Ronald Sampson, and Officer Greg Capers — who is alleged to have shot Aderrien — for excessive force, negligence, reckless endangerment, and civil assault and battery, per the Mississippi Free Press. According to CNN, the Indianola Police Department confirmed that Capers was involved in the shooting but did not provide any additional details. CNN reports that the shooting was captured on body-camera footage, but the footage has not been released. While Indianola mayor Ken Featherstone told ABC News that Capers has been suspended, a growing number of people have joined the Murry family in calling for his firing.
This post has been updated.