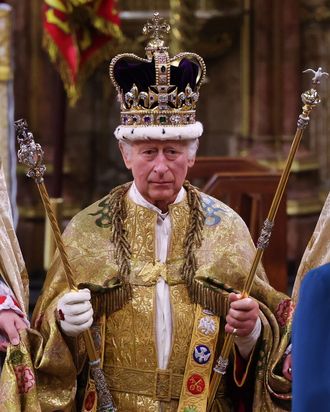 Here's your boy king!
Photo: WPA Pool/Getty Images
There are plenty of reasons not to be excited about the coronation: Not being British is a fair one, as is internal conflict about the monarchy as a concept, given its colonialist history, its protection of an alleged sex offender, and the recent allegations of racism within its ranks. Maybe you don't feel the government should be shelling out hundreds of millions in taxpayer pounds to bankroll royal pomp in the middle of a cost-of-living crisis. Maybe you have certain preconceptions about Charles as a guy, despite his being a potpourri of idiosyncrasies. All of those hesitations are understandable. For those of us who appreciate drama but do not appreciate being personally involved, however, May 6 looked like it would be an auspicious day: a rich tapestry of blood feuds, love triangles, and family tensions threatening to burst their garters. In the end, though, things mostly went smoothly — mostly. Below, a roundup of the most awkward, amusing, and questionable moments from the coronation.
The public booed Prince Andrew as he arrived.
Due to Prince Andrew's alleged rape of a minor, Charles is said to have deliberately sidelined his pervy younger brother from participating in the ceremony and from waving on the balcony afterwards, a prestigious post. He did not stop Andrew from attending, however, nor did he ban him from wearing his plush ceremonial robes as had been reported. Andrew indeed walked in through the main entrance at Westminster Abbey on Saturday morning, bows and chains and all. At least he was booed as his state car drove him along the Mall, though. Not so much awkward as deserved and expected.
Andrew and Prince Harry wound up seated in the same row.
Because many of Harry's relatives are said to still be steaming over all the beans he spilled in Spare, some tabloid sources reported that none of his relatives wanted to sit with him, and one even hoped he would "be seated in Iceland." But Harry — who was not allowed to wear his military uniform for the occasion, though he did wear some of his medals — remains close to his cousin, Princess Eugenie, and maybe it is for that reason that he got lumped into Prince Andrew's arrival group, then relegated to the same row (third) for the service? Or maybe not! Good luck spotting him behind Princess Anne's massive hat, though:
Prince William successfully pretended Harry didn't exist.
William is rumored to be angriest of all the royals, supposedly lobbying Charles against inviting Harry and refusing to say one word more to him than necessary. "William is still upset about Harry's book," an Entertainment Tonight source claimed last month. "He feels it was a betrayal." Not only did Harold, as Willy calls him, implicate the future king in the Nazi-costume scandal, but he also accused his older brother of physically attacking him; repeatedly painted him as jealous, patronizing, and a hothead; and made disparaging remarks about William's hairline. No surprise then, that William diligently avoided acknowledging his little brother's existence at the Abbey. Here's a nice photo of everyone getting along:
Prince Harry booked it immediately after the service.
According to "Page Six," Harry "hastily left London less than an hour" after the ceremony ended, which is exactly what he said he'd do when he agreed to attend: "Expect it to be a fairly quick trip to the U.K. for Harry," his biographer, Omid Scobie, tweeted last month. Harry's plan was to fly in for the coronation itself, then fly out immediately after, in part because Saturday also happens to be his son Archie's fourth birthday and Harry didn't want to miss it. According to the Daily Mail, Charles raised a glass to his grandson at a family dinner following the coronation, wishing Archie a happy birthday "wherever he was."
Harry is believed to have stayed overnight in Frogmore Cottage, the royal residence from which Charles recently "evicted" him and his wife Meghan, Duchess of Sussex. To be clear, the Sussexes don't live in or often use Frogmore Cottage, but the king's decision to offer it to Prince Andrew (whom Charles is supposedly kicking out of the Royal Lodge on grounds that Andrew can no longer afford the rent) probably grates. Charles reportedly gave Harry until the end of coronation weekend to pack the remainder of his things — wonder if he had time to do that before his flight took off?
Police arrested quite a few seemingly peaceful protesters.
In the days leading up to the coronation, activist groups that had planned demonstrations received letters informing them of a new law against "disruption at major sporting and cultural events." Per these new guidelines, people can be imprisoned and/or fined for blocking roads, locking themselves to other people, places, and things, or gumming up the works at airports and railways. Police can also stop and search pedestrians they suspect of "setting out to cause chaos," and on Friday, they reportedly warned the anti-monarchy group Republic that officers would intervene if anyone attempted to "obstruct the enjoyment and celebration" of the public.
On Saturday, law enforcement's interpretation of those advisories seemed broad: According to The Guardian, they arrested six members of Republic, including its chief executive, Graham Smith, while he was distributing signs and beverages to protesters. "We asked on what grounds they had been arrested but they wouldn't say," Harry Stratton, one of the group's directors, told The Guardian. "It is a surprise as we had had a number of meetings with the police. They had been making all the right noises." The Met and Scotland Yard each confirmed that they had made arrests, and Just Stop Oil — the climate-action organization known for throwing soup at Van Gogh's Sunflowers — said 13 of its members had been taken into custody. "You've searched me and haven't found shit," one of its protesters was reportedly heard telling an officer, who replied, "You need to educate yourself on what peaceful protest is."
Patrick Thelwell, who was previously arrested for chucking eggs at King Charles in November, showed up at the coronation protests unarmed. "I've absolutely not brought any eggs," he told The Guardian. "My parole officer tells me counter-terrorism is following me." Too bad — Charles freakin' loves eggs.
Prince Louis was allegedly "whisked" out of the service after looking less than totally engaged.
According to "Page Six," the palace kept a nanny on hand at Westminster Abbey in case Prince Louis — who is 5 years old and possessed of an especially low tolerance for boredom — went full Platinum Jubilee in the middle of the ceremony. He largely stayed on his best behavior, save for a few yawns and intervals of staring blankly at the ceiling. Still, the tabloid reports that he disappeared from the front row for a little, an absence that was allegedly preplanned and not due to his stealing too much attention from his grandfather the king. But you never know for sure, do you?
Katy Perry, who was there, couldn't find her seat.
Katy Perry presumably got an invite because she agreed to play the coronation concert, something many British artists reportedly wouldn't do. But Charles and Perry have a preexisting relationship based on singing to plants, and so the pop star made her way into Westminster Abbey on Saturday morning, looking loud in a pink saucer of a hat. Apparently no one told her where to sit, though — oops.
Joe Biden didn't go because he already had plans.
Initial reports on the U.S. president turning down the palace's invitation indicated that he had plans that day, sorry, and now we know what those were: "I told him I couldn't be there because I have this going on," Biden said during an interview with MSNBC's Stephanie Ruhle, which aired Saturday morning. On Thursday, U.S. ambassador to the U.K. Jane Hartley said that Biden's absence was not a snub and the reason for it was "truly just scheduling and logistics." Anyway, First Lady Jill Biden went in his place with her granddaughter, Finnegan Biden, as her plus-one.
The "homage of the people" had to be tweaked due to criticism of the call to swear allegiance to the king.
Charles reportedly wanted to make his coronation a more modern one than his country had seen in reigns past, and part of the way planners wanted to do that was by opening up an Homage of the People to all spectators, whether they were watching in Westminster Abbey or from home or, per The Guardian, just standing in their local park. Typically, only the dukes and earls present for the ceremony are required to pledge their fealty — the Homage of the Peers — but this time, the general public was generously "offered the opportunity" to swear they would "pay true allegiance to Your Majesty, and to your heirs and successors according to law," so help them God. Organizers intended the change to be democratic and inclusive, but a seemingly sizable portion of Brits did not appreciate the allowance.
"Incredibly distasteful and out of touch," one reader remarked to the paper. "A relic of a violent colonial past," added another. Having digested the feedback, Archbishop of Canterbury Justin Welby reportedly tweaked the wording of the homage to make it less feudal. Instead of issuing a "call to all persons of goodwill in the United Kingdom of Great Britain and Northern Ireland," plus the countries of the Commonwealth, Welby simply "invite[d] those to wish their support to do some, with a moment of private reflection," or with the full oath, whatever they preferred.
Prince Louis wasn't the only bored royal there.
According to an "expert lip reader" for Sky News, the newly minted king was captured on camera mumbling "This is boring" to Camilla while the two prepared to enter Westminster Abbey, where they'd arrived early and apparently had to wait a full "five minutes" before going inside. ("We can never be on time," Charles also appears to say.) Understandably frustrating! What could be as boring as your own coronation?
There was at least one Meghan Markle conspiracy theory.
The Duchess of Sussex was cozily tucked away in California during the coronation festivities, where, per People, she had a "low-key party at home" for Archie's fourth birthday and was pictured hiking with friends in Montecito. None of that, however, stopped Twitter from peddling a conspiracy theory that Meghan actually was at the coronation, sneaking in disguised in a white wig, mustache, and glasses:
The actual mustachioed man is, in fact, not Meghan, but legendary Welsh composer Sir Karl Jenkins, whose music was performed by the coronation orchestra during the ceremony. "It's haunting, it's very Welsh and the story is redolent of a soldier returning home and crossing the stile," Jenkins told BBC of his coronation-song.
And that's a wrap on the coronation. Time for a Big Lunch and a beans quiche, enjoy!