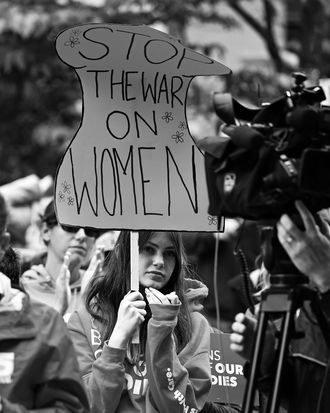 Photo: Karl B DeBlaker/AP
Nine Republican women stood behind a podium at a press conference this week to announce a bill that would ban abortions after 12 weeks of pregnancy in North Carolina. Their faces alternated between tentative smiles and somber looks as they praised the Care for Women, Children, and Families Act, insisting that North Carolinians are onboard with banning abortion care after the first trimester — with certain exceptions, of course. But beyond parroting anti-choice talking points, they demurred when speaking about the specific restrictions in the bill. Instead, they emphasized other initiatives baked into the measure, including paid parental leave, covering the cost of birth control for low-income people, helping families pay for child care, and lowering maternal mortality.
"We are pleased that the unborn will be recognized as having a fundamental right to be born and mothers will get our unconditional support," Representative Sarah Stevens said in the news conference announcing the measure, also known as SB20. "It's time to catch up with the science that affirms parenthood before birth. This is a pro-woman, holistic approach."
Except there's nothing "pro-woman" about this bill, which just passed both the House and Senate. Filling the abortion ban with public-health measures that could have been — should have been — their own stand-alone legislation does not make SB20 any less dangerous. No matter how much money the bill allocates to preventing maternal mortality, what research shows is that banning abortion leads to more maternal deaths.
And while SB20 may not be a total or six-week ban like surrounding states have, it will decimate abortion access for North Carolina and the entire South. Post-Roe, the state, which allows abortions through 20 weeks of pregnancy, has become a destination for the region's abortion seekers. Banning abortions eight weeks earlier in pregnancy and introducing a slew of new restrictions will have devastating effects, and tacking on any amount of "holistic" public-health initiatives won't change that.
SB20 bans the mailing of abortion pills and requires they be administered in person by a physician, plus limits the use of medication abortion up to ten weeks of pregnancy. North Carolina has a 72-hour waiting period, and currently, patients can receive state-mandated informed-consent documents and complete their first appointment via telehealth before going in person to a clinic for an abortion. The new measure will require both appointments to be in person and mandates that the physician schedule a third follow-up visit 7 to 14 days after the procedure. That is a significant blow to patients coming from out of state. For most abortion seekers, the financial costs go beyond just paying for the procedure: They include arranging transportation, child care, meals, and lodging. Most people won't be able to afford hours-long drives to North Carolina clinics spread over several days, or to stay overnight in the state for multiple days.
SB20 also requires that the legislature create a new rules commission to overhaul current regulations for abortion clinics, which could lead to clinics being forced to close temporarily to make costly and unnecessary changes — or to close permanently, further restricting patients' options. All of the state's 13 abortion clinics already have been crushed by an uptick in patients: In the first six months after Dobbs, the state saw an increase of 4,730 abortions compared with April 2022 — or 788 more abortions per month on average. The post-Roe need has been so overwhelming that some abortion seekers have been told the wait time for an appointment is at least four weeks. These delays combined with a new 12-week gestational limit will surely narrow the window in which folks can get an abortion.
If most people don't know they're pregnant until after six weeks, that leaves them, at maximum, a month and a half to access care in North Carolina. They would need to come to a decision about their pregnancy, cobble together the money to pay for the procedure, take time off from work, plan around the 72-hour waiting-period requirement, and take into account whatever wait times the clinics are experiencing. The window to get care becomes vanishingly small — and that's the point.
The legislation also defines a woman as "a female human, whether or not she is an adult" — a revolting choice of words, considering the barriers underage rape victims face when trying to access abortion care. While the measure contains exceptions for rape, incest, fatal fetal abnormalities, and when the pregnant person's life is in danger, there's overwhelming evidence that these exceptions are just not granted in most cases. Pregnant people in states that ban abortion have been denied life-saving care, forcing them to travel elsewhere or wait until they are near death to receive medical help. They've been forced to carry unviable pregnancies to term, and have been left with long-term health consequences that will make it more difficult for them to become pregnant again. And that's because the language in these measures leaves very little legal room for physicians.
While SB20 allows abortions up to 24 weeks in cases of fatal fetal abnormalities, it requires them to be "uniformly diagnosable" — a standard that's nearly impossible to meet, given the complexities of many of these cases. Physicians are also required to give these patients referrals for neonatal and perinatal palliative-care consultations. Rape and incest victims must disclose their assault to their providers in order to get care up to 20 weeks, but we know about 80 percent of sexual-violence survivors do not report their experience. And while abortions will be allowed for medical emergencies, the measure explicitly bans abortions in the case of psychological or emotional conditions. SB20 mandates that any of these exempt abortions after 12 weeks also take place in hospital settings, presenting yet another financial barrier for patients.
Despite Republicans' claims, this is a measure most North Carolinians do not want. According to a PPRI poll released in February, 62 percent of the state's residents believe abortion should be legal in all or most cases. It's no surprise, then, that Republicans in the House and the Senate devised this legislation in secret, to the point that lawmakers reportedly had to turn in their notes after every negotiation session. Instead of introducing new legislation, they Frankensteined a child-safety bill, gutting it and replacing most of its provisions with abortion restrictions. Republicans then circumvented the traditional legislative process to try to ram the bill through the legislature within 48 hours. It was released in the dead of night, no public hearings were held, and there was minimal debate on the bill in the House or the Senate.
Now, the legislation is on its way to Democratic governor Roy Cooper. While Cooper has said he'd veto the measure, the point is moot. Representative Tricia Cotham, a longtime Democrat who switched party affiliations last month, delivered Republicans a vetoproof supermajority in both chambers. Cotham, who shared that she had an abortion several years ago in a speech on the House floor opposing the state's 72-hour waiting period, voted for SB20 on Wednesday night. Assuming she and her Republican colleagues agree on overriding Cooper's veto, the bill could become law and take effect this month.
"Abortion is a deeply personal decision," Cotham said back in 2015. "My womb and my uterus is not up for your political grab. Legislators — you — do not hold shares in my body, so stop trying to manipulate my mind."
But times have changed. Without Roe, anti-abortion lawmakers are using every tool at their disposal — including blowing up the traditional legislative process — to advance their cruel agenda, and women throughout the South are suffering the consequences.
The Cut offers an online tool that allows you to search by Zip Code for professional providers, including clinics, hospitals, and independent OB/GYNs, as well as abortion funds, transportation options, and information for remote resources like receiving the abortion pill by mail. For legal guidance, contact Repro Legal Helpline at 844-868-2812 or The Abortion Defense Network.