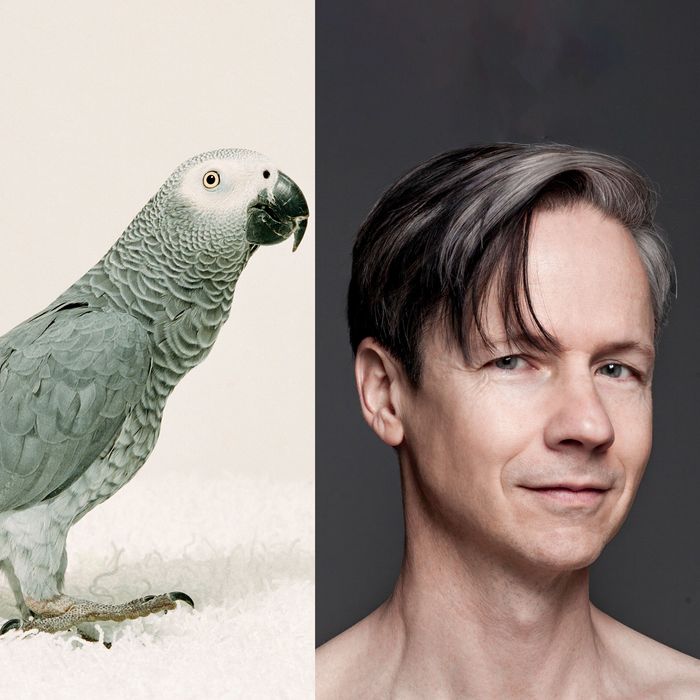 Photo-Illustration: by The Cut; Photos: Getty Images, Matthew Placek, Colin Bentley/SHOWTIME
All Yellowjackets heads know and love Caligula, present-day Misty's (Christina Ricci) pet African grey and quite possibly the only friend she has. In this week's episode, "Burial," the bird comes to life Twin Peaks–style, with writer, songwriter, and director John Cameron Mitchell of Hedwig and the Angry Inch fame playing the parrot during Misty's sensory-deprivation-tank dream sequence. Cameron anthropomorphizes Caligula into a no-nonsense Broadway agent, doing a little song-and-dance number with Walter (Elijah Wood) and offering Misty some much-needed perspective about, well, her being a murderer and all: "Take it from a bird named after a Roman emperor who was also unjustly accused of heinous acts! You are not a murderer, Misty! You're a closer." Pets really are our greatest cheerleaders.
Mitchell brings his signature flair of weird to the role — you may have caught him playing Joe Exotic on Peacock's Joe vs. Carole or Hannah's late e-book editor on HBO's Girls. Mitchell's currently developing a project with Showtime as a writer and acts as the "demon brother" on Garth Risk Hallberg's adaptation of City on Fire, which premieres today on Apple TV+. Below, a dispatch from this legendary Broadway bird.
I can't think of a better person to be the human Caligula. Were you a Yellowjackets fan before you joined the show? 
No! I was pulled in by the wonderful people who make the show. I vaguely knew Juliette Lewis and Elijah Wood. I didn't get to see Juliette [on set], but Christina and Elijah and I had a blast. I knew Elijah because Hedwig and the Angry Inch was put out by the same company as Lord of the Rings one hundred years ago, so we were always at the same events. Now I'm in my late middle age, and he's a father.
How did the role of Caligula come your way? 
It was just an offer, and as an old homosexual, it's nice to get offers. I had given up on acting until about ten years ago, when Lena Dunham dragged me back in through Girls. Since then, I've had more fun acting, now that it's not my main thing; I'm more of a writer and director. I've been singing in a few TV shows, most prominently in The Sandman, where I sang a few songs in drag — I guess I'm the go-to Broadwayish rock-and-roll guest-star singer. It was easy to go in for a week and just do one day. I had a great time in Vancouver and hung out with Molly Ringwald on the airplane. She's doing Riverdale.
What was it like dancing with Elijah Wood? 
I didn't do as much dancing because I had a giant parrot costume on and couldn't see. So I just did the singing and the acting and I had a dancing double.
Have you heard of any Yellowjackets mysteries you want unraveled? 
I'm a complete virgin. I can't wait to crash-land into it and eat my viewing companions, or whatever they do on the show.
What's on heavy rotation on your playlist right now? 
I really love Omar Apollo, who's a queer, soulful singer — very dreamy. I've moved to New Orleans, so I'm steeped in jazz there. I've been listening to Hurray for the Riff Raff, a band based there, and I've written songs with them. An incredible singer who I'm friends with and listening to a lot is John Boutté, who's probably the greatest jazz singer living today. He's also gay and a military brat, so we have a lot in common.
What is a musical you'd recommend for someone who needs a little convincing in the musical department? 
For me, Hedwig is the alt musical I spent much of my life getting into, so Hedwig and the Angry Inch, of course. And then a rock musical, Passing Strange, that Spike Lee did a film of, is a great one for people who don't usually like musicals. A Strange Loop, which won a Tony last year but closed. As for old-school style, Gypsy. I saw Patti LuPone in it, and it blew me away. I sang songs from it for The Sandman. I'm hoping to play Mama Rose in a production of Gypsy. 
What's the best piece of gossip you've ever heard? 
God! Michael Musto was king of the downtown gossip for many years at the Voice, and he'd always have a blind-item column: What blonde actress can only have an orgasm when she has a vacuum in her ear? Something like that. You never knew who they were, but it was fun to guess. I like not knowing. I'm not a real gossip person, because it can sometimes veer on callout culture and taking people down. I'm more about lifting people up. Maybe it's my Catholic upbringing, but I do believe people can be redeemed.
Caligula gives Misty some … interesting perspective. What's the best advice you've ever gotten?
Usually I'm a worried optimist and believe it's going to work out in the end, but I can get discouraged by mediocre feedback. But it goes back to your original reasons for doing something. If they're strong, if they're deep, you will figure out a way to make it good and get it out there. I'm very tenacious. I don't follow money too much. I joke with people that I fucked my way to the middle, and I'm quite happy there.
You're throwing a dinner party. What celebrities, dead or alive, would you invite? 
There's always the Jesus one, but you can never speak to him in Aramaic, so I wouldn't invite him. I'd go for some queer people known for their conviviality, and my mother is British so I typically go for the Brits. Oscar Wilde, Noel Coward, and I would say, I never met her but I always think she's fun as hell, Miriam Margolyes, a Harry Potter person. Every older British actor eventually got a part in Harry Potter and was able to buy a house in the country. So I hope she has one now.
What would you serve your guests? 
I would serve them Oscar Wilde, Noel Coward, and Miriam Margolyes, fried, roasted, and boiled.