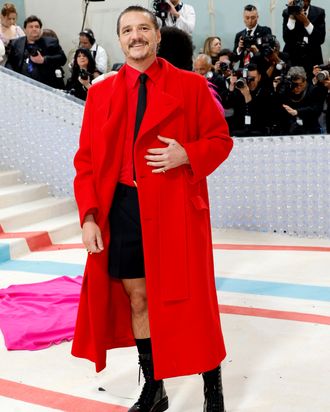 Photo: Mike Coppola/Getty Images
Want more of the Met Gala? Sign up for The Cut daily newsletter so you don't miss any of our coverage. Newsletter readers will also receive exclusive interviews with attendees and Cut staffers' personal picks for the best — and worst — looks of the night.
Pedro Pascal is a sentient smirking emoji. Case in point: his leg-centric look at the 2023 Met Gala. Feast your eyes upon these knees!
Pascal, who is reportedly in talks to join the Gladiator sequel, showed up to this year's gala in Valentino, and there's a lot to take in. The structured red jacket! The black shorts paired with laced-up boots and high socks! The slicked-back hair and prominent little mustache! Most importantly … the knees! Here they are in action:
Rihanna may have kept us waiting, but Pascal brought two special guests to help ease and/or distract us from the pain.
Lest you think this is too much emphasis on a person's leg joints, Pedro Pascal's knees have a following all their own. So much so that he was asked about his "slutty little knee" during an interview with Esquire earlier this year. (Apparently, the actor has a penchant for popping his knee in photos.) "What are you talking about?" he joked coyly. "What do you mean?" He said this while gently rubbing his knee because he knows exactly what he's doing.
Fingers crossed we get some sneaky footage from inside the gala as we have in years past. Ww would love to know which celebrities dressed as cats had the honor and privilege of hanging out with this man and his incredible knees.