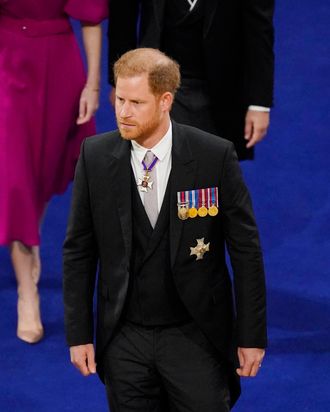 Photo: Andrew Matthews - WPA Pool/Getty Images
When Prince Harry's memoir, Spare, was released in January, it included many baffling details, from a recollection of his frostbitten penis at his brother's wedding to a particularly cringe-inducing account of losing his virginity. The level of candidness left many readers scratching their heads — and wondering about the intentions of Harry's ghostwriter, J.R. Moehringer.
Now, Moehringer — a Pulitzer Prize–winning journalist who also worked on Andre Agassi's memoir — has given his own account of what it was like to work on the book with Harry. In a new essay for The New Yorker, Moehringer reveals that he really likes Harry. Like, a lot. "I just liked the dude," Moehringer writes about the first time he spoke with Harry in 2020. "I called him dude right away; it made him chuckle. I found his story, as he outlined it in broad strokes, relatable and infuriating."
To write the autobiography, Moehringer says he and Harry spoke "around the clock" — on Zoom, on the phone, via text, and, eventually, in person. Moehringer visited Harry and Meghan's Montecito home a few times, staying in their guesthouse. Apparently, Meghan and Archie would check on him and bring him food and sweets.
Eventually, as Harry became comfortable, Moehringer writes, no subject was off-limits, including the parts that he anticipated people would be "aghast" over. (Which I guess explains how Harry's allegation that Prince William goaded him into wearing that infamous Nazi costume ended up in the book). Moehringer writes that Harry confessed that "all his life, people had belittled his intellectual capabilities" and that he "couldn't escape the wish that Spare might be a rebuttal to every lie ever published about him."
The process of working on the book — and the post-publication frenzy — also gave Moehringer additional insight and sympathy into Harry's circumstances. After the book was released, Moehringer writes, he and his family were stalked by paparazzi and a Daily Mail reporter. "One morning of what Harry had endured since birth made me desperate to take another crack at the pages in Spare that talk about the media," he writes — though by that point, the book was already out in the world.