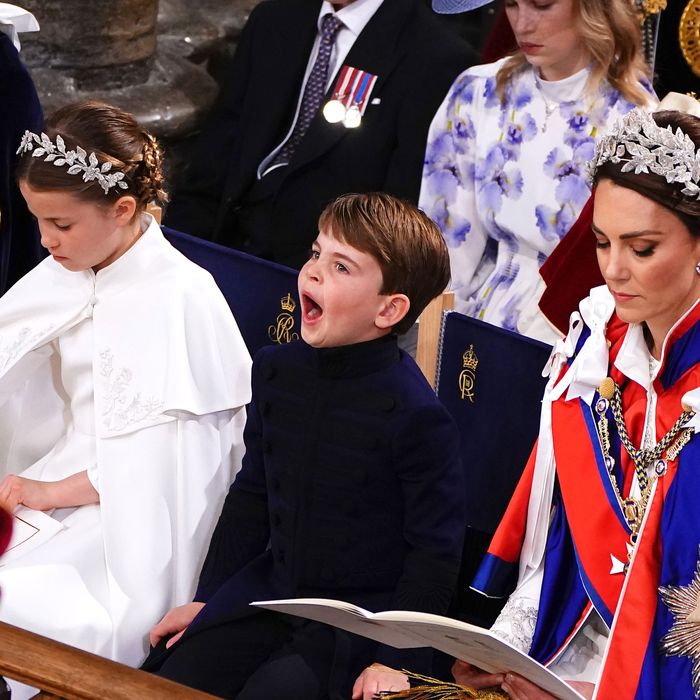 I mean, yeah …
Photo: WPA Pool/Getty Images
The coronation of King Charles III took place today at around 11 a.m. in London, which is 6 a.m. in New York City — objectively too early for a Saturday morning, don't you agree? The projected run time for all the pageantry was around two hours, in which viewers got to do things like watch Charles move from chair to chair in Westminster Abbey, receiving bangles ("bracelets of sincerity and wisdom") and a flashy golden robe (the "supertunica," truly), as well as some massive rods. Tiring stuff, and so naturally I am yawning. You are yawning. Prince Louis is yawning, and was captured doing so by photographers at the ceremony. A fair reaction — he probably had to wake up around dawn for this, too — and yet "Page Six" is reporting that the 5-year-old was "briefly" removed from the front row after engaging in some "antics" that suggested he might not be totally engaged with all the pomp and circumstance.
Here he is, staring at the ceiling, possibly admiring its Gothic majesty or possibly wishing he were anywhere else:
Louis later took a moment to stare slack-mouthed into the middle distance. Dissociating? Or maybe that is just me.
According to "Page Six," the palace kept Louis's nanny on hand, ready to intervene if he were to misbehave like he did at the queen's Platinum Jubilee over the summer. At multiple events, Louis — then 4 — vented his outrage at having to sit quietly by standing up on his chair and thumbing his nose at his mother, Princess Kate, and screaming with his hands clapped over his ears. Louis did not appear to find the coronation service as intolerably boring as, for example, the Jubilee Pageant, and now the papers are reporting that he stole "the show," along with the public's "hearts."
Yet he was still "whisked away," per "Page Six," which notes that he reappeared for "God Save the King." According to ITV, the exit was preplanned: Louis would be allowed to "retire" for a portion of the service, then come back. Personally, I hope that's the case; otherwise, what, the king of fussiness can't share the limelight with a charismatic baby?
Anyway, good luck out there, little guy: