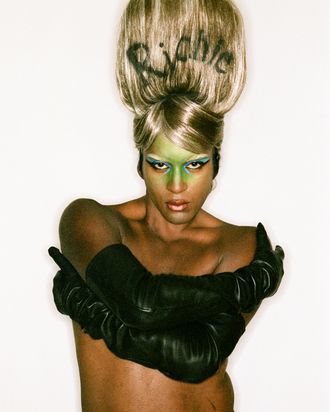 Richie Shazam is a photographer, model, muse, creative director, television host, and now author, set to release SHAZAM (published by IDEA). The 176-page book took roughly six months to complete and offers dozens of iterations of "the doll," showcasing Shazam's greatest subject: herself. All the images are self-portraits in custom looks created with stylist Briana Andalore, as well as actress and muse Julia Fox.
"It's kind of like burning the images of myself of previous and, like, creating something new," Shazam says. "I made a whole new body of work of over 50 looks, you know? That's not a casual feat. Give me a challenge and I'm gonna show up for it."
Some of her favorite looks included ones where they played with materials like slime. "We wanted to showcase beauty like an 'icky' weirdness," says Shazam. "We just started playing with this idea of being covered, the body kind of creating a different shape through the dimension of using slime. I just became entranced by slime being fully immersed on my face and almost 'de-skinning' myself. What's really beautiful is that with the slime coming off of my face, my face is still intact. Kind of like all of the ick and the murkiness of the city — I'm still here and alive and charged despite all of the oppressive things working against me." Shazam told the Cut their rules to live by.
What's your No. 1 dinner-party rule?
Try to be off your phones unless there's a crazy emergency, and be present. Actually look at the faces of the people you're at dinner with. Also, sharing is caring, and it's fun to try new things on the menu. Everyone gets a taste.
What's your No. 1 rule for canceling plans with friends?
That doesn't really apply to me as when I schedule plans with friends, I always show up. Friends are my ultimate escape from whatever is happening in the world and a true necessity.
What's your No. 1 rule for posing?
You know, my real tea with that is that I've kind of mastered how to keep my eyes open with the flash. I know that my brown skin will pop with the flash, I'm very aware. I hold my poses and work with the synergy of that camera. If the iPhone is going off, you move with the iPhone! Play your favorite fucking song in your head and you feel it out. There's gonna be magic in that photo. Whatever the fuck is going on in your head does not matter, it's about the photo. I'm that bitch that's on the floor taking that photo. I will give you options. Maybe that's why I've become so good at my job, because I want people to feel confident and to feel sexy. So it's like, we're gonna leave here with an option.
What's your No. 1 rule for someone on a journey of self-discovery?
Being a trans femme entity in the world and being a person of color add an incredible dimensionality to who I am and how I exist. I'm perpetually in a state of survival mode, and I wanted this book to kind of be a protest — hence why I called it a burn book — but really it is an act of visual protest and I want people to be inspired. It's obviously made for my community, but it's made for everyone and anyone that feels challenged. Sometimes you have to really lean within and find your own answers, you know; it's like, how do you find strength? How do you find community? You have to believe that there are spaces for you. I'm so affected and impacted by the stripping away of our rights, and I think it's very dark to be able to survive in this economy and in this climate. I always feel this innate pressure to "fit" into the binary, and I want people to stop putting pressure that you need to look or act a certain way because it's all rooted in this cishetero-patriarchal idea. Let authenticity speak and let people be free to be who they are.
What's your No. 1 rule for mingling with famous people?
I'm the girlie that be listening, like, I'm trying to get the tea! When someone I don't know knows who I am and we're in a social setting, it means that I'm doing some kind of work that's reaching other arenas and people are communicating and know what's good. They know she's that bitch. I'm also the friendly girlie, like, I really love people and I'm all about the tea and kiki'ing and all of that. I'm all about a good time. Famous or not famous, if you're giving me good energy, we'll be friends.
The first edition of SHAZAM releases on May 19, 2023.