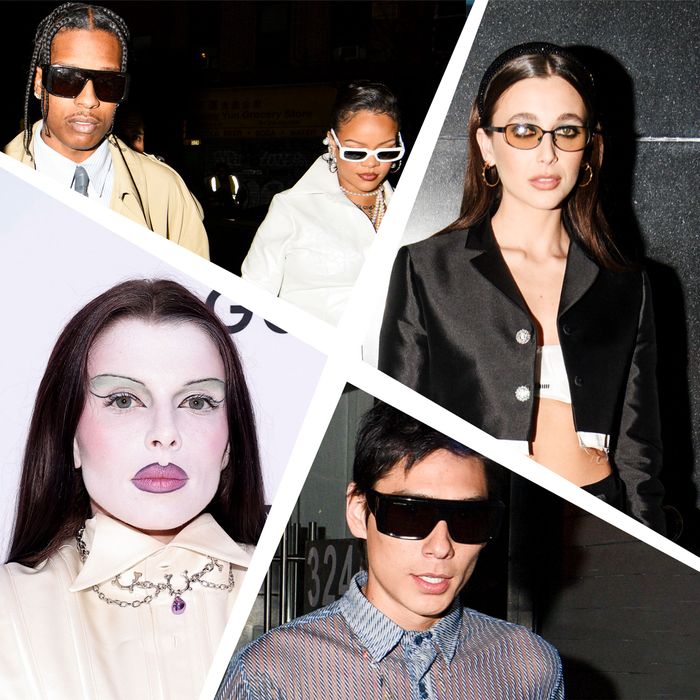 The Met Gala was this past week, and as you can imagine, the line for the Boom Boom Room (the club where celebrities dance on tables and create a new meaning of "letting loose") wrapped around the block.
It's rare to see Rihanna out besides leaving a restaurant or performing at the Super Bowl. Still, not only did we get a Valentino look on the Met Gala red carpet with her beaux A$AP Rocky, but she also partied afterward. Who said motherhood should stop you from partying?
Best DJ Look: Idris Elba
Besides Rihanna and A$AP, who can think of a better duo than Amy Sacco, the founder of Bungalow 8, and Idris Elba, the famed DJ and actor? Then add Gucci to that and it can't be any more iconic. They had a party to celebrate their new Meatpacking store the weekend before the Met.
Dynamic Duo: Rihanna and Dua Lipa
I never knew I needed this until now. At Dua's Met after-party, Lipa and Rihanna pose while decked out in jewels and pearls in true Chanel fashion. While they're giving off major yin-and-yang energy, it makes me think: How have these two stars never been seen together and what did they talk about?
Best Clown Couture: Julia Fox
It's been a while since someone has done a tasteful and artful display of clown cosplay. I mean, it's been at least two years since Insane Clown Posse's farewell tour. Fox gives a feminine take on a clown suit while appearing at the Elle Woman of Impact event sponsored by Wander + Ivy. The satin pierrot clown shirt paired with the white cast of makeup and bold lip confirms that we're entering a new Julio Fox era. And we are here for it: honk, honk.
Best Momager Moment: Kris Jenner
Everyone needs a night off, even Kris Jenner. Although she's still doing casual business, it's always a great fashion moment when Jenner steps out. In this silky champagne dress, the momager pairs a diamond mini-bag with satin gloves. She's giving pre-coronation vibes as she is the queen of her Calabasas royal family.
Best Feather Moment: Diana Ross
Every week we blog a "feather moment" and throw in a "mother moment" if it's appropriate. This week we combine them. On May 4, American Express presented a Carbone Beach experience, and Diana Ross looked stunning in this lime-green feathery coat atop a matching sequined dress. It doesn't get more '70s disco chic than this.
Best After-Office Look: Emma Chamberlain
Emma Chamberlain is serving "Me at 9:30 p.m. on a Friday night at Georgia Room after coming from the office." Instead of being at Georgia Room and bumping shoulders and getting stepped on by LES skaters, Emma is attending Dua Lipa's Met after-party in Miu Miu.
Best Plus-One Boyfriend : A$AP Rocky
We've already talked about how stunning Rihanna looks, but A$ap Rocky looks cool too.
Best Karl-Inspired Fit: Whitney Peak
At the same event, Whitney Peak is giving us a sexy feminine twist on Karl Largefeld's iconic uniform. As a Chanel girl, it would've been impossible to disappoint on a night like this.
Best Sheer Shirt: Evan Mock
Although, Evan Mock is always suited up in the best skater-boy-meets-model fits, it's nice to see him in something a little more dressed up yet risqué. At Dua Lipa's Met after-party, Mock paired a Head of State sheer button-up with leather trousers and city-chic shades.
Best Print and Veil: Maggie Gyllenhaal
I haven't seen a veil worn out since Meghan Markle's iconic funeral look, but if anyone were to follow that up, it would be Maggie Gyllenhaal. In a shiny printed suit dress, Gyllenhaal steps out in head-to-toe Lafayette 148 at Save Venice's Un Ballo in Maschera at the Plaza Hotel in New York City.
Best Supermodel Linkup: Iman Mohamed and Bethann Hardison
Even though they are from two different eras of modeling, two supermodels were brought together on the same couch at the Gucci Meatpacking boutique launch party. Both look stunning in their green and black ensembles, and they can't help but have a smize-off in a casual photo.
Best Suave Look: Janelle Monaé
We've seen Janelle Monae wear some iteration of this outfit before, but it never gets old. In a suave long black coat and navy hat, Monaé essentially continues to look stunning in her uniform at Mikimoto's 130th Anniversary Celebration.