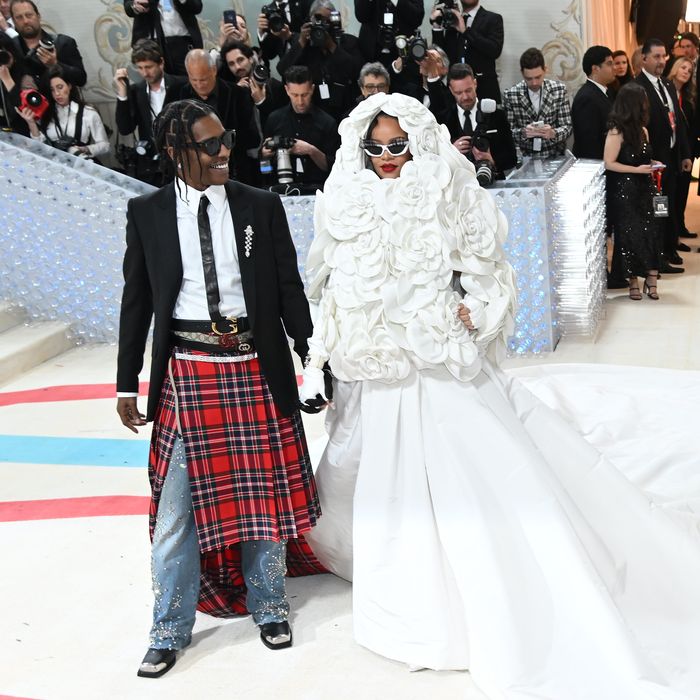 Can you believe it?
Photo: Noam Galai/The Hollywood Reporter via Getty
It really happened: Rihanna arrived at the Met Gala — at a whole ten o'clock p.m. That's on time in Rihanna hours, no? Anyway, she rolled in swathed in a shroud of fabric roses, fingerless gloves, a poofy white gown, and sunglasses with exaggerated eyelashes attached. Her partner A$AP Rocky came with her, wearing a kilt, jeans, and no less than four belts.
I would have abandoned all hope early in the evening, except that Rih dropped some not-very-subtle clues that she'd be gracing the Met steps ahead of Monday. On Saturday, she arrived at the New York restaurant Caviar Russe in a fur-covered getup from Chanel's fall 1994 ready-to-wear collection, suggesting she is not among those with reservations about this year's Karl Lagerfeld theme. The ensemble included a fuzzy white minidress, a tiny but very loud jacket, comically oversize Chanel-logo sunglasses, and a matching hat that I sincerely hope she is planning to repurpose for King Charles's coronation. It was fun, it was ridiculous, it was a sentient high-fashion boa — in other words, everything one hopes to see in a Met Gala outfit.
Want more of the Met Gala? Sign up for The Cut's daily newsletter so you don't miss any of our coverage. Newsletter readers will also receive exclusive interviews with attendees and Cut staffers' personal picks for the best — and worst — looks of the night.
She also posted photos of the outfit with the caption "Not even Monday," which, coupled with the rumor that she had a fitting at 3 a.m. Saturday night, was enough to sustain a tiny glimmer of hope. Around 9 p.m. on the night of the Met Gala, videos emerged of Rihanna swathed in a vintage Fendi fur coat and holding hands with a kilted A$AP Rocky while the couple left the Carlyle hotel. An hour later (I refuse to believe traffic is that bad in New York, but fine), they achieved the impossible and arrived at the Met Gala, posing on a carpet that was shockingly not already rolled up.
Congratulations to us all, you can go to bed now.