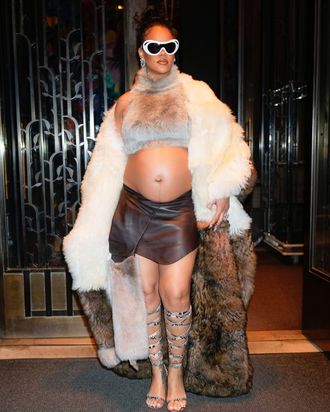 Rihanna is the patron saint of many of life's spheres: weed, smelling good, assless chaps, and maternity fashion. While pregnant with her 1-year-old son, Rza, the singer deluged us with latex crop tops, red leather Alaïa coats, shredded pants, and, of course, bare-bump energy. She is currently expecting her second child, teasing the news during her Super Bowl halftime performance simply by leaving her Loewe jumpsuit ambiguously unzipped. No one is doing pregnancy dressing like Rihanna, and no one is doing pregnancy undressing like her, either. She made that clear on Thursday, dropping a little throwback carousel from a maternity photo shoot she did during her first pregnancy on Instagram. In the images, she's posing topless on a stone balcony at golden hour, the ocean in the background. In some, she's wearing chain body jewelry, less a bikini top than the outline of one. Per the caption, she's calling the series "Rub on ya titties":
Rihanna continued with an ode to RZA and motherhood: "In honor of my first pregnancy, embracing motherhood like a g, and the magic that this body made! Baby RZA … he in there not having a clue how nuts his mama is, or how obsessed he was bout to make me."
Personally, I'm obsessed with these photos and the confidence with which she approaches her maternity style. I'm wishing a belated happy birthday to RZA, who turned 1 on May 13 and who, in his first year of life, has already made it to the cover of Vogue. I can't wait to see what glorious maternity celebrations Baby Fenty No. 2 will bring.