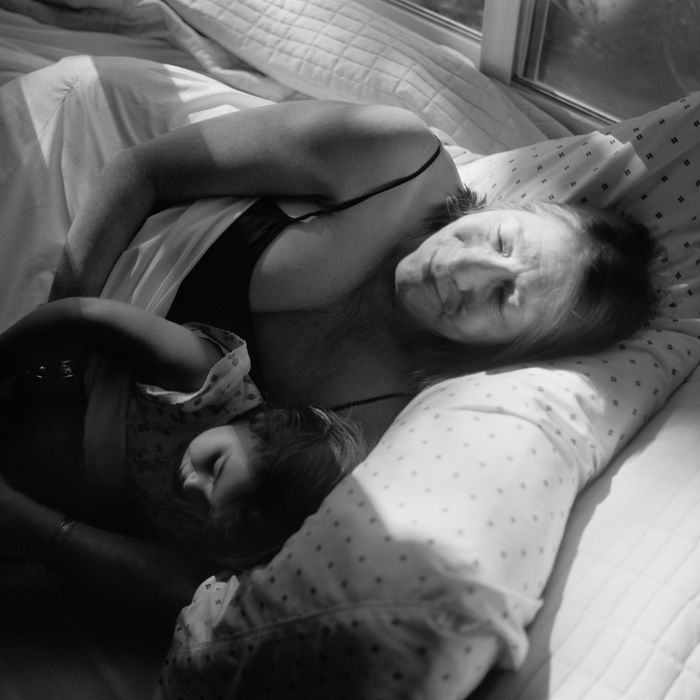 Photo: Rose Marie Cromwell
Becoming a parent brings on a whole new crop of anxieties — about separation, about the future, about time (or lack thereof). After the birth of her daughter, photographer Rose Marie Cromwell felt it all, as she recently told the Cut from her home in Miami. "I started to look at my own mortality. My parents are on their way out, my daughter is on her way in, and I'm at this precipice in the middle," she says. In her latest project, A Geographical Survey, she examines these anxieties in the wide-open spaces of the American West, merging the places she traveled in her childhood with her newfound perspective as a mother. "I find comfort in these places, where you feel smaller in the landscape," she says. "When I go to the West, in my soul, I feel at home."
Cromwell was born in Sacramento and raised largely in Seattle, where her parents divorced and her mother's new partner, Cromwell's stepdad, became an influential figure in her upbringing. He was raised in rural Montana, surrounded by cowboys, and, over the course of family road trips, would tell tales of growing up out West. "Seeing the landscapes and learning about indigenous communities' connection to them was very formative for me," Cromwell recalls.
She grew up with a speech impediment, but in fifth grade found a new language through photography. "I felt that what I could say through photographs was more articulate than what I could say verbally," she says. Her mom soon bought her a small point-and-shoot camera of her own, and Cromwell proceeded to photograph everything. In particular, she remembers how, during large family Christmas gatherings, she'd shoot all the trash that accumulated. "I was always drawn to things that weren't obvious."
It's this curiosity that took Cromwell to Cuba in her 20s to observe how other communities organized politically, and to Panama while working on her master's degree, where she photographed populations living on the edges of the biggest thoroughfare of world trade. Both experiences felt intensely personal to Cromwell, but it was only after her daughter, Simone, was born that she turned the lens around.
Eclipse, an earlier series that documents her first days of motherhood, began after a traumatic birth experience that left Cromwell hemorrhaging after delivery. All of the complicated feelings, physical and emotional, were dampened by an overwhelming joy at welcoming Simone, "who was here and was healthy." And so Cromwell began photographing the out-of-body experience she was living. At first, she would share iPhone shots on a private Instagram account: her in her hospital underwear, or a big blood clot that she'd expelled, or her placenta pills. The photographs resonated, most notably with her publisher, who urged her to turn them into a book.
That was the work that birthed A Geographical Survey, a project that she considers to still be in its early stages. All throughout her time spent working in South America and the Caribbean, "I did have that question lingering in my head, 'Why haven't I been back home?' I hadn't looked at my own identity through where I'm from." With this work, she's doing just that.
Beginning in March 2022 and continuing over the course of several road trips across the West, Cromwell photographed her mother and her daughter alongside these harsh yet beautiful landscapes. They visited Earthship communities of sustainable homes in New Mexico and off-the-grid locations in Northern California. Cromwell was amazed by her own mother's willingness and adaptability. "This was the first time she'd used a compost toilet. Afterwards, she was really into it."
A Geographical Survey juxtaposes the intimacy of familial bonds with the emptiness of the desert landscape. It captures Cromwell where she is now, anxious about what will be but compelled to document her mother and daughter in this moment, in their growing and aging bodies. Through it, she sees a future for Simone. "I want her to be exposed to that feeling of calmness that nature brings, to be able to recognize that that is important," Cromwell says, reflecting on their travels.
One night, while camping in a desert in Colorado, Cromwell and her daughter sat together and watched the sun set over the sand dunes. "She was just one and a half, but was so mesmerized. We both were. I want her to be able to experience all those kinds of things in her life. That's the beauty of being alive."