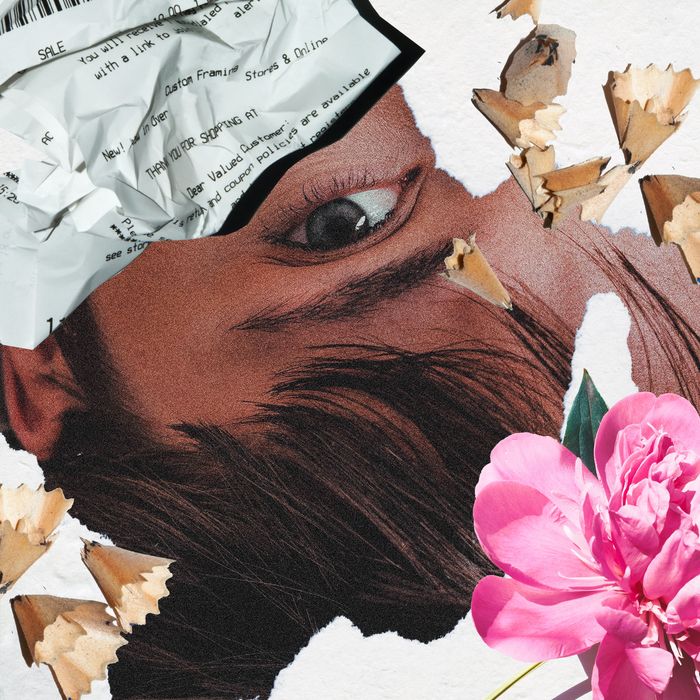 Photo-Illustration: by Marylu Herrera
New York Magazine's Sex Diaries series asks anonymous city dwellers to record a week in their sex lives — with comic, tragic, often sexy, and always revealing results. The column, which began in 2007, is the basis of a new docuseries on HBO.
This week, a woman has a few hot hookups with a married man while contemplating her next book deal: 35, single, Brooklyn.
DAY ONE
8:05 a.m. I'm pretending to sleep. This guy I've been seeing is lying in bed next to me and I can sense his excitement. It makes me want to kick him out.
8:30 a.m. Making coffee. Wearing an unsexy bathrobe. I don't want this guy — Alex — to wake up and see me looking good. I want him to wake up and not like me anymore. I'm really not into this dude, even though he's super sweet. We've been seeing each other for about a month. He's an editor at the publishing house that's releasing my third book.
9:30 a.m. He's up now. Holding me from behind as I pour coffee. His morning breath isn't helping the situation.
11 a.m. Sitting on my patio. I'm making small talk and wondering when he'll leave. I try to come up with an excuse to get him out of here.
12 p.m. I tell him I signed up for a spin class at 1 p.m. that I forgot all about. He buys it but lingers while I put on gym clothes. I try to think about where a spin class would actually be in case he tries to walk me there. I've never gone spinning in my life, and this is all a big lie.
1 p.m. Fortunately, Alex leaves before I have to fake walking into a class. His dick was hard when we hugged. Even that pissed me off. Stop being so excited about fucking me!
2 p.m. Smoke a joint in silence and think about what I'm doing with my life. I start to feel high and decide to watch a few episodes of Schitt's Creek. It's a delight, and I feel a little better.
5 p.m. Order in from a great Middle Eastern restaurant.
7 p.m. Take a bath.
9 p.m. In bed. Alex has texted a few times about hanging out tomorrow, but I'm not writing back. He's cute, but it's just that he likes me too much. It's not a huge problem — I'm not one of those women that gets off on a guy treating her like shit. It's just that Alex is … I don't know … pathetic?
DAY TWO
7 a.m. I'm awake and decide to get back on the couch and watch a movie. I love doing that in the morning. It makes me happy to be single and alone, even though I'm 35 and I know something has to change soon.
11 a.m. I put on my earphones and take a long walk around Brooklyn. I have to think about my next book project. I write nonfiction. I have no idea what the new book is going to be yet, but I need the money from a book deal. Long walks generate the best ideas for me. They're magic.
2 p.m. Alex is still texting, clearly in a panic that I'm not writing back. Why am I torturing this man? Why does it feel good? I'm a fucked-up person, but he needs to grow a pair and read the room. I'm just not that into him. The sex isn't great, for one. His dick is small and not mighty. He likes to "make love," which is just ick.
4 p.m. Home alone figuring out what to do tonight. I need a good fuck. I want butterflies, the chase, the hunt, the kill, all of it. I decide to go to a bar myself and see what happens.
8 p.m. I'm at a local place where I love to order a burger and a dirty martini. I'm eavesdropping on these two guys talking about their upstate homes. They're older than me and scream married with kids, but I try to talk to them anyway.
9 p.m. It turns out one of them, Rob, is "separated." He sticks around and we're flirting and talking. He only gives vague details of his marriage and I wonder if he's lying. I won't sleep with a married man. Cheating isn't my thing. He says his "ex" lives in the city, while his divorce pad is in Brooklyn. They have a teenage daughter who shuttles between the two. This guy is attractive and I'd love nothing more than to have sex with him tonight, but his vagueness worries me.
10 p.m. Rob orders one of my books on his phone. Slick move. I suggest we go back to my place.
10:30 p.m. We immediately start to fool around. It's fast and messy, and I'm loving it. I unzip his jeans, and thank you, Jesus, he has a great cock. I start to suck it while telling him not to come. He puts on a condom and we fuck all over the place. I'm really wet and I come like two minutes before he does.
11:15 p.m. Rob and I exchange numbers, hug good-bye, and he leaves. I'm happy about all of it.
DAY THREE
8 a.m. It's Monday and I'm up early for work. I have a second job, teaching media studies at a college. I teach twice a week and really enjoy the work, but I'm a bit hung-over today.
11 a.m. After class ends, I go to a local café and refuel on coffee and carbs. I'm thinking about last night with Rob and trying to assess if I'm into him or not. In the meantime, I decide to text Alex that all is well but I'm just really busy. He better take the hint.
2 p.m. Alex hasn't written back. It occurs to me that he could sabotage my book-publishing process. If he really wanted to act out, he could sour my reputation. Hopefully, he'll be an adult about it.
5 p.m. I Google Rob. I remember his last name and a bit about the start-up he works for. A few things pop up — he's apparently a pretty successful dude, and from what I can see from his Instagram, his separation and co-parenting stories hold up.
6 p.m. I go on another long walk without my phone to think through a book concept that hit me yesterday.
8 p.m. Back in my apartment. A text from Rob! "Hello sexy …"
I don't write back. Will text him tomorrow.
DAY FOUR
8 a.m. Today is a writing day, so I take out my special coffee maker and brew a large pot.
12 p.m. Check my phone for the first time today. I have an email from Alex. It's a bit of a love letter and good-bye note combined, but all very positive. He's not going to burn my career down. He just wanted me to know how much he likes and respects me, and how he will miss me. Aww. Bye, Alex.
2 p.m. My friend Tanya invites me to her Westhampton beach condo tomorrow. It's supposed to be in the 80s. I tell her I'm in.
4 p.m. I text Rob back. I like that he's not totally consumed by parenting. Everyone around me, including all of my friends, have young kids. I'm not mad, but it's a little hard for me. I want that for myself and it hurts to be surrounded by all the strollers and preschool talk.
8 p.m. We've now been texting back and forth for about four hours.
11 p.m. Still texting! Force myself to put the phone away and go to bed.
DAY FIVE
8 a.m. I wake up somewhat ashamed of how abundant and impassioned my texts were yesterday. I usually have better game.
9 a.m. Driving to Long Island. My car is a piece of shit, with no working radio, so I'm stuck with my own thoughts for a few hours.
12 p.m. I pull up at Tanya's. She's single and wants to stay that way. She travels a lot, and is a hugely successful writer, and isn't interested in marriage or kids. I wish I knew what I wanted as clearly as she does. I'm somewhat of a Tanya, but I'm also not. Who am I? Anyway, the place is great, a one-bedroom right on the water. She has mimosas waiting for us. I'm really happy to be here. I grew up on Cape Cod, so being near water is my happiest place. We finish our drinks and head to the beach.
4 p.m. The beach was absolutely glorious. We head to a little café to have some fish tacos and then I drive home. I'm sun-kissed and tired.
9 p.m. Parking was a bitch, but I'm home. I take a shower and crawl into bed.
DAY SIX
9:30 a.m. Coffee meeting with my lit agent. We have to nail down my next project in case my new book is a success. We need something to sell right away. I have a few ideas but am not inspired by any of them. She senses this and our meeting ends on an awkward note.
1 p.m. I have to teach today, so I'm heading to campus. I grab a latte on my way to the subway. Rob texts me about our date tonight. "What's the plan, writer girl?"
4 p.m. Teaching takes a lot out of me. I also feel obligated to deliver some better ideas to my agent, so I ask Rob if we can push our date. He says no problem.
8 p.m. Spend the night walking around my apartment in circles, playing music, and talking to myself. Just trying to churn something out that I'll be excited to devote my life to for the next year.
DAY SEVEN
9 a.m. Wake up and think of new topics and ideas that don't make me want to die.
11:45 a.m. Rob texts that his office is doing rooftop drinks at their Dumbo offices. He suggests I come by and then we'll grab dinner. I'm into it, but if I'm meeting people he works with, I want to look like a fucking supermodel.
2 p.m. I'm shopping around my neighborhood for something new to wear. The only thing I like is a dress that costs $595. I promise myself I'll wear it constantly over the summer and it will be worth it.
5 p.m. I shower, throw on the dream dress, and head to Rob's offices via Citi Bike. I'm definitely nervous.
5:45 p.m. It's a fun scene and Rob looks insanely hot. His facial hair has grown in a bit, and it's obvious that he's the boss and very well-respected. I'm super turned on. He's showing me off as "a famous author," which I'm not. I imagine him as my boyfriend, and then feel a flash of panic because clearly all of these younger female employees want to fuck him. I try to relax and rise above my insecurities.
7 p.m. We take off, just the two of us. We grab a few slices of pizza and then go back to his place. We both know what we want.
8 p.m. His apartment is luxurious but small. I'm insanely horny by now, as is he. We're on his couch kissing, and then he's fingering me. I get on top of him and basically fuck his brains out. We both come that way. It's immensely satisfying.
9 p.m. We are lying in his bed, talking about how lucky we were to meet each other the other night. It's really nice, but I do feel a pit in my stomach, a reminder that he's not officially divorced. If anyone is going to get hurt here, I already know it will be me.
Want to submit a sex diary? Email sexdiaries@nymag.com and tell us a little about yourself (and read our submission terms here.)