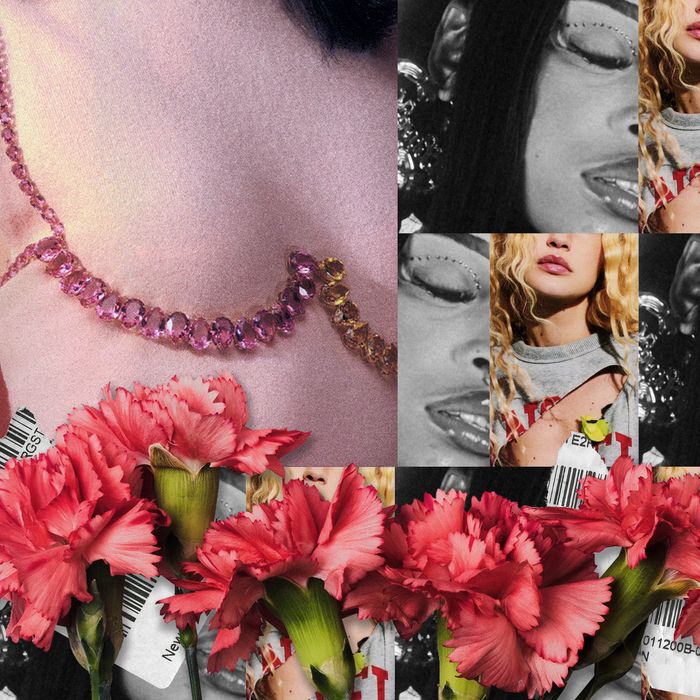 Photo-Illustration: by Marylu Herrera
New York Magazine's Sex Diaries series asks anonymous city dwellers to record a week in their sex lives — with comic, tragic, often sexy, and always revealing results. The column, which began in 2007, is the basis of a new docuseries on HBO.
This week, a woman who keeps a spreadsheet of her sex partners hooks up in sex clubs: 35, single, Berlin.
DAY ONE
10:30 a.m. Slowly wake up. It's Saturday morning, and I'm just now recovering from Thursday night's shenanigans. I was out until 8 a.m. at my favorite party in Berlin. It happens every two months, and the theme is always different. This one was called Masquerade of Madness, and I went with a Marie Antoinette–style outfit.
11 a.m. Take a moment to update my "dick data" spreadsheet. I work for a fitness start-up. My co-worker on the analytics team is gathering data on my very active dating life, so I've been faithfully entering time stamps and other details on my partners and sexual encounters for nearly two years. So far I have logged 107 people and over 193 sexual encounters. I'm hoping to have a party soon where she can present the results to all my friends.
11:45 a.m. Head out to a lunchtime spin class. My gal pal A is celebrating her first anniversary as a spin coach, and we're getting brunch after.
2 p.m. We score a table at A's favorite brunch spot. I regale her with my latest dating stories. I'm most excited about the return of M, a super-hottie I met on Tinder who looks like a living Adonis. He's been in a relationship for three years but recently resurfaced, single and looking to resume his hedonistic lifestyle. I'm also into W, who almost canceled our first date because he was in so much pain after waxing his entire body.
4:45 p.m. I text this guy, Y, to say I'm on my way home if he still wants to stop by. He replies that he's on his way.
5:15 p.m. Y arrives. He has delicious sideburns and a devilish smile. We waste no time and immediately start making out and taking our clothes off. I sit on his thick dick while he sucks on my nipples. We come simultaneously, and it's so good I laugh with delight.
6 p.m. Afterward, we chill on my couch for a while, when he makes some excuse that he has a friend visiting. I take no offense since I need to do some meal prepping anyway. I meal prep religiously every weekend. I shoo him out the door.
7 p.m. T, my second date of the day, texts me that he's running late, which is fine as I am in the middle of rolling up my chicken–Caesar salad wraps for the week. I met T on Hinge. He used to be a monk. He has a huge cock that can stay hard for ages — all that meditation pays off, I guess!
8:40 p.m. T arrives, apologizing for being so late. I shake it off (I'm a notoriously late person myself), and we get ready to leave for a bonfire.
10 p.m. At the bonfire. We drink Moscow mules and warm up by the fire. An old hookup of mine whom I met studying abroad years ago is hosting. I call him "the Sprinkler" because he loves to pull out as he's orgasming and whip his dick around, spraying come everywhere. He even licked it off of my face once.
3 a.m. The Sprinkler has disappeared with two ladies. It's getting late, so T and I head out. I do not feel like fucking when we get back to my place, so he awkwardly asks me to cuddle instead.
DAY TWO
11:30 a.m. I groggily wake up next to T, climb on top of him, and ride him into a wakeful orgasm. I live for hangover sex.
1:30 p.m. I bid T adieu and start biking to meet my friends for a Sunday picnic.
3 p.m. We're at our destination, which is a long path of cherry blossoms. It's spring here, and the trees are in full bloom. We unpack our picnic goodies and settle into a sunny afternoon of eating, drinking, and gossiping.
DAY THREE
11:30 a.m. I laze around in bed as long as possible before hopping in the shower to get ready for May Day. On May Day, Berlin turns into a giant outdoor club, with pop-up beer and cocktail stands, picnics, and impromptu dance floors.
2:30 p.m. I join my friends at the subway station, and we start walking toward the mayhem. We stop along the way to grab beers and Mexikaner shots — that's basically a Bloody Mary in a shot glass.
4 p.m. We arrive at the party, which is in a large park. It's already packed with people. We scope out the drink and music options before settling near a stand that sells spicy margaritas. Some of our crew drift to a dance floor under a huge tree.
5 p.m. After getting a refill on margaritas, I join my friends on the dance floor. One of them offers me some MDMA. Let the shenanigans begin!
6 p.m. I run into another old hookup, B. He was very good at oral sex during our brief time together and also enjoyed watching me masturbate. He's with his girlfriend, who I've been fantasizing about since finding out she is also bisexual.
8:30 p.m. The sun is setting. I'm not leaving the party anytime soon. My friends and I keep dancing and flirting with anyone who comes near us.
11 p.m. The Berlin police force enters the park in full riot gear, breaking up the crowds of people. We decide to head to a club. When we get there, they reject us immediately. Fair enough; we're covered in dirt, drunk and high, with pupils the size of saucers.
Midnight We grab beers and walk toward the river to listen to some music and chill out a bit.
2 a.m. My friend S comes back home with me. We're just friends, and he's gay, so we take turns showering and fall into bed.
DAY FOUR
10:30 a.m. S and I wake up slowly. I'm technically supposed to be having a normal workday today, but I know most of Berlin will be off to a slow start. S was recently laid off. We both feel incredibly lazy but not too hungover.
Noon S heads home. I haven't eaten in nearly 24 hours, so I make myself a massive lunch.
2:30 p.m. I have my weekly Zoom meeting with my boss. We talk more about our holiday weekends than about work.
3:30 p.m. I sneak in a much-needed nap.
6 p.m. A meeting for a project I hate has gone 45 minutes over, and I have to hustle to make it to my boot-camp workout class.
7:30 p.m. Back home. I was supposed to have a first date with someone today, but he's done both of us a favor by canceling. I have dinner, catch up on Instagram, and read.
DAY FIVE
6:30 a.m. Wake up early. I had a vivid dream about M, as well as this guy H. H is from Hamburg; we've known each other for years and I still pine for him, but he's married and is going to be a dad now.
9:15 a.m. Arrive at the office. Clearly people are still recovering, as it is fairly empty today.
10:15 a.m. We have our regular team meeting. Then I prep some materials for my demon project.
Noon I meet with a small group of co-workers to plan our next office event. We decide to do a barbecue with a scavenger hunt. This is the highlight of my job at the moment.
4:30 p.m. I head out to join one of our office managers for a weight-lifting session.
6:30 p.m. After showering, I go over to S's house to have dinner and finalize our summer Friends-cation plans.
11 p.m. Leave S's place and head home. Instead of going to bed right away, I masturbate with my vibrator. I always end up edging for ages until I find the perfect porn clip to orgasm to.
DAY SIX
8:30 a.m. Heading to a morning haircut.
12:30 p.m. Lunchtime spin class!
1:45 p.m. I get home in time to shower, pick an outfit, and do my makeup for the '90s-themed office party. A lip-sync battle is involved!
4:30 p.m. I help with party setup while listening to '90s hip-hop. I realize I am a master at putting cheese and grapes on toothpicks.
6:30 p.m. I start handing out the first round of Jell-O shots. Good God, these are strong!
8 p.m. We start rounding up everyone to judge the lip-sync battle. I do an excellent rendition of Cher's Believe. 
9 p.m. The dance party is in full swing.
12:30 a.m. I make an Irish exit to catch the last train home.
2 a.m. Instead of going to bed, I take some sexy pics and send them to H, who I've been thinking about since that dream. I also send a couple to this Irish guy I've been sexting for years. He always talks about coming to Berlin and making all of our filthy fantasies a reality.
DAY SEVEN
9:30 a.m. My alarm goes off. Fuck, I'm so tired.
11:30 a.m. I have managed to do nothing today at work.
7:30 p.m. Very unproductive day. I decide to start getting ready early for tonight's party. It's a kinky party at a private club, and M is coming as my plus-one.
11 p.m. I am stunning in pinup curls, gold glitter, and sparkling gold jewelry. I'm wearing an incredibly sheer cover-up over a thong. M arrives and we get in a cab.
11:30 p.m. We arrive at the club entrance, where I bump into yet another old hookup, K. K and I have had a few threesomes together. Last time, I was blindfolded, tied up, spanked, and dildo-fucked for two hours.
11:35 p.m. We head downstairs. M looks as gorgeous as ever, with a handmade harness and carabiners that make his chest and shoulders look amazing.
Midnight M asks me if I still smoke. I admit yes, when I'm drinking. We recline to the couch and light up. I give him a kiss, which turns into a brief make-out session. He smiles as he pulls away, his face already shiny with glitter.
12:30 a.m. We hit the dance floor, which is packed like I have never seen before. M towers over the crowd, his head nearly touching the low ceiling.
2 a.m. We take a break on the couch and start making out more intensely. I take him to the back room. There's already debauchery going on back here. We sandwich ourselves on a bed between two couples who are fucking. I start to blow him. He gets hard, but as we're about to have sex, he gets jittery and goes soft again. Fair enough; it's difficult in this setting. We head back to the dance floor.
3 a.m. The drinks and cigarettes are flowing. I'm flirting with a few women.
6 a.m. I end up making out with a woman, R. I take her into one of the private rooms and eat her out. I'm surprised she has a bush rather than being clean-shaven, and I love it.
7:30 a.m. After dancing for a while, R and I go into a private room one more time. I lay her down and start eating her out again. She comes all over my fingers. When I glance up, I see M pounding another girl in the back of the room.
9:30 a.m. I head back home on the train. I make some macaroni and cheese with ham and hot sauce, before finally tumbling into bed, still covered in glitter. I feel like I could sleep for a decade.
Want to submit a sex diary? Email sexdiaries@nymag.com and tell us a little about yourself (and read our submission terms here.)