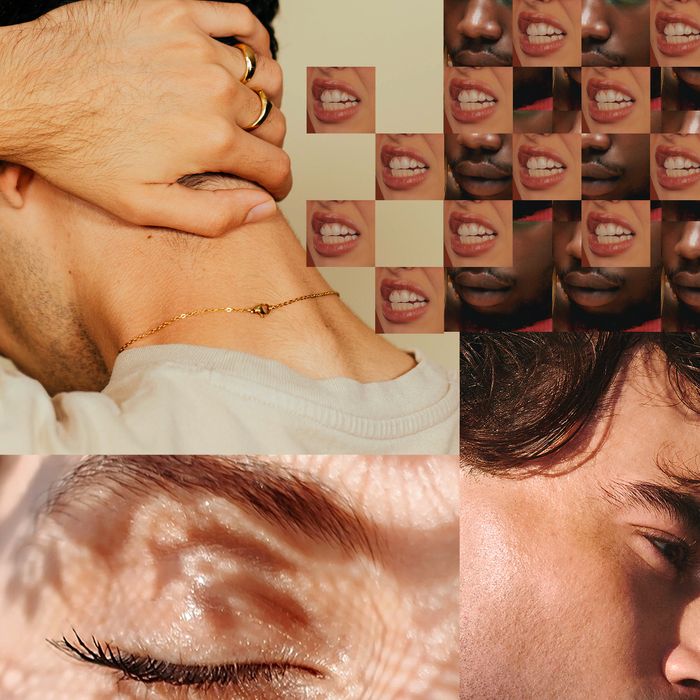 Photo-Illustration: by Marylu Herrera
New York Magazine's "Sex Diaries" series asks anonymous city dwellers to record a week in their sex lives — with comic, tragic, often sexy, and always revealing results. The column, which began in 2007, is the basis of a new docuseries on HBO.
This week, a landscape architect goes on a few questionable dates and wonders how to zhuzh up her sex life: 45, married, New York.
DAY ONE
6:20 a.m. Our daughter wanders into our room for morning cuddles. My husband, Howie, snuggles with her for a little while. I get up and put coffee on.
7:15 a.m. Our son is now awake. We all have breakfast — cereal and waffles. I pack the kids' backpacks and Howie takes them to elementary school.
9:30 a.m. Finally, I have a moment to myself and check my phone. Howie and I are in an open marriage. We don't have a sexual relationship — he mostly sleeps with gay men, and I'm bisexual. We met at a gay bar about eight years ago and became the best of friends. We got pregnant via IVF and then decided to get married and co-parent together because we love each other and wanted to be a family unit. We just outsource our sex lives!
Anyway, Thea, a woman I met on Hinge, has texted about a drink tomorrow night. I have to check my schedule with Howie, so I don't write back.
2 p.m. I jump in my car and head to the Hamptons for a meeting with a new client. I'm a landscape architect and do projects in the Hamptons and upstate New York, so I'm on the road a lot. On the way, I listen to music — a hip-hop playlist Howie made for me.
6 p.m. The meeting went well. I think they're going to hire me. I start the drive back to the city.
9 p.m. By the time I get home, the entire house is asleep, including Howie, so I get on the couch and do some flirting on the apps. I confirm a drink with Thea for tomorrow and tell a guy named Paulo that I'd be down for a coffee the next day.
9:30 p.m. It occurs to me that I haven't had really great sex with anyone in months. My last hookup was with a woman visiting for a week from London. We got drunk on spicy margaritas and went crazy on each other at her hotel room. I need something like that soon and hope Thea or Paulo are good options.
DAY TWO
8 a.m. Get the kids ready for school by myself. Howie had an early meeting. He's a lawyer. Since we're in our mid-40s, he's finally in a position of power and has slightly better hours, but he works for a pretty conservative firm so he's tight-lipped about our lifestyle.
1 p.m. Drafting a proposal for the Hamptons client. I finally hit "send" and then go to the gym.
3 p.m. From the treadmill, I suggest a few date spots to Thea. She's younger and is "an artist," though it's unclear from her dating profile what that means. I hope she's not a total hipster or party girl.
6 p.m. Kiss the kids goodnight. Tell Howie to wish me luck and leave the apartment. It's kind of like we're roommates — when he knows I'm going on a date, he's excited for me. There's no weirdness unless one of us leaves the other with a ton of parenting or chores.
7 p.m. At some bar in Bushwick to meet Thea. I get a drink and check my emails.
7:15 p.m. Thea walks in. She's adorable. Big smile, beautiful skin, long hair. I'm so glad she's not a gritty hipster. I'm just not attracted to dirty hair and nose piercings. But she is very young, in her late 20s, which surprises me. I have no idea how I missed that on her dating profile. I kind of feel like her mother.
9 p.m. So far, it's a good date. I'm attracted to her. We've had two drinks each, and we decide to move next door and get some food.
9:30 p.m. We're eating some overpriced artisanal pizza. When we're finished, I pay, and we decide to call our Ubers home. We start making out while we wait. It's wonderful. She's tender and affectionate. I'm into it, but I decide we can hang out another time and see where things go. Not tonight, I'm getting tired.
10:15 p.m. Crawl into bed. I tell Howie I had fun but I wasn't super into her. She was a little boring if I'm being honest.
DAY THREE
6 a.m. Daughter is up. I'm hungover. Since Howie did the heavy lifting last night, I handle the morning routine.
8:30 a.m. Drop off the kids. Stop at a café for my second coffee of the morning.
12:30 p.m. I'm visiting a client in Cobble Hill. She's not happy with a job I did for her last summer, so I'm dreading it.
1:30 p.m. Leave the meeting in a bad mood. Still have a hangover. Sometimes I wonder if this lifestyle is sustainable for Howie and me. He barely goes out anymore because he says he's content with our home life and has plenty of porn to jerk off to. We're older now, and I wonder if I'm ready to slow down my sex life too. It feels like I'm at a crossroads.
4 p.m. A long afternoon of invoicing and paperwork.
6 p.m. Head to a drinks event with a hotel brand that always hires me for big jobs. I'm really not looking forward to it, but I can't blow it off.
7 p.m. On the subway there, Paulo texts about hanging out tonight. I tell him now's not a good time but maybe at the end of the week. I also see a text from Thea, but I ignore it.
9 p.m. Showed face and schmoozed the hotel people. Now I'm on the train home.
10:30 p.m. I take out my vibrator while pretending to take a shower. Sitting on the bathroom floor, I press it against my underwear, close my eyes, and try to imagine fucking Thea. My mind switches channels and instead, I'm on my stomach, getting railed by an unknown man with a huge cock while I go down on some woman. I come in about 60 seconds. Then I take a shower for real.
DAY FOUR
6 a.m. Up with the kids since Howie handled bedtime.
10:30 a.m. At a client's house, working. All of my clients are wealthy, but this one is spectacularly wealthy and spectacularly rude. But she pays very well and on time, so I don't want to bite the hand that feeds me. She truly is a bitch, though.
4:30 p.m. I pick up the kids from their after-school programs and we head home. Howie is going to a work party tonight, so I want to get everyone fed before he takes off.
5 p.m. Start making chicken tortilla soup. I love cooking. I always have a glass of wine while I cook. In these moments, I'm 100 percent satisfied with my life and don't need anything more.
6 p.m. Everyone eats, then the kids and I send Howie off. He looks so handsome. I feel bad for him at these work parties. He says it's no big deal hiding his identity, but I wish he'd be more open about his true self. But it's his business, not mine.
9 p.m. I'm on the couch texting Paulo. He obviously wants to sext. He literally said, "What are you wearing?" So corny.
I write back, "Describe your cock for me?" He asks if I want a picture. I do. He sends one and it's big, veiny, and kind of scary — but also beautiful in a way. I wonder if it's his real dick.
He asks if I want to FaceTime. I say no, then put the phone down and watch TV. Howie could be home at any moment, and I don't want him walking in on me fingering myself to a stranger on the phone. It would just be too embarrassing.
DAY FIVE
7:30 a.m. Howie did the morning shift. Yay. I head to a meeting with my accountant.
Noon: Lunch with my sister, who lives near the accountant. She knows about my lifestyle and doesn't judge. She's in a sexless, dull marriage and says she often feels stuck in "Blahsville." I wish she could just open things up like us, but she says she's not interested in sex so an open marriage doesn't appeal to her. That may be true, but it makes me wonder how her husband is getting off. I bet he cheats on her, but I'd never say that out loud.
3 p.m. Paulo wants to meet up. I did like the size and strength of his cock. From our chats, he seems potentially gross, but I'm intrigued. I suggest tomorrow night.
7 p.m. We have family dinner at a restaurant. It's very fun. My kids are so precious. Howie and I are pretty open with them about our unconventional marriage. I mean, we tell them what their brains can handle, things like "There are lots of different ways to be married. We do it our way, and it's the best way for us!" I'll explain the details when they're older, but I'm not worried about it.
DAY SIX
6 a.m. It's the weekend! Which means we still wake up at the crack of dawn …
Noon: A morning of soccer and karate classes.
3 p.m. Our kids watch a movie while Howie and I decide what to do tonight. We always get a sitter on Saturdays. Howie plans to meet up with his best friend, who is gay and married and about to have his first child. I tell Howie I might have a drink with Paulo, who has a huge cock and might be a bit sketchy. We both laugh. Howie makes me laugh like no one else can.
7:30 p.m. Paulo picked a cool bar in Tribeca. I walk in a bit late and he's there. He looks nothing like his dating-app photos. He's much shorter, fatter, and scuzzier in real life. It's like night and day. I feel very annoyed by this. Like, come on, dude, do better.
8:30 p.m. He wants to go fuck right away. He suggests the bathroom of the bar and then a hotel room where he's apparently "a VIP." Ick! He's neither charming nor seductive, so after one drink, I hop on a Citi Bike and ride all the way home. I block him the minute I dock the bike.
9 p.m. Sent the sitter home early and took a shower. Had to wash off the ick.
DAY SEVEN
6:30 a.m. Drinking my first cup of coffee. I'm feeling a little blah. I can't seem to meet someone sexy and cool in real life, my husband is gay, and I'm getting older. Ugh, whatever, just the morning blues, I guess.
12:30 p.m. Take the kids to a birthday party. The mom hosting it is newly divorced and beautiful. She has a masculine edge, and I'm very attracted to her but I never know how to hit on other moms. It's tricky since it's in my kids' orbit.
1 p.m. The birthday mom says something like "Remember when Sundays were all about binge-watching TV and having sex all day?" We both laugh and get pulled away by our kids, but I consider this an interesting sign …
3 p.m. Before I leave the party, she gives me her cell. I feel a vibe but not sure what to make of it. Murky territory.
8:30 p.m. After saying goodnight to the kids, I text the birthday mom to thank her for the party. She writes back, "We should get a drink sometime." I make myself wait 20 minutes before writing back: "I'd love that."
Want to submit a sex diary? Email sexdiaries@nymag.com and tell us a little about yourself (and read our submission terms here).