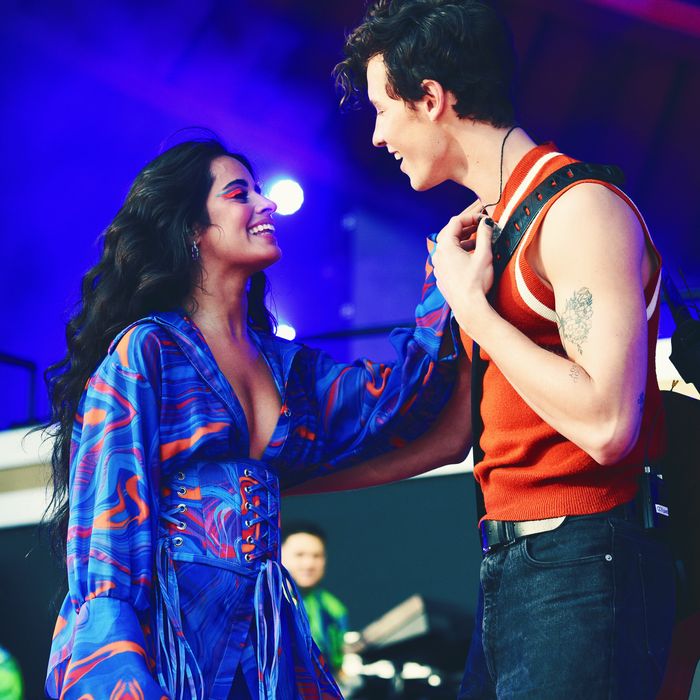 Photo: Kevin Mazur/Getty Images for Global Citizen
When I think of Camila Cabello and Shawn Mendes's relationship, an array of vivid images flashes before my eyes: sporty headbands, empty coffee mugs, couples costumes at the Met Gala, and that time they "strolled" around their neighborhood like two Free People–clad White Walkers. In news that is both good and bad, it looks like more undead paparazzi strolls are in our near future, because Mendes and Cabello might be dating again. They have now been seen together on both coasts, holding hands and emitting a generally flirtatious vibe.
Since breaking up, Mendes and Cabello have dipped their toes into new and adventurous corners of the dating pool: Mendes was briefly rumored to be dating a chiropractor (brave), and Cabello seemed to have moved on with the founder of a Jewish dating app. Then came Coachella, where festival-goers spotted them making out in the middle of the crowd — an apparent return to more familiar pastures.
Following Cabello's not-so-cryptic post, TMZ circulated a three-second video taken in Santa Monica, where she and Mendes were spotted walking at a normal pace (!!) and holding hands. Accordingly, "Page Six" changed its tune, claiming that these two horndogs are "hanging out again," "getting reacquainted," and "seeing where it goes." Another unnamed source told People that Mendes and Cabello were "enjoying daytime strolls and nighttime casual dinners out," photographic evidence of which surfaced a month later. On May 23, paparazzi caught the pair walking hand in hand on a coffee run in New York City. "Page Six" sources offered no updates on their current status, but mercifully, everyone was wearing shoes this time. That's at least an improvement on Mendes's last big beverage outing.
This post has been updated.