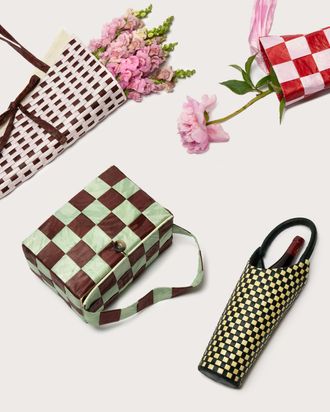 For more of the Cut's favorite fashion, beauty, and home finds, sign up for the weekly Cut Shop Newsletter.
What is it?
The days when your bouquet and a bottle of wine are just slashing around in your thinly lined tote bag are over. Sister-founded brand Gohar World has teamed up with West African label Super Yaya for a four-piece capsule collection that was made for the picnics, wine dates, and simple everyday pleasures.
"There's a sort of sense of humor to this. We have products that serve a very specific and single purpose, which are in no way, shape, or form a necessity, but that's the fun about it," says Laila Gohar, co-founder of Gohar World. The collaboration includes a jewel-toned and pastel-colored picnic basket and an "eccentric but grounded" patterned wine-bottle carrier made of naturally dyed fabrics handmade by artisans in Côte d'Ivoire. "It's important to the brand to look at the everyday moments in life and little rituals. It makes life more fun," says Gohar.
Do I need this?
Yes. Whether you frequent a flower shop (or just get crafty at Trader Joe's), or you often meet friends in the park for a picnic rather than a buzzing restaurant, or you're a self-proclaimed collector of unique pieces, these will be the brag-worthy items for you to boast about this season.
Where can I get it?
The carriers are available at gohar.world with prices ranging from $298 to $480.
What are people saying?
Besides the array of bow and heart emoji left under the comments of the Gohar World's Instagram debuting the carriers, two commenters agree that this duo is a match made for the overly indulgent. "Brilliant collab" and "What a duo," some fans commented.