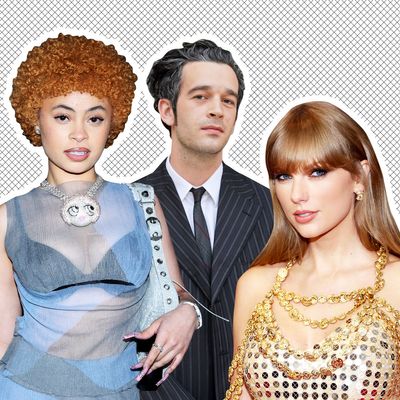 Photo-Illustration: by The Cut; Photo: Getty Images
This weekend, with all the tristate-area Swifties gathered at the MetLife Stadium for the New Jersey leg of her Eras tour, Taylor Swift brought Ice Spice onstage to perform their new version of "Karma." The remix, which features a verse by Ice Spice, came out last week on the second deluxe version of Midnights — an exciting release for most, but not all. The collaboration has only served to further offend fans who are less than pleased that Swift appears to be dating musician Matty Healy.
What does Swift's rumored boyfriend have to do with her guest vocalists? Well, Healy, who was recently seen kissing Swift outside of members-only club Zero Bond, has a history of confusing and controversial behavior that includes kissing fans onstage, doing a purportedly "ironic" Nazi salute, and calling the idea of dating Swift "emasculating." In February, he laughed at several racist comments about Ice Spice during a podcast episode hosted by comedian Adam Friedland.
In the episode, Healy shared that he had messaged Ice Spice on Instagram, prompting Friedland and his co-host Nick Mullen to call her an "Inuit Spice Girl" and "chubby Chinese lady" while imitating Chinese and Hawaiian accents as Healy audibly laughed in the background. (Ice Spice is Nigerian and Dominican.) Healy briefly addressed the episode during a concert in Auckland. "I don't want Ice Spice to think I'm a dick," he said. "I love you, Ice Spice. I'm so sorry."
While Swift hasn't commented on whether she is dating Healy, some fans are already upset that she hasn't publicly condemned any of his problematic behavior. Swift was criticized for years about staying largely silent on politics, even as alt-right corners of the internet venerated her as an "Aryan goddess" (an issue she later claimed not to be aware of). In her 2020 documentary, Miss Americana, she talked about being terrified to give voice to her liberal political leanings and reflected on her decision to speak out against far-right senate candidate Marsha Blackburn in 2018 — the first time Swift publicly acknowledged her personal politics. She said in the documentary that she was spurred by her own sexual-assault trial against DJ David Mueller, who groped her in 2013 while they were taking a photo together. "I need to be on the right side of history," she said.
Plenty of fans have taken Swift's silence around Healy's comments as an implicit endorsement of his behavior — and her choice to collaborate with a woman Healy publicly derided is not doing much to placate them. In a snippet posted to Spotify's Twitter account, Taylor talked about working with Ice Spice, saying that the rapper's team reached out to arrange a collaboration. "Getting ready for my tour, I was listening to Ice Spice constantly," Swift said, "so I immediately got her number and said, Hey, would you want to do your version of 'Karma'?" For her part, Ice Spice promoted the remix on Twitter and called Swift the "sweetest person ever."
Both stars continued to rave about each other after their joint performance. Ice Spice thanked "Taylor & the Swifties" for showing her love at the concert, and in a recap of her weekend in Jersey on Twitter, Swift wrote, "The way the whole stadium screamed when Ice literally popped up announced."
Meanwhile, in a New Yorker profile that came out after the concert, Healy dismissed fans' anger over the podcast comments. "Nobody is sitting there at night slumped at their computer, and their boyfriend comes over and goes, 'What's wrong, darling?' and they go, 'It's just this thing with Matty Healy,'" he told writer Jia Tolentino. When asked if some people might really feel that way, he responded, "You're either deluded or you are, sorry, a liar." He claimed that the backlash to his statements is "just people going, 'Oh, there's a bad thing over there, let me get as close to it as possible so you can see how good I am.' And I kind of want them to do that, because they're demonstrating something so base level."
Unlike Healy's weird political statements, the "Karma" remix is unequivocally good, so here's hoping we see more Ice Spice and absolutely no raw-meat-eating on the Eras stage in the coming months.
This post has been updated.