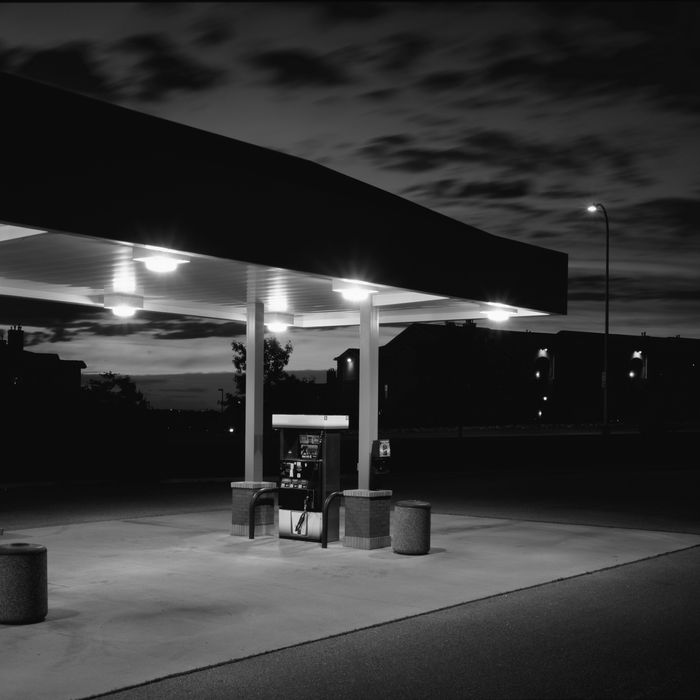 Police say Harold Thompson fatally shot his ex partner Gabriella Gonzalez in the parking lot of a gas station.
Photo: Matt Henry Gunther/Getty Images
A Texas man fatally shot his ex-partner on Wednesday morning, police say, shortly after she returned from getting an abortion in Colorado. The killing is the culmination of a pattern of alleged domestic violence: Gabriella Gonzalez, a 26-year-old mother of three, had reported Harold Thompson, 22, to the police in March, according to KERA News. She reportedly described a number of abusive episodes that included Thompson strangling her, giving her a black eye, and threatening her family.
"He was so angry that she wanted to get away from him," Gonzalez's sister, Mileny Rubio, told local news channel NBC5. "She would always tell me that she wanted to leave, but that she couldn't." Gonzalez's family has said the pair recently ended their monthslong relationship; domestic violence survivors are most at risk when they leave their abusers.
Three overlapping abortion bans have outlawed terminating a pregnancy in Texas except in cases of narrowly defined medical emergencies, forcing pregnant people to self-manage their abortions or travel out of state to get care. Gonzalez chose the latter option, according to court records obtained by the Dallas Morning News, which first reported the case. Colorado, where the right to have an abortion is enshrined, has become a haven for abortion seekers following the overturn of Roe v. Wade last summer. Research shows the state has seen one of the largest upticks in patients obtaining abortion care in the six months following the Dobbs v. Jackson Women's Health Organization decision.
According to court records obtained by the Dallas Morning News, police reviewed surveillance footage from Wednesday morning that shows Thompson and Gonzalez having an argument in the parking lot of a gas station in the West Oak Cliff neighborhood of Dallas. The footage reportedly shows Thompson attempting to put Gonzalez in a chokehold before she pushes him off; he then takes out a gun and shoots her several times. She was declared dead at the scene.
Gonzalez was "very fearful of the suspect," according to an affidavit filed as part of a separate arrest warrant against Thompson. "Complainant indicated that [the] suspect has beat her up multiple time[s] throughout the entirety of their relationship," reads the affidavit, dated April 14, according to KERA News. In a recorded police interview from March, when Gonzalez first reported Thompson, he denied that he had abused and choked her. He also reportedly told police that she was pregnant with their child.
Thompson has been charged with murder and felony assault. A public defender is expected to be appointed to the case.
Half of female homicide victims in the U.S. are killed by a current or former male intimate partner, according to the CDC. People who are pregnant are especially at risk: Research shows that homicide is the leading cause of death for pregnant people in the United States, and around 68 percent of these killings involve a firearm.
The shooting is also a horrifying reminder of how the post-Dobbs abortion landscape has left women even more vulnerable to abusers who have new tools to terrorize them. In Texas, a man recently filed a wrongful death lawsuit against his ex-wife's friends for allegedly helping her obtain abortion pills to terminate a pregnancy. The friends countersued, accusing him of being a "serial emotional abuser" who knew about the abortion before it happened but did not stop it because he sought to use the information to control his ex-wife. As lawmakers continue enacting abortion bans across the country, domestic-violence survivors who find themselves pregnant will face even more barriers to breaking free from abusive partners.
The Cut offers an online tool that allows you to search by Zip Code for professional providers, including clinics, hospitals, and independent OB/GYNs, as well as abortion funds, transportation options, and information for remote resources like receiving the abortion pill by mail. For legal guidance, contact Repro Legal Helpline at 844-868-2812 or The Abortion Defense Network.