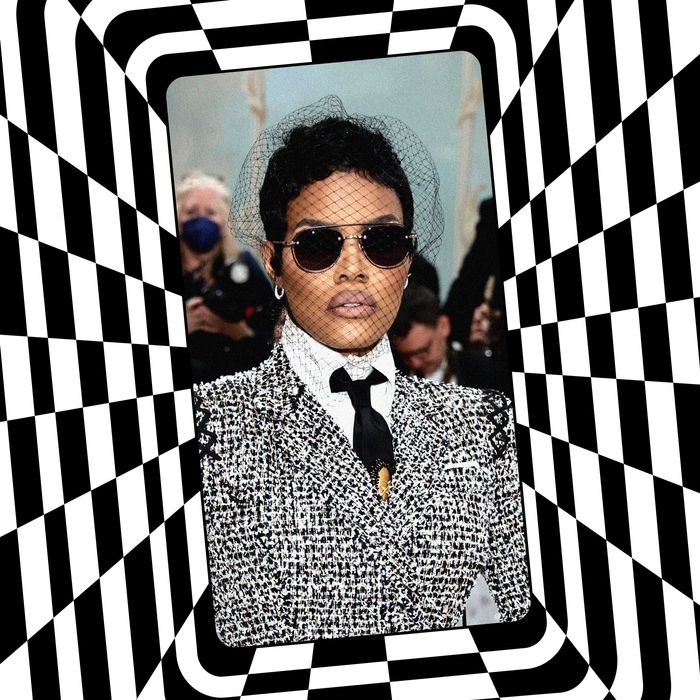 Photo-Illustration: by The Cut; Photo: Getty Images
I Can't Shut Up About: Deep dives into my online obsession of the week.
No one really knows how to act at the Met Gala. Why else would celebrities spend much of their red-carpet interviews talking about how nervous and uncomfortable they are? Last year, Billie Eilish succinctly described the event as "famous people famous people–ing." So if you're going to spend an evening watching celebrities indulge in what is often a high-fashion pissing contest, you may as well bring some snacks. Which is exactly what singer and actress Teyana Taylor did this year.
Monday night, rapper Pusha T, who was seated next to Taylor during the dinner portion of the event, posted an Instagram Story from inside the gala. Posting to social media is technically against the Met Gala rules, but that doesn't stop attendees from taking selfies every single year. Something else that probably isn't within gala guidelines? Sneaking in chicken nuggets. "Teyana Taylor is embarrassing me," Pusha T joked in his Story. "She brought [Chick-fil-A] to the #MetGala. I want her away from me …"
The video shows Taylor eating her nuggets, waffle fries, and (I think) Polynesian sauce on the gala's vintage china. And if that hurts anyone's feelings, she's also using a fork. In a second Instagram Story, Usher came to bear witness to Taylor's Chick-fil-A bounty. According to Pusha T's comments, Usher "tried to stop her." First of all, how dare he! Let the woman eat her nuggets in peace! Second of all, I'm sure every other guest was desperate to sneak a fry off of her plate, and I hope she didn't share any of it.
The Met Gala food has a reputation for being … underwhelming. Specifically in portion size. In a recent Instagram Live, Lizzo joked about how the event is "stingy" with the food and liquor. ("[A server] was like, 'Red or white wine?' And I was like, 'Tequila! Do you know what I've been through?'") In 2019, Tiffany Haddish brought a Ziploc bag of fried chicken in her purse. In 2021, Keke Palmer posted a photo of her Met Gala meal, which was aptly compared to the sad cheese sandwiches served at Fyre Fest. This isn't even the first time Taylor has brought her own dinner to the Met Gala. In 2022, she came prepared with her own Popeyes nuggets and a biscuit.
This year's Met Gala menu was prepared by Olivier Cheng. It included "chilled spring pea soup with baby vegetables, lemon crème fraîche, and truffle snow, followed by Ōra King salmon with vegetable nage, asparagus, pickled strawberries, and radish." They also served wine and Diet Coke, the latter of which was a favorite of Karl Lagerfeld, the namesake for this year's Met Gala theme. And you know what pairs phenomenally with Diet Coke? Chicken nuggets and French fries.
If anyone deserved to bring their own Met Gala comfort food, it was Taylor, who had to hop up the Met steps like the Pixar lamp because her dress was so restrictive. So I say, good for her! May all her future Met Galas be filled with sneaky nuggets and fries.